Goodbye to Ports, Past and Present: project leaves a 'treasure trove' of open data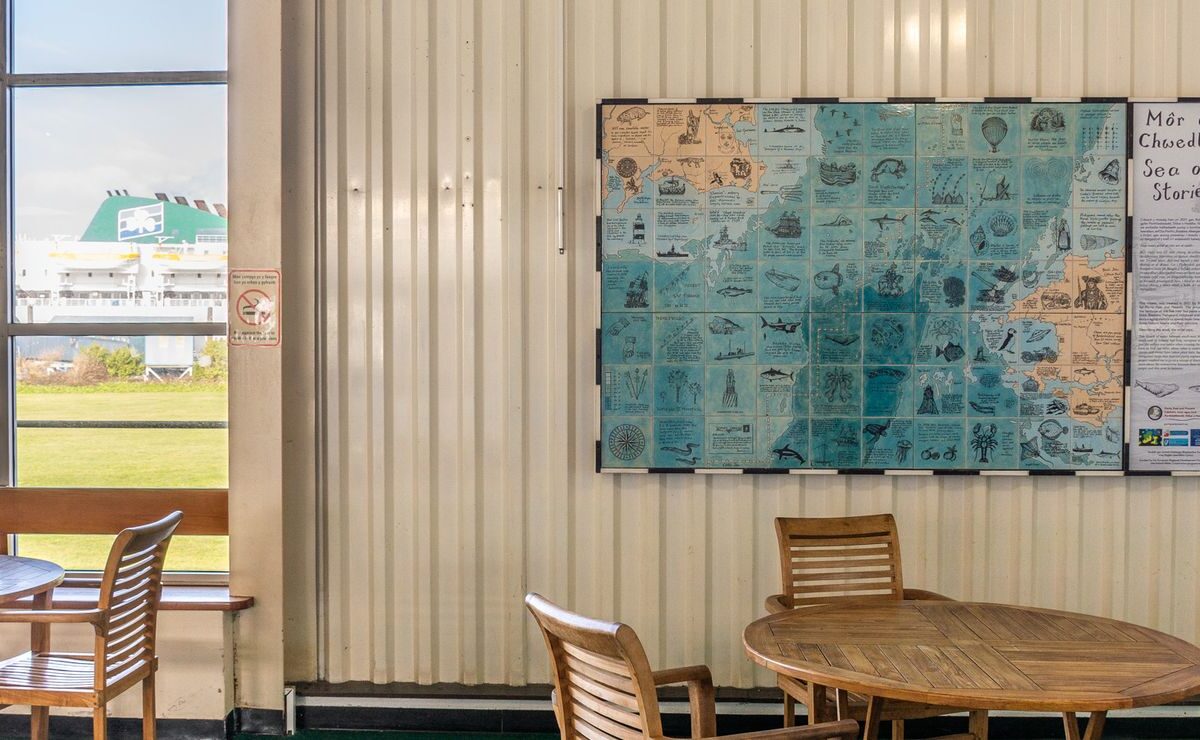 The Ports, Past and Present (PPP) project drew to a close in July 2023, leaving the legacy of a 'veritable treasure trove' of open data, described by rich metadata; with high quality documentation; and preserved for the long term future in the Digital Repository of Ireland (DRI) and Zenodo.
The PPP project aimed to 'enhance engagement among port town communities with their own rich heritage and that of the Irish Sea, and to use that heritage in promoting tourism and deepening a sense of shared identity'. The team has been headed by Prof Claire Connolly, Dr Mary-Ann Constantine, Prof Peter Merriman and George Colfer since its beginnings in 2019, in collaboration with a multi-disciplinary team of project and finance officers, coordinators and managers; creative practitioners; academic researchers; and postdoctoral researcher fellows; plus – in the latter stages – an embedded data steward at UCC Library.
'PPP' Collections preserved in DRI and Zenodo
The DRI is a national Trusted Digital Repository for Ireland's humanities, cultural heritage, and social sciences data. Zenodo is a multidisciplinary repository developed under the European OpenAIRE program and operated by CERN. There are now seven subcollections in DRI, containing over a thousand digital objects, which include artistic works commissioned by PPP; documentary films about port towns in Wales and Ireland; and audio and video recordings of community members telling their stories of port life. In Zenodo there are project plans and reports; the project website web archives (story collection ; blogs; and an export from their IIIF exhibit).
In addition to the open data preserved in DRI, a lot of the material has also been aggregated to Europeana. The DRI is an accredited 'National Aggregator' for Europeana which means they share heritage content to the Europeana collections platform, which provides a centralised search and discovery portal. Sharing Irish data, like the PPP collections, to Europeana makes it more easily findable by a wider European audience, further increasing its reach and thus its reusability. 
A full 'data paper' is currently being written by a subgroup of the PPP team. This will be a peer-reviewed publication designed to make researchers aware of the data; describe the methods used to create the datasets; their structure; metadata and documentation; and reuse potential. In the meantime, we wanted to draw attention to some 'favourite' digital objects; reflect on data management during the project; and of course congratulate the team for their hard work.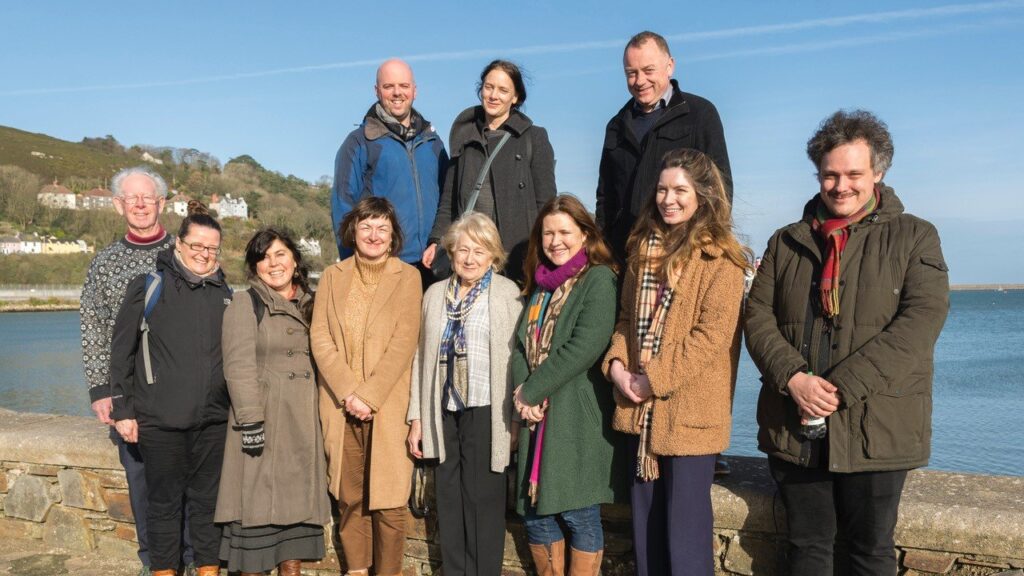 Project manager Aoife Dowling enthuses about her favourite Ports, Past and Present item
Former Project Manager Aoife Dowling was part of the team from November 2019 until October 2022. I asked her what digital object from the PPP collections stands out in her mind:
'A favourite item in the Ports, Past and Present collection is the story, 'Secret Submersibles in Fishguard Bay' by Prof. Peter Merriman. Depending on how you look at it I can either take credit or feel guilty for slightly pressuring the team to research this story, and I'm glad Pete took up the mantle. It started when a previously-unknown Fishguard resident reached out to the project page by Facebook Messenger in around 2021.
The man said there was a story to be told about Fishguard's secretive role in World War 2, when the Fishguard Bay Hotel was one of the headquarters for the British government's 'Special Operations Executive'. The Special Operations Executive, or SOE, ran top-secret missions and experimentation in locations throughout the UK; the Fishguard Bay Hotel was station Station IXc and was responsible for testing experimental miniature submersibles in Fishguard harbour.
I loved the thread of this story because so much was still shrouded in mystery. A Google search showed me that the bare facts of the story were widely reported, with inevitable 007 comparisons – but the same details were repeated everywhere. The very presence of the SOE in Fishguard was top secret until 1972, as Pete writes in the story, when government files were finally released.
Pete's story is the result of research in the National Archives in Kew, where Pete finally set out to find out more about this secretive part of Fishguard history. The finished piece does a great job of bringing Station IXc back to life. When I visited Fishguard again before the end of the project, I found myself looking in a new way at the crumbling Victorian resort hotel overlooking the bay.'
In addition to having been captured as a permanent link using Perma.cc (see: https://perma.cc/7ECF-PX8G), the text of this fascinating story has been preserved in DRI, making sure that it will be accessible in years to come.
Postdoctoral researcher James Smith discusses the 'Sea of Stories' murals
When the same question was posed to former PPP Postdoctoral Researcher Dr James Louis Smith, he reflected on the striking 'Sea of Stories' murals that were commissioned by the project, and then digitised:
'The two Sea of Stories murals are some of the most striking outputs of the Creative Connections formed by Ports, Past and Present. The first mural by Robert Jakes was created by tracing a dense network of happenings, myths, folklore and history into a map of the Irish Sea between Wexford and Pembrokeshire in Wales, tracing the contours of the ocean bed and maritime borders alike. The tiles were bisque fired and mounted on a wall board that can be seen in the Pembroke Dock ferry terminal in the waiting area. It's huge, and draws in the eye. I've seen foot passengers waiting for the ferry gazing at it for over 15 minutes. It was so popular that a second mural was made for the adjacent coasts and water between Dublin and Holyhead: Sea of Stories II.
As a data person, I particularly like the high quality photographic representations that my colleague Martin Crampin took, each over 300mb in size. He joined separate photographs of the first Sea of Stories mural together to create what I think are quite a distinctive digital artifact. This second mural is currently created as a stack of individual tiles. They were placed on the floor against each other and Martin photographed them in sections and then joined the images together to make an image that looked like a complete ceramic mural. Of course, the fact that the DRI has a IIIF server was music to my ears, since we were able to use Exhibit to make a very nice little showcase of the tiles and some of their stories. We enjoyed making it so much that we are going to do a bigger one for the whole visual collection.'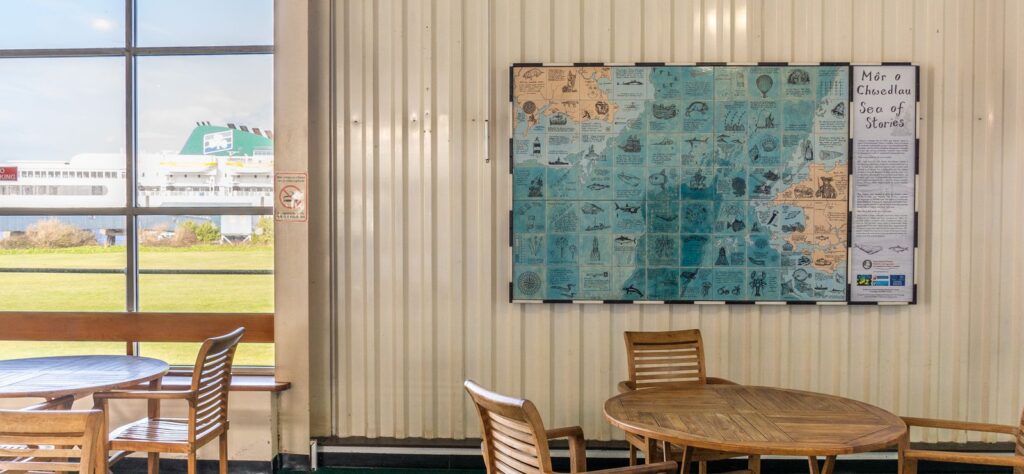 UCC Research Data Coordinator celebrates an immense and diverse collection
I asked UCC Library Research Data Coordinator, Dr Aoife Coffey for some reflections on these PPP collections, and her recollections of the first time she encountered the team over three years ago:
'The Ports, Past and Present collection is immense, the range, volume and diversity mean that every time you take a wander through it you discover something new and ingest into Europeana means that it can fulfil its potential by being within reach of an international audience. We must, I think, acknowledge the considerable and consistent effort by the whole project team which enabled the creation and preservation of such a rich resource. FAIR and Open data do not come for free, in the case of a project of this scale it takes vision, planning, a data management plan and the skills and expertise to implement and follow through on that plan.
It was my pleasure to work with Aoife Dowling and James Smith on the first draft of their data management plan. I could see immediately the potential but also the not insignificant risks inherent in the project. But I am delighted that even a global pandemic wasn't enough to thwart progress, they adapted their plans and changed methods all the time building in long-term preservation plans. Congratulations to the whole team, I am already looking forward to my next wander through the PPP collection.'
In a final Project Reflection, Claire Connolly has said that she has 'learned a lot' from the people with whom she has worked on the project. The relationships that have been formed, she observes, have depended on the ability of these people 'to share authority across boundaries whether those be between disciplines or sectors'. She comments that Ports, Past and Present has 'done its very best to practice such a respectful dialogue' and that she hopes to continue this in her future research.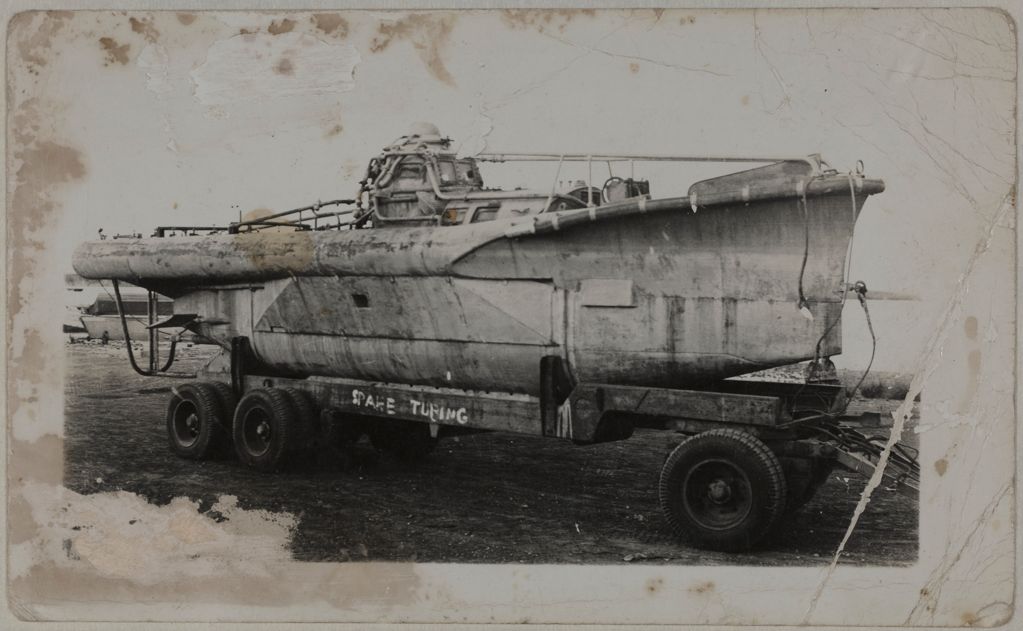 An important part of this respect, I think, has been ensuring that the projects' outputs – the result of several years of work, and important to the various port communities – are preserved; accessible; and reusable in the long-term future.
At this point it remains to leave the team with a few words from University Librarian Coral Black:
'The Ports, Past, and Present team has gathered a rich and varied collection of digital research data. By working closely with us at UCC Library to share and preserve these objects, they have ensured sustained access to it by future generations. We would like to congratulate the team on their achievements, and wish them all the best with their next projects'.
Explore the Ports, Past and Present collections in DRI and Zenodo for yourself
Don't take our word for it about this diverse and well-curated collection of open data, take a look at the full DRI collection yourself and then perhaps head over to Zenodo to see some of the documentation that has been preserved there. If you would like any advice or support with your own project data, or access to Perma.cc to generate permanent links for your citations, contact us at the UCC Library Research Data Service. Bon voyage, Ports, Past and Present!
By Dr Deborah Thorpe, Research Data Steward, UCC Library