New UCC Collections in the Digital Repository of Ireland, May 2023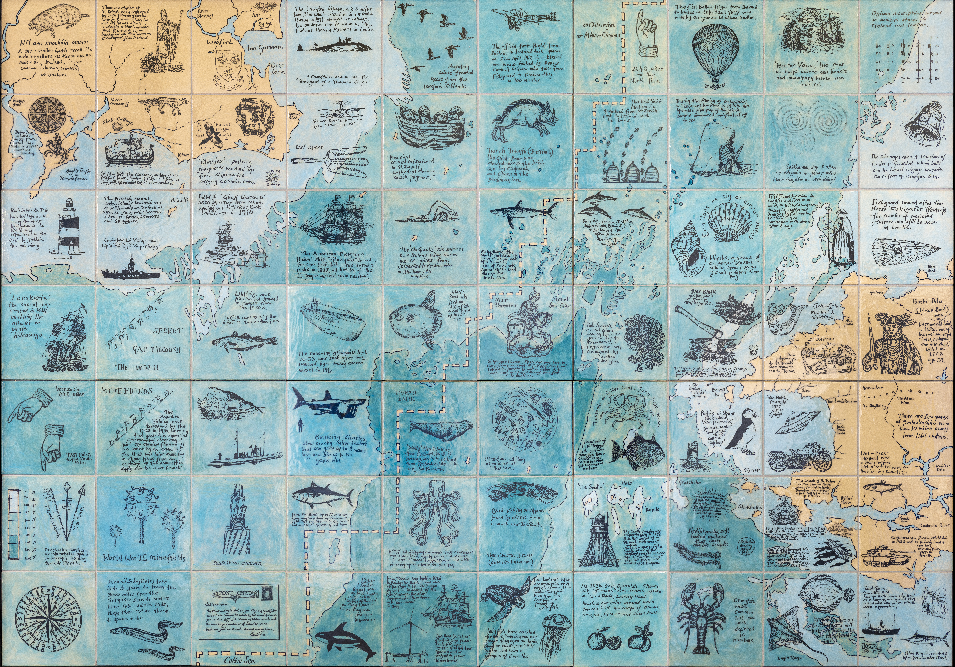 The Irish Film Poetry Archive; Ports, Past and Present; and Artistic Doctorate Resources
In this blog post we introduce three UCC research data collections recently deposited in the Digital Repository of Ireland (DRI). DRI is a national digital repository for Ireland's humanities, social sciences, and cultural heritage data. When data collections are published in DRI, they are safeguarded and accessible to a wide audience into the long term future. Through a partnership between the College of Arts, Celtic Studies and Social Sciences (CACSSS) and UCC Library, UCC has been a member of DRI since 2021.
UCC Library's Research Data Service has been proud to work with UCC researchers and the DRI team to help to prepare the following new collections of research materials for DRI:
Irish Film Poetry Archive
Soon after 2022 ticked over into 2023, we welcomed the first new DRI collection of the year, the 'Irish Film Poetry Archive'. The collection initially comprised ten 'film-poems' described as creative fragments of poetic text or speech accompanied by video and sound.[1] These born-digital poems belong to the wider field of digital literature, defined as 'a first-generation digital object created on a computer and (usually) meant to be read on a computer'.[2]
This collection was published in DRI by its curator Dr James O'Sullivan, who is based in the Department of Digital Humanities, part of the School of English & Digital Humanities. In the metadata for the overall collection, James quotes Serge Bouchardon explaining that 'for a piece of writing to really count as digital literature, the digital component needs to be an essential part of the work's aesthetic'. He continues, 'it is printed work digitized for optimal display in a portable computational environment. Digital literature is algorithmic. It changes as the reader engages it'.[3]
Accordingly, when we navigate to one of the objects in the collection, called 'Chronosequence', we enjoy the multimodality of forest sounds and music; striking colour and black and white imagery; and Doireann Ní Ghríofa's words displayed on screen. James has explained that film-poems like this 'rely, essentially, on the presentation of poetic language within traditionally cinematic frames' and that this form has become 'hugely popular amongst Irish writers and filmmakers'.[4] This work, along with the nine others that have been compiled in this DRI collection, he explains, 'profoundly influence the ways in which readers engage with the literary'.

James O'Sullivan has acknowledged Ní Ghríofa for 'giving this genre the creative care and attention necessary to see it legitimised within Ireland's literary canon'. However, born-digital works like 'Chronosequence' need particular attention to ensure that future generations can continue to find; access; view; enjoy; and be inspired by them in the long-term future.
Irish literary and artistic communities have uploaded film-poems to spaces like YouTube, as James has argued, 'to reclaim a small portion of these important cultural spaces from the other vapid sorts of content of which they are invariably comprised'.[5] However, the content is vulnerable on YouTube. Born-digital works 'elude the objecthood' that is typical of analogue pieces and that libraries; galleries; and museums have become accustomed to looking after, and instead rely on multiple infrastructures such as the internet; data (and metadata); servers; and hardware.[6] These born-digital poems in online platforms like YouTube are at risk of becoming a huge loss to the canon: dead links, deleted data, replaced data.
Provided that curators like James can prepare high-quality data, and accurate and rich metadata, DRI's Repository itself can provide continuity of access for the long term for these digital objects. Potential readers will know where to look for these poems; how to cite them; and how they are allowed to use and reuse them. So, by taking steps to share these film-poems along with their metadata in DRI, James himself has made an important contribution to the ongoing care of these works for future generations.
This collection will be expanding in the upcoming months, with the plan being to expand it to up to 100 film poems, with some of this work done in collaboration with students. These will be digitally preserved and shared for the long term future. Explore the Irish Film Poetry collection here: https://doi.org/10.7486/DRI.z6044q33h
Ports, Past and Present
In February we celebrated the publication of the 'Ports, Past and Present' collection, an archive of the creative outputs, documentary films, heritage stories and other publications generated by research project of the same name.
The Irish Sea basin forms a distinct node of histories, economies, and identities. Between 2020 and 2023, the Ports, Past and Present project has considered five very different ports and their communities on either side of the sea: Dublin Port, Rosslare Harbour, Holyhead, Fishguard and Pembroke Dock. The DRI collection consists of 353 items, including documentary films; artistic works commissioned by the project; and audio recordings of interviews conducted by the project team. Postdoctoral researcher Dr James Smith and Project Coordinator Dr Rita Singer (Aberystwyth University) managed the deposit process with embedded data stewardship support from UCC Library's Research Data Steward Dr Deborah Thorpe.
To give an example of a digital object from this wide-ranging collection, there is an artwork by the artist Peter Stevenson. This striking silhouette image is from the back page of a book of folk-tales from Fishguard in Wales entitled Uisce Dŵr Water: Folk Tales, True Tales and Tall Tales – Fibbing from Fishguard. The image depicts the apparent alcohol problem of the mermaids of Bae Ceredigion, which can be read about in chapter 2 of the full book, which is also preserved in DRI.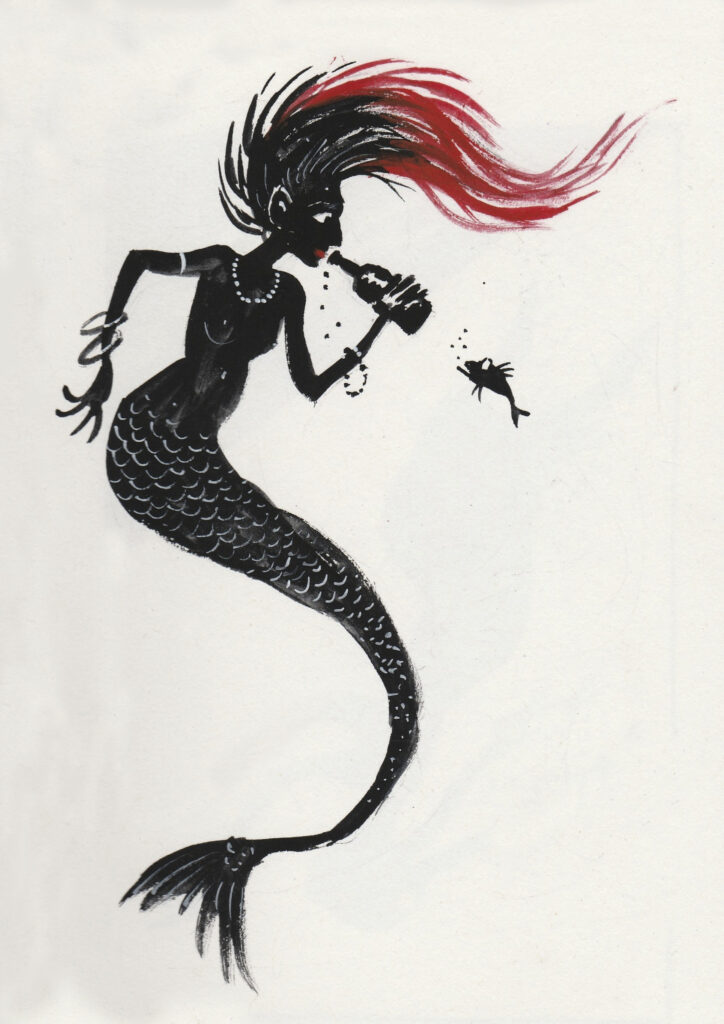 A Sea of Stories is another example. This is a digitisation of a ceramic mural by Robert Jakes celebrating the cultural history of the sea between Ireland and Wales, which is now installed at the Ferry Terminal at Pembroke Dock. As the description in the metadata explains:
'The design of the mural was developed by placing stories on bisque-fired tiles making up a map of the sea, as images and short texts, in order to position stories in relation to each other. Wildlife, wrecks and transatlantic cables all lie below the surface of the water, along with myths and memories. Combining words and striking images, Robert Jakes captures the richness of life on and beneath the waves through time, from Viking treasure to wartime history, with ecological insights and even a contemporary postcard by a local resident.'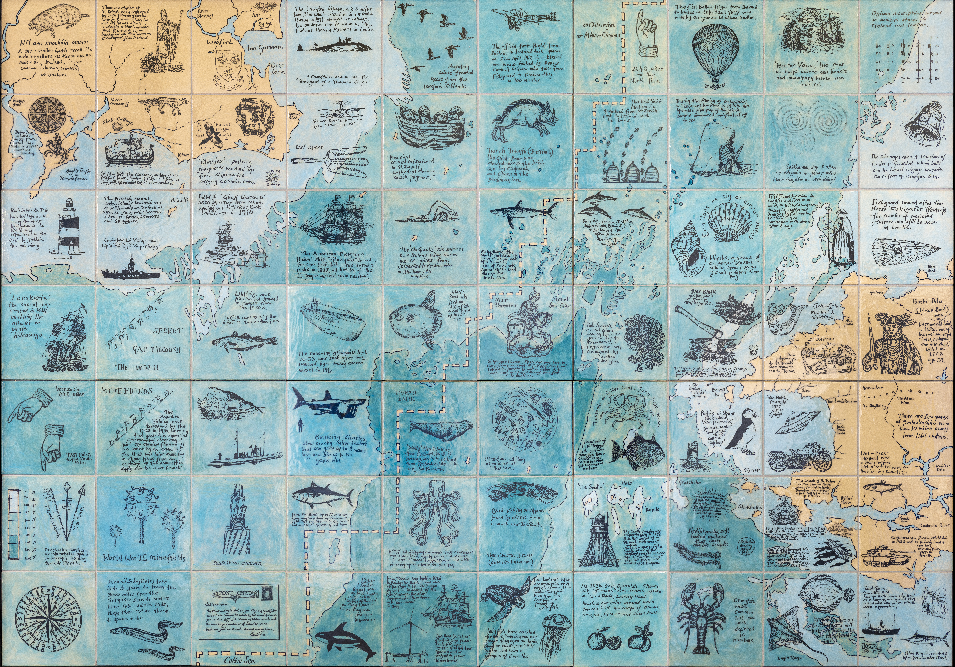 The image is very high quality, a composite photograph of the mural in situ, and as such is particularly suitable for exploration within the International Image Interoperabilty Framework (IIIF), which can be done without even leaving the DRI Repository (visit this DOI and click the IIIF logo at the bottom of the right navigation menu). IIIF offers a wonderful way of examining the rich image, comparing it with images from any other IIIF-compatible source, and even annotating it if you choose.
Next on the project teams digital preservation plan is the metadata that is presented on its interactive 'Five Ports on the Irish Sea' page, which is powered by Omeka and Curatescape. This is dynamic web content that is in need of long-term preservation. Preservation will mean that not only will the 'assets' such as videos and images will be available long term, but also all the accompanying information that has been presented in this interactive resource.
The Ports, Past, and Present project has given increased visibility to rich cultural history of the communities that have contributed to the project. Digital preservation of the outputs will ensure continued access to the project's outputs by these communities, long after the project itself has ended.
The Ports, Past and Present collection, which is still growing as we speak, can be found in DRI at: https://doi.org/10.7486/DRI.ht259b362
Irish Doctorate Resources
'Can the supervisory process itself be somatic, improvisation, or a witnessing practice? Can we think of supervision as a choreographic process? Can feedback and discussion processes be a creative activity?'
(Vida Midgelow, Looking Forward: Artistic Doctorates in Dance and Movement Practices, Visioning the Future Seminar, 2020 – see https://doi.org/10.7486/DRI.mp496590w]
Visioning the Future: Artistic Doctorates in Ireland was a project that was led by Professor Jools Gilson (principal investigator) with Dr Inês Bento-Coelho (postdoctoral researcher) in 2020/21. Visioning the Future focused on exploring the landscape of doctoral education in Performing Arts and Film/Screen Media in Ireland. One of the results of this project is the Artistic Doctorate Resources website, which aims to support students, staff, and institutions to enhance their doctoral provision for Artistic Research PhDs. Dr Patrick Egan, Lecturer in Digital Humanities at UCC worked as web developer on the project.
The website comprises a central visualisation of the topics of the content that emerged from fifteen online seminars, which have been contributed to by international figures in Artistic Research education. These resources provide distinctive insights into supervision, examination, sharing PhD practice, and artistic research in film, theatre, performing arts, dance, and music.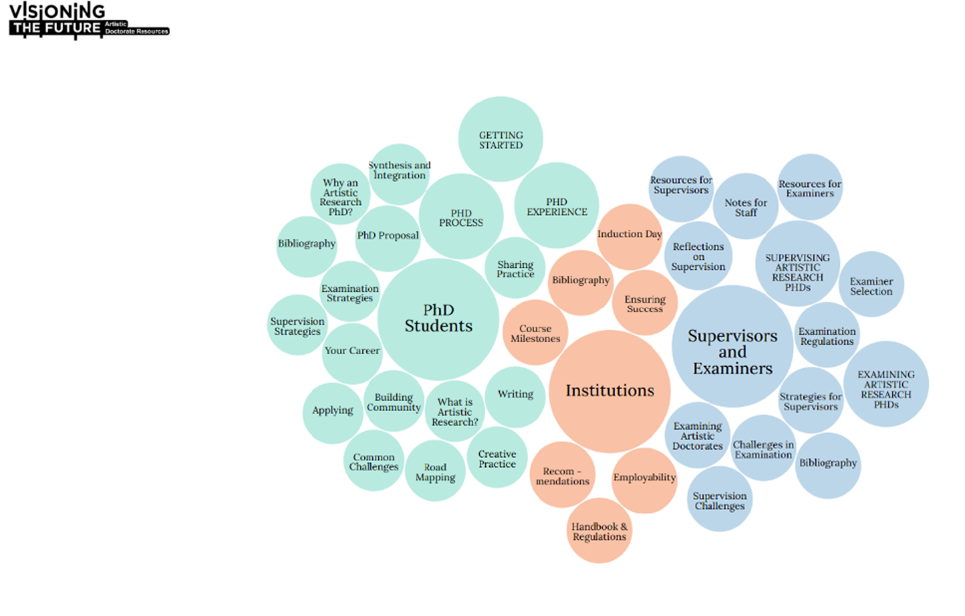 The written information has been extracted from the individual webpages that make up the web resource, and deposited as PDFs in the DRI as the 'Artistic Doctorate Resources' collection. The work of preparing the data and metadata for the repository, and managing the workflow, has been undertaken by Patrick Egan, who has worked on the Cork LGBT Archive (also in DRI) as well as enriching metadata for Irish Traditional Music.
In total, there are thirty-one PDFs on topics ranging from 'Writing an Artistic Research PhD Proposal', to 'Strategies for Artistic Research PhD Supervision', to 'Employability for Artistic Research Doctorates'. Accompanying these are an 'Artistic Research PhD Milestones Sheet' and a 'PhD Roadmap Template', which help doctoral researchers to plan and track their progress.
Over time, web links tend to cease to point to their originally targeted page, a phenomenon known as 'link rot'. This is a big problem when we consider how much time, expertise and money goes into creating digital resources. Depositing the Artistic Doctorate Resources content into DRI has been an important exercise in mitigating the ephemeral nature of web content. Now with persistent identifiers that are a long-lasting reference to the resource; metadata curated by the project team; and content converted into a more stable PDF format, even if the original website ceases to exist, Artistic Doctorate Resources will be discoverable and useable by future generations.
The Artistic Doctorate Resources collection can be explored at: https://doi.org/10.7486/DRI.mw237z56w
---
We hope to publish updates about new collections in DRI on a regular basis. If you would like more information about the Digital Repository of Ireland and/or how to plan to preserve your data there, you can email Dr Aoife Coffey and Dr Deborah Thorpe at the Research Data Service at: researchdata@ucc.ie
By Deborah Thorpe, Research Data Steward, UCC Library
---
References
[1] James O'Sullivan, 'Irish digital literature,' in Technology in Irish Literature and Culture (Cambridge University Press, 2023), p. 316.
[2] N. Katherine Hayles, Electronic Literature: New Horizons for the Literary (Notre Dame, IN: University of Notre Dame, 2008)
[3] Serge Bouchardon, 'Towards a tension-based definition of Digital Literature,' Journal of Creative Writing Studies 2, no. 1 (2017)
[4] James O'Sullivan, 'Electronic Literature in Ireland', https://doi.org/10.7273/5mgv-mc25
[5] O'Sullivan, 'Irish digital literature,' p. 316
[6] Tom Ensom and Stephen McConnachie, 'Preserving and sharing born-digital and hybrid objects from and across the National Collection (Decision-Making Model)' [Data set, 2022]. Zenodo. https://doi.org/10.5281/zenodo.7097490