Digital Preservation of Research Data with the Digital Repository of Ireland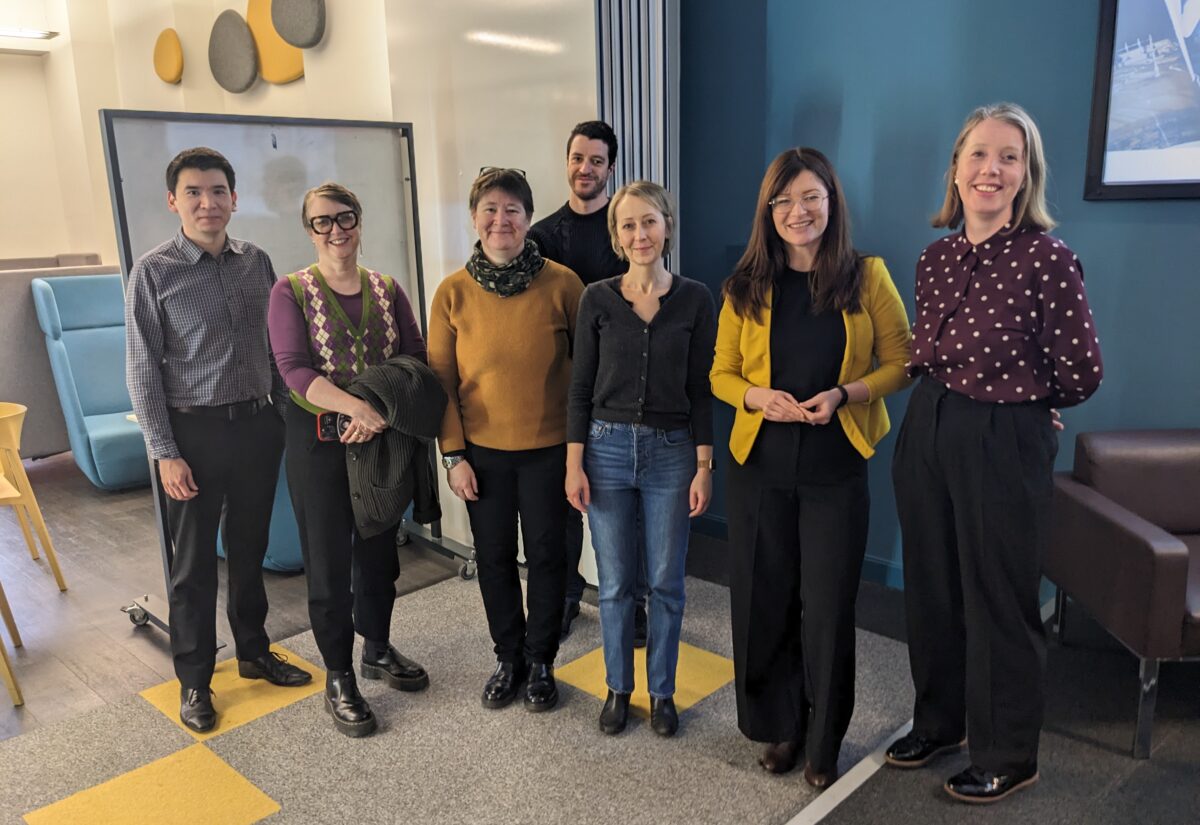 On 8 March, UCC Library was delighted to welcome team members of the Digital Repository of Ireland (DRI) to Cork for a day of informative talks relating to digital preservation and data sharing; a celebration of the work of UCC researchers; and plenty of informal conversation.  DRI is a national digital repository for Ireland's humanities, social sciences, and cultural heritage data. With a current total of 47 members, including UCC, DRI's collections of digitally-preserved material represent a broad range of areas ranging from stories of the repeal of the Eighth Amendment, to collections of Irish stamps, to a cluster of nineteenth-century manuscripts that were found under the thatch of a cottage and were subsequently digitised.   
The event, entitled 'Preserving and Sharing your Arts, Humanities, or Social Sciences Research Data with the Digital Repository of Ireland', brought together DRI, the College of Arts, Celtic Studies and Social Sciences (CACSSS) and UCC's Research Data Service with the aim of helping to ensure that arts, humanities, and social sciences research data are citable, retrievable, and available for future generations to access. Through a partnership between CACSSS and UCC Library, UCC has been a member of DRI since 2021, and for many UCC staff and students this was an opportunity to learn more about what this organisation offers to the research community, and to think more about their own digital collections in terms of digital preservation and data sharing.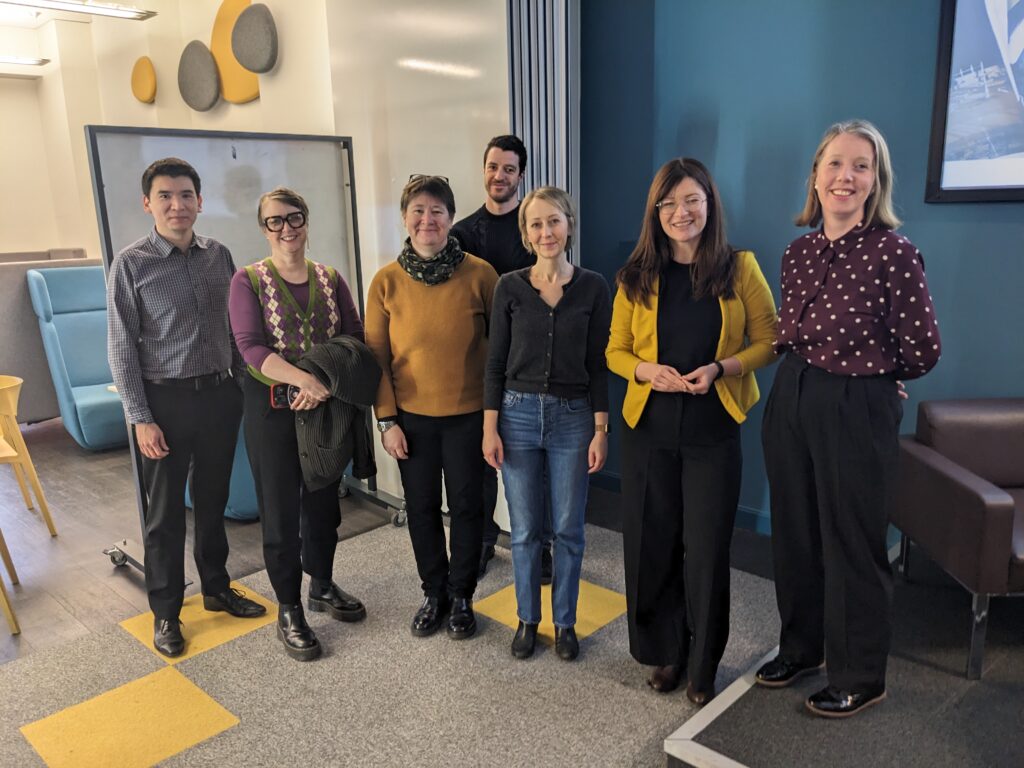 The event was opened by Dr Allen White, Research Officer for CACSSS, who reminded us that while UCC joined DRI in 2021 the relationship between the two organisation is much older with one of the first UCC collections ingested in 2001, the Irish Women at Work Oral History Project.  He emphasized how important the Open Science/Research agenda has become and that while it is fast becoming a requirement for funding bodies, preserving our diverse and interesting research data is also of great benefit to researchers and future research. He welcomed the DRI visit as an opportunity to demystify some of the preservation process and as an opportunity to build stronger connections between DRI and UCC.  
An introduction to DRI and digital preservation
DRI's Interim Director, Dr Lisa Griffith gave us an introduction to the Digital Repository of Ireland, interrogating the questions of 'what do we mean by digital?'; 'what is digital preservation?'; and 'what are research data?'. She then spotlighted some of DRI's current collections including the Fáilte Ireland collection of historical photos relating to tourism and the Savita Memorial collection of images of the mural by Aches graffiti artists depicting Savita Halappanavar, which became an inspiration to those who campaigned to repeal the 8th Amendment. Dr Griffith's talk closed with a lively question and answer session and led into lunch. This provided a good opportunity for those who had joined us to chat with each other and the DRI team over sandwiches and coffee.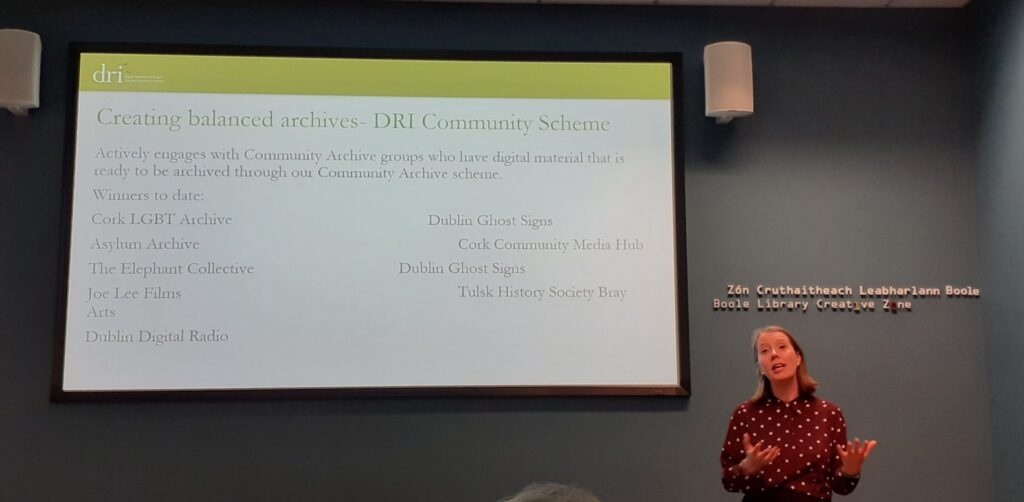 For more information on the Digital Repository of Ireland, visit the DRI website and join the Friends of DRI newsletter.
Digital preservation of outputs from the 'Ports, Past and Present' project
It was our pleasure to welcome Dr James Smith to talk about the digital preservation of outputs from the Ports, Past and Present project, which considers five ports and their communities in Ireland and Wales and is a partnership between UCC, Aberystwyth University, University of Wales Trinity Saint David and Wexford County Council. Dr Smith showed us the collections that have been newly preserved and shared in DRI, which includes documentary films; artistic works commissioned by the project; and audio recordings of interviews conducted by the project team.  
The Ports, Past and Present collection, which is still growing as we speak, can be found in DRI at: https://doi.org/10.7486/DRI.ht259b362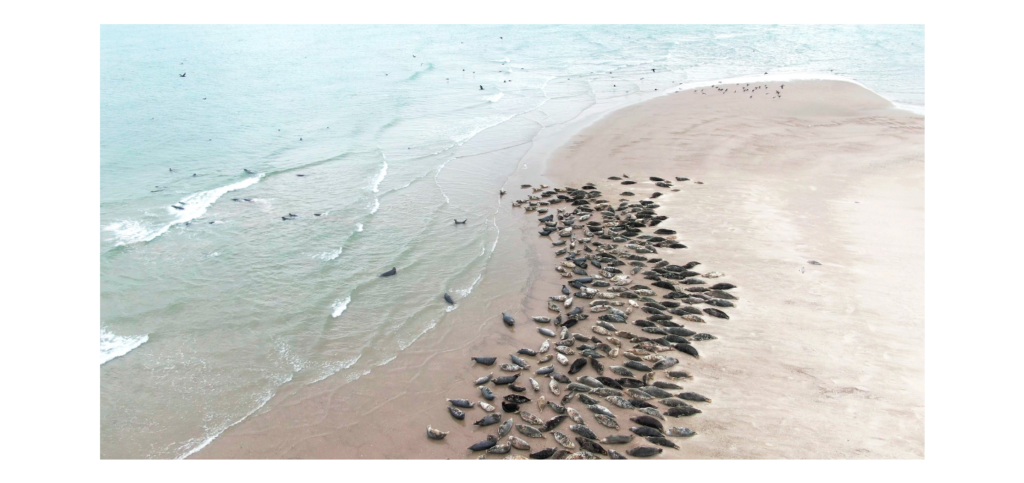 The practicalities of digital archiving and preservation
Two talks on the practicalities of digital preservation followed, with DRI's Digital Archivist Kevin Long speaking about copyright and licensing as part of digital preservation, looking at what copyright is; how licensing works to give permission for the use and reuse of copyrighted material; and open culture and copyright reform. Kevin stated that DRI supports its members to make their digital content, 'as open as possible, as closed as necessary'.
DRI runs its own comprehensive training programme for its members, which includes sessions on copyright and licensing as well as using the Repository and data protection and anonymisation of research data. UCC's Research Data Service sends around notices of upcoming workshops to UCC staff and students. You can also view DRI's Training and Education page for links to a variety of online resources including videos, factsheets and other publications.
Finally, Dr Aoife Coffey and Dr Deborah Thorpe of UCC's Research Data Service shed more light on the next steps that researchers need to take in order to preserve and share their own research data in DRI. We work hand-in-hand with the DRI team to provide information, training and practical support to those within UCC's community who want to plan to preserve and share their digital materials in the Repository. We also recognise that DRI is not the solution for every project, and can provide advice on a range of repositories for long-term digital preservation.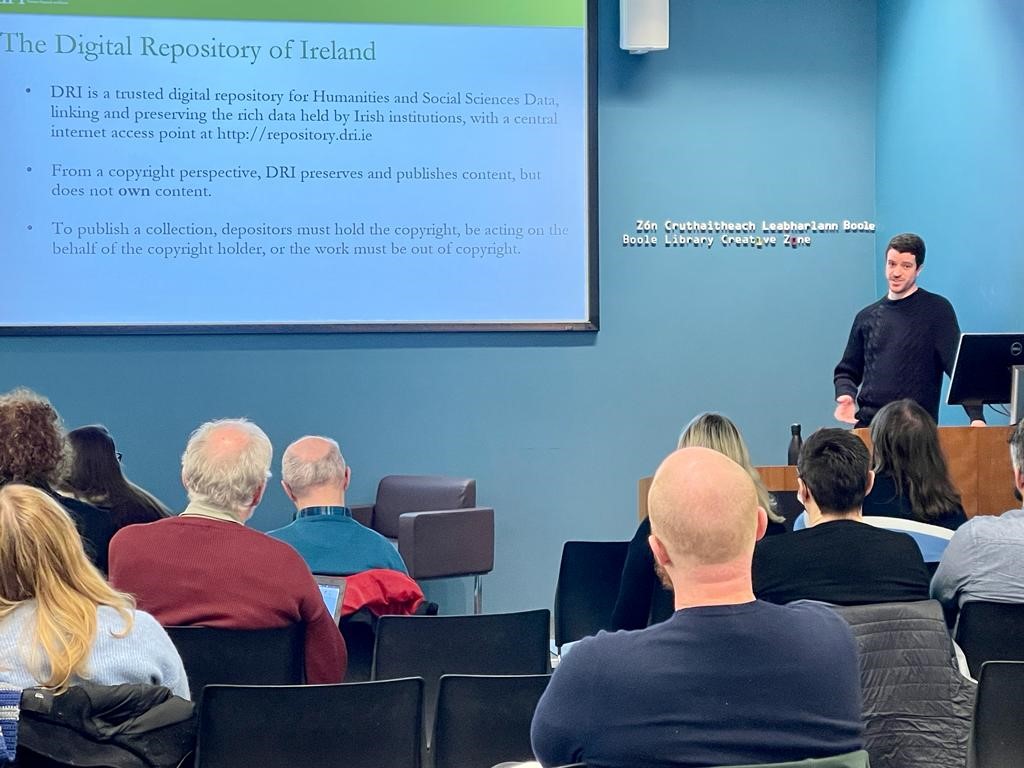 We are grateful to Dr Helena Buffery, Vice-Head of CACSSS (Research) for closing remarks before we bade farewell to those who assembled for the event. Dr Buffery emphasised the importance of access to infrastructure like the DRI as core enabler of Open Research. She pointed out that at times when there is a push towards commercialization and profit, Open Research refocuses the narrative and ensures that we are making our outputs available to our stakeholders so the knowledge can be used to benefit all.
Dr Buffery acknowledged that DRI membership and partnership with UCC Library is just the beginning and concluded with a call for engagement from across the research community with the emerging discussions on policy, infrastructure and support which will further our engagement with Open Research.
What stuck with us?
There was so much to take away from the event, but some of the key points that stuck with us are:
The accessibility, relevance and richness of the collections in DRI is amazing. With a current total of 47 members – and counting – DRI's collections of digitally-preserved material represent a wealth of different organisations, subjects, and research areas. These collections, all relating to the island of Ireland, are preserved together within the Repository, linked together by their metadata and shared in a way that enables them to be accessed, analysed and reimagined in the future.
The potential of Europeana: Dr Griffith explained that DRI is 'actively engaged with European and Global data organisations and projects' and a large part of that is through adding collections to Europeana. Europeana is a platform for sharing and promoting cultural heritage within a European context, so material that is added here will be enjoyed by a wide variety of people alongside related content from other countries. Connections are made between the materials based on shared subjects, whether that be people, places, or topics.
The primary role of DRI is preservation. DRI recognises the importance of showcasing digital materials through exhibitions and other user-friendly ways of displaying content and encouraging people to view, analyse and re-use it. However, the Repository has been built with preservation at its heart and as such has the primary purpose of collecting data, and rich and accurate metadata, is to ensure the long term preservation of these assets for future generations. So whilst DRI provides the tools that users need to use and reuse this data such as DOIs and a citation tool, researchers also need to think about their own strategy for the dissemination of these materials such as data papers; project websites; exhibitions; and social media.
Copyright is hard even for the experts. Kevin Long gave a tremendously useful and practical introduction to copyright and licensing. However, he acknowledged the complexity of how it works in practice. He reminded us to avoid Googling for the answers, and if researchers have questions about this topic in relation to digital preservation and data sharing then they can contact us at the UCC Research Data Service and we can help – often by knowing who is the right person to provide the answer
For more information…
We would like to thank the DRI team for traveling to Cork for the event, as well as our speakers from UCC and the audience for coming along and contributing such important questions and discussion points. We would also like to acknowledge all of our colleagues at UCC Library who provided advice, support, and practical assistance with the event, as well as the event caterers.
If you would like more information about the Digital Repository of Ireland and/or how to plan to preserve your data there, you can email Aoife and Deborah at the Research Data Service at: researchdata@ucc.ie
by Deborah Thorpe and Aoife Coffey