The Book of Kells: Image and Text / Introduction
Student Exhibition, MA in Medieval History, UCC
Special Collections and HI6091: Skills for Medieval Historians
Special Collections, UCC Library is delighted to welcome students engaging with our collections. We in Special Collections consider that this online exhibition on the Book of Kells contributes to our mission of 'connecting people with ideas.' This exhibition, presented as a series of blog posts, emerges from the HI6091 module co-taught by Dr Małgorzata Krasnodębska-D'Aughton and Ms Elaine Harrington, among others. Over the last few years Elaine Harrington, Special Collections Librarian, has worked with a number of Departments in the College of Arts, Celtic Studies and Social Sciences (CACSSS) whose lecturers deliberately engaged with Special Collections' material with specific methodologies or for specific purposes for both undergraduates and postgraduates. For the students creating this online exhibition, a wider variety of skills including critical analysis of texts, awareness of copyright restrictions, object handling, teamwork and communication are developed. UCC Library considers the end results of exhibits that celebrate campus scholarship to be invaluable. For further information as to how academic Departments could consider collaborating with Special Collections see:
Bahde, Anne, Heather Smedberg and Mattie Taormina, ed., Using Primary Sources: Hands-on Instructional Exercises (Santa Barbara, CA: Libraries Unlimited, an imprint of ABC-CLIO, LLC, 2014).
Mitchell, Eleanor, Peggy Seiden and Suzy Taraba, ed., Past or Portal?: Enhancing Undergraduate Learning Through Special Collections and Archives (Chicago: Association of College and Research Libraries, a division of the American Library Association, 2012).
Thomas, Lynne and Beth M. Whittaker, ed., New Directions for Special Collections: An Anthology of Practice (Santa Barbara, CA: Libraries Unlimited, an imprint of ABC-CLIO, LLC, 2017).
MA in Medieval History, UCC
Studying Medieval History at University College Cork opens students onto an exciting period of over one thousand years that they can view from political, cultural, social and religious perspectives. UCC students pursuing Medieval History have been successful in obtaining highly prestigious national awards including the Undergraduate Awards, the Mansion House Prize, as well as the Irish Research Council awards for doctoral and post-doctoral work.
The MA in Medieval History at University College Cork offers the students a selection of courses that focus on the history and culture of medieval Ireland and Britain and their encounters with the wider world from the Late Antiquity to the Late Middle Ages (the early medieval era in these islands is often described as the Insular period). Students work directly on the sources, and their interpretation, in the light of the latest scholarship. Postgraduate medieval studies in UCC equip students with vital research skills. They learn Latin as well as other practical skills such as working in a museum, a library or a digital repository. They learn editorial skills, dealing with copyright issues and marketing, in addition to the soft skills of teamwork, communication and collaboration.
This online exhibition is the first digital output created as part of the MA in Medieval History. The exhibition, presented as a series of blog posts and focusing on the Book of Kells, stems from collaboration between the School of History and UCC Special Collections. The exhibition builds on the University's rich tradition of medieval scholarship and in particular on the contribution of Dr Jennifer O'Reilly. Her ground-breaking research on Insular manuscripts, history, art history and theology combined with her inspirational teaching has left a lasting scholarly legacy and inspired a new generation of scholars and students. This exhibition pays tribute to her scholarship.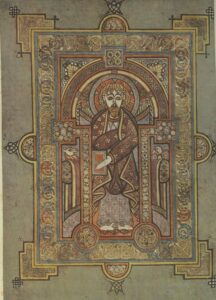 The Students
The text of the exhibition has been written by the four students registered for the MA in Medieval History, UCC, in the academic year 2016-17.
Donncdha Carroll completed his undergraduate degree in English and History at UCC. His research focuses on the First Crusade. His MA thesis examines ideas of spiritual and material reward as portrayed in First Crusader narratives. He received a Tutorial Scholarship from the School of History, UCC and has tutored in Medieval History.
Natasha Dukelow completed her undergraduate degree in History and Archaeology at UCC. Her prime interest area is the Franciscan order, particularly the Franciscan preaching culture and the order's representations of the Virgin Mary with an emphasis on the friars' impact on a wider social context. She was the first co-recipient of the Jennifer O'Reilly Memorial Prize awarded by the School of History for the best BA degree project in Medieval History.
Kate O'Brien completed her undergraduate degree in English and Ancient Greek and Roman Civilization in UCC, before enrolling on the MA programme to further pursue her interest in History. Her main areas of interest are medieval maps and depictions of monsters in liminal and Insular areas, in the context of classical traditions. Her MA thesis focuses on these topics by examining perceptions of Ireland during the Middle Ages.
Connor White completed his undergraduate degree at the University of Notre Dame (IN) with majors in Medieval Studies and modern South-Asian history. While there, he tutored in the Humanities. Following a H. Dip. in Arts (History) at UCC he enrolled in the MA programme. His primary area of interest is spiritual warfare in the early Christian sources with a focus on Insular hagiography.
The project has been overseen by Elaine Harrington and Dr Małgorzata Krasnodębska-D'Aughton.
Elaine Harrington is UCC Library's Special Collections Assistant Librarian. This role includes managing and developing Special Collections through facilitating user engagement with unique and distinct collections, reference and early printed books. Elaine focuses on the variety of ways users engage with Special Collections' services and collections, and the necessary skills that are required for effective engagement. Her research interests include teaching as a valid form of research and scholarship, and libraries in an historical context. Elaine is an active member of the LAI's Rare Books Group and CONUL's Unique and Distinct Collections Group.
Dr Małgorzata Krasnodębska-D'Aughton lectures in Medieval History at UCC's School of History. She has published on Irish illuminated manuscripts, manuscripts in Polish libraries, and most recently, on the Irish mendicant orders. She is interested in the intersections between History and other disciplines, History and the arts, and History and students' skills and employability. Her professional experience includes work on the Franciscan Faith: Sacred Art in Ireland 1600-1750 exhibition as well as the Medieval Ireland exhibition, both on permanent display at the National Museum of Ireland. She collaborates on the Monastic Ireland Project that provides a platform for academic studies on monasticism, combined with heritage and education outputs. She has recently contributed to programmes on RTÉ's Lyric FM titled 'Friars Walk' (December 2016) and 'Jerusalem Passion' (April 2017). She is a co-editor of Monastic Europe: Community, Landscape and Settlement to be published by Brepols.
Acknowledgements
All involved in the project wish to thank TCD Manuscripts Department for their generosity in providing images from the Book of Kells free of charge. We are grateful to Dr Damian Bracken and Dr Diarmuid Scully for their comments on drafts of the blogs. Our thanks to Vicky Janssens for providing the audio reading of the Kells folio 204r. Our gratitude goes to Peter Finnegan of Blackstone LaunchPad for sharing insights into entrepreneurial opportunities for History postgraduates. The students also wish to thank Elaine Harrington and Dr Małgorzata Krasnodębska-D'Aughton for their guidance and support.
The images from the Book of Kells, when not from TCD, are reproduced from Edward Sullivan, The Book of Kells (London and New York: The Studio, 1914). A copy of this publication is held in Special Collections, UCC Library.
Facsimiles
Alton, A.H. and Simms, G.O., ed., Evangeliorum quattuor codex Cenannensis, 3 vols (Bern: Urs Graf, 1950-51).
Fox, Peter, ed., The Book of Kells: MS 58, Trinity College Library Dublin (Lucerne: Faksimile Verlag, 1990).
Sullivan, Edward, The Book of Kells (London and New York: The Studio, 1914), reprinted as The Book of Kells: With Additional Commentary from an Enquiry into the Art of the Illuminated Manuscripts of the Middle Ages, by John Adolf Bruun (London: Studio editions, 1990).
General Reading
Brown, Michelle, Art of the Islands: Celtic, Pictish, Anglo-Saxon and Viking Visual Culture, C. 450-1050 (Oxford: The Bodleian Library, 2016).
Farr, Carol Ann, The Book of Kells: Its Function and Audience (Toronto: University of Toronto Press, 1997).
Henderson, George, From Durrow to Kells: The Insular Gospel-Books, 650-800 (London: Thames and Hudson, 1987).
Henry, Françoise, Early Christian Irish Art (Dublin: Cultural Relations Committee of Ireland, 1965).
Hourihane, Colum, ed., From Ireland Coming: Irish Art from the Early Christian to the Late Gothic Period and its European Context (Princeton: Princeton University Press, 2001).
Maxwell, Jane, O'Mahony, Felicity and Moss, Rachel, ed., An Insular Odyssey: Manuscript Culture in Early Christian Ireland and Beyond (Dublin: Four Courts Press, 2017).
McGurk, Patrick, Latin Gospel Books from A.D. 400 to A.D. 800 (Paris: Éditions Érasme, 1961).
Meehan, Bernard, The Book of Kells, An Illustrated Introduction (New York: Thames and Hudson, 1994).
Meehan, Bernard, The Book of Kells (New York: Thames and Hudson, 2012).