When the summer comes I like to think of what I can read – not what I should be reading but what I want to read. Genre fiction comes to mind: science fiction, fantasy, crime and detection. In an exhibition case on Q floor of the Boole Library is a selection of such genres.
Early Science Fiction
According to The Encyclopedia of Science Fiction the term 'science fiction' came into general use in the 1930s. However, before then many writers such as Jules Verne wrote stories that mingled "scientific fact and prophetic vision."
Jules Verne (1828 – 1905) was a French novelist, poet and playwright, however he's best known in English-speaking countries as a writer of science fiction. Both From the Earth to the Moon and Eight Hundred Leagues are part of a series known as 'Voyages Extraordinaires.' It's a sequence of fifty-four novels originally published between 1863 and 1905. The novels were original published in a bi-weekly magazine Magasin d'Éducation et de récréation. The goal of the Voyages was to outline all the geographical, geological, physical, and astronomical knowledge amassed by modern science and to recount, in an entertaining and picturesque format … the history of the universe. The series showcases Verne's meticulous attention to detail and scientific trivia, coupled with his sense of wonder and exploration.
The Verne material comprises two of the first authorised English editions produced by Sampson Low. From the Earth to the Moon (#3 VE) was first published in French as De la terre à la lune. It tells the story of the Baltimore Gun Club, a post-American Civil War society of weapons enthusiasts, and their attempts to build an enormous sky-facing space gun and launch three people in a projectile with the goal of a moon landing. There is a sequel to the book Around the Moon (#7 VE). Eight Hundred Leagues (#21 VE) was first published in French as La Jangada – Huit Cents lieues sur l'Amazon. A jaganda is a Brazilian timber raft and the majority of the novel is situated on this raft.
20th Century Science Fiction
John W. Campbell in the 1940s proposed that "science fiction was a literary medium akin to science itself: Scientific methodology involves the proposition that a well-constructed theory will not only explain away known phenomena, but will also predict new and still undiscovered phenomena. Science fiction tries to do much the same – and write up, in story form, what the results look like when applied not only to machines, but to human society as well" (Encyclopedia of Science Fiction). This definition is useful to bear in mind when considering the work of Sheckley, Simak and White.
Robert Sheckley (1928 – 2005) was nominated for Hugo and Nebula awards and was named Author Emeritus by the Science Fiction & Fantasy Writers of America in 2001. Shards of Space is a short story collection. Sheckley's stories are elegant and literate and the wit and surprises in them comment on aspects of life in the mid-late 20th century.
Clifford D. Simak (1904 – 1988) In They Walked Like Men a newsman learns alien "bowling balls" which can take any form are buying up the Earth in order to turn it into a holiday resort. In Hitch Hiker's Guide to the Galaxy aliens destroy the Earth to make room for a hyperspace motorway. Alien invasion was a popular theme in the 1960s and reflected fears during the Cold War of Communist agents being ever present. Other examples include Invasion of the Body Snatchers or John Wyndham's The Midwich Cuckoos.
James White (1928 – 1999) lived in Belfast and Portstewart. He wrote a sequence of novels and short stories under the title 'Sector General.' The sequence is centred on a vast, multi-species space habitat whose full name is 'Sector Twelve General Hospital.' Themes in the Sector General works include war and first contact difficulties by aiding or healing aliens with often bizarre health issues. Star Surgeon is the first novel in the sequence.
Fantasy
Fantasy unlike science fiction lacks the specificity for a definition. The Encyclopedia for Fantasy notes that "a fantasy text is a self-coherent narrative. When set in this world, it tells a story which is impossible in the world as we perceive it; when set in an otherworld, that otherworld will be impossible, though stories set there may be possible in its terms." Under this definition fantasy includes, but is not limited to, works on allegory, fairytale, surrealism or wonderlands.
Friedrich de la Motte Fouqué (1777 – 1843) was a German writer in the Romantic period. He is best known for the fairytale novella Undine. Undine is water fairy who marries a knight, Huldebrand, in order to gain a soul. Special Collections' copy is the unabridged English translation by William Leonard Courtney with illustrations by Arthur Rackham. It was published in 1909. Arthur Rackham (1867 – 1939) was one of the leading illustrators from the 'Golden Age' of British book illustration, c.1890 – 1918. Rackham's illustrations in Undine comprise 15 colour plates and 41 line drawings.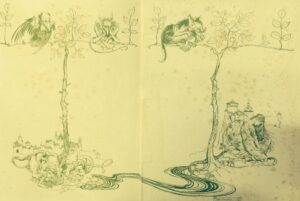 Ursula K. Le Guin (1929 – ) writes in both science fiction and fantasy genres, and is a multiple award-winner of the Hugo Award, Nebula Award, Locus Award, and World Fantasy Award. A Wizard of Earthsea is the first in the Earthsea cycle; the others being The Tombs of Atuan (1971), The Farthest Shore (1972), Tehanu (1990), The Other Wind (2001) and Tales from Earthsea (2001). A Wizard of Earthsea is set on an otherworld archipelago and tells of the apprenticeship and road to maturity of Ged, a mage.
John Gardner (1933 – 1982) retells the Anglo-Saxon epic Beowulf from the point of view of the monster, Grendel. Gardner uses Grendel to explore philosophical ideas such as existentialism. Emil Antonucci was a noted book cover designer and produced the line drawings for this edition of Grendel.
Detective Fiction
One of Wilkie Collins' (1824 – 1889) works is The Woman in White. The Woman in White first appeared in serial form in All the Year Round (26 November 1859 – 25 August 1860) and is one of the best-known examples of sensation fiction. Each chapter ends with a cliff-hanger guaranteeing the reader will want to read more! However it contains early detective figures in Walter Hartright and Marian Halcombe doing sleuthing techniques of later private detectives. Walter & Marian delve through financial and church records to ascertain identities of multiple characters. On one of the blank pages is an inscription to May from Mary written in 1894. Mary writes " I hope you find as much pleasure in reading [this interesting book] as I have in lending it to you."
Grant Allen (1848 – 1899) was a writer of science fiction and detective fiction in the late 19th century. In 1899 two works featuring female detectives were written by him: Hilda Wade (finished by Arthur Conan Doyle) and Miss Cayley's Adventures. Over the course of twelve stories the reader sees issues that the 'New Woman' dealt with at the turn of the 19th and 20th centuries: how to earn an independent living; how to fit within modern, urbanised imperial Britain and how to reconcile feminist ideals with romantic love. Lois Cayley is an example of the 'New Woman' as she is educated and a bicycle-riding adventuress travelling to Egypt and India. She is independent and self-supporting as she works as a lady's companion, a journalist, a typist, a bicycle saleswoman before agreeing to marry Harold Tillington. In the last story "The Tale of the Unprofessional Detective" like Walter Hartright and Marian Halcombe she too is an amateur detective as she has to clear Harold's name on charges of forgery.
Acknowledgements
Le Guin, Ursula K. A Wizard of Earthsea. London: Puffin, 1968. On loan from Elaine Harrington.
Bibliography
Allen, Grant. Miss Cayley's Adventures. London: Grant Richards, 1899.
Clute, John, and Peter Nicholls, eds. The Encyclopedia of Science Fiction.
Collins, Wilkie. The Woman in White. London: Chatto and Windus, 1892.
Collins, Wilkie. The Woman in White. London: Chatto and Windus, 1894.
Gardner, John. Grendel. Illust. by Emil Antonucci. New York: Ballantine, [1971].
La Motte-Fouque, Friedrich Heinrich Karl. Undine. Adapt. W.L. Courtney. Illust. Arthur Rackham. London: Heinemann, 1909.
Sheckley, Robert. Shards of Space. London: Transworld, 1962.
Simak, Clifford. They Walked Like Men. London: Pan, 1965.
Verne, Jules. Eight Hundred Leagues on the Amazon. London: Sampson Low, Marston, Searle & Rivington, 1889.
Verne, Jules. From the Earth to the Moon: Direct in 97 Hours 20 Minutes and a Trip Around It. Trans. Louis Mercier & Eleanor E. King. London: Sampson Low, Marston, Searle & Rivington, 1881.
White, James. Star Surgeon. London: Corgi, 1967.