An insight into the Kathleen Boland Collection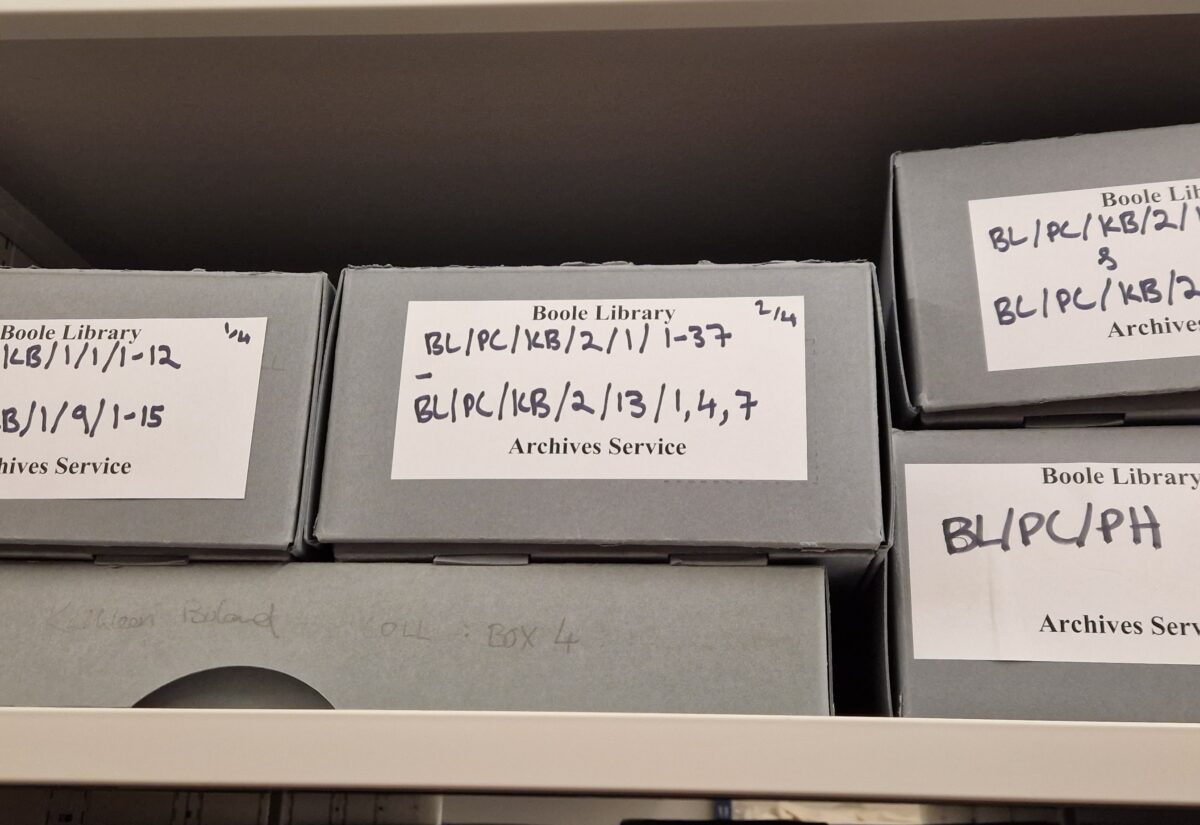 This guest post was written by Hannah Lynch. Hannah is a project Archivist and was contracted by the Library to fully list, and make available, the Kathleen Boland Collection. I was hugely impressed with the caliber of her work and her passion for the Collection's subject- Kathleen Boland. I therefore thought it only fitting that she share a sample of this project with our blog readers. Emma Horgan- UCC Library Archivist
Introduction
For most of the 20th century, the contribution of women during the Irish Revolutionary period was at best, understated, and at worst, omitted completely from the historical narrative. Acquiring, describing and making available archival collections owned and curated by women are crucial in enabling historians and academics to create fuller, more detailed accounts of these women's efforts.
Kathleen Boland's archival papers, held in UCC Library paint a picture of a woman who was resilient and dedicated to the Republican movement in her own right. In the past, she has often been depicted as a secondary figure whose contributions were largely eclipsed by her more famous brothers, Gerald and Harry. I was determined, therefore, to ensure while working on the collection that the focus would remain on her as a key individual as much as possible, rather than an auxiliary figure.
Who was Kathleen Boland?
Kathleen Boland was born on 19 July 1889 in Dublin to James and Catherine 'Kate' Boland. Both her parents came from Republican backgrounds; and they instilled this sense of tradition in their children, who all took part in the movement in some capacity. Kathleen herself played a minor role in the 1916 Easter Rising but became much more active in the War of Independence. The family home in Marino Crescent, Clontarf was a known safe house for I.R.A. men on the run and was subjected to relentless raids by Crown Forces. Boland often acted as a courier and worked in her brother Harry's tailor shop on Lower Abbey Street, which was a hub for I.R.A. communications and meetings in Dublin. She was a vocal opponent of the Anglo-Irish Treaty and following the death of her brother Harry in August 1922, travelled on a fundraising tour on behalf of the Anti-Treaty side to the U.S.A. with Linda Kearns and Hanna Sheehy Skeffington.
She married Cork-born veterinarian, I.R.A. volunteer and Senator Seán O'Donovan in 1923. Yet marriage and motherhood did little to halt her political work. She continued to campaign, petition and fundraise for various Republican and political causes, such as the Benevolent Fund of the Old Cumann na mBan. In 1938, she was awarded an 'E' grade pension for her services during the revolutionary period, which was later elevated to a 'D' grade. She died on 29 March 1954 and is buried in St. Fintan's Cemetery, Sutton.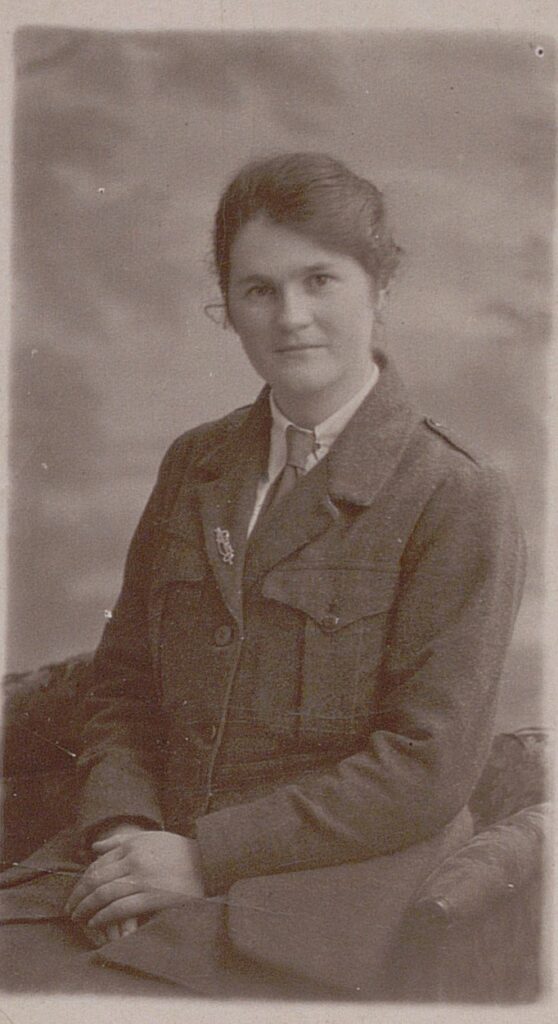 What's in the collection?
Given Kathleen's upbringing and experiences, it is evident that she viewed the concepts of Irish Republicanism and family as inextricably linked. This is reflected in the contents of the collection, which is a mix of personal and political items owned by the Boland and O'Donovan families. There are so many items that will obviously attract interest from researchers, but it's a wonderful collection for anyone to peruse. I've chosen a few of my favourite items to highlight for this post, which I feel capture the essence of the collection:
1. ''Grant of Right of Burial in Prospect Cemetery [later Glasnevin Cemetery]' issued to Kate Boland', 13 March 1895. Ref:BL/PC/KB/1/7/3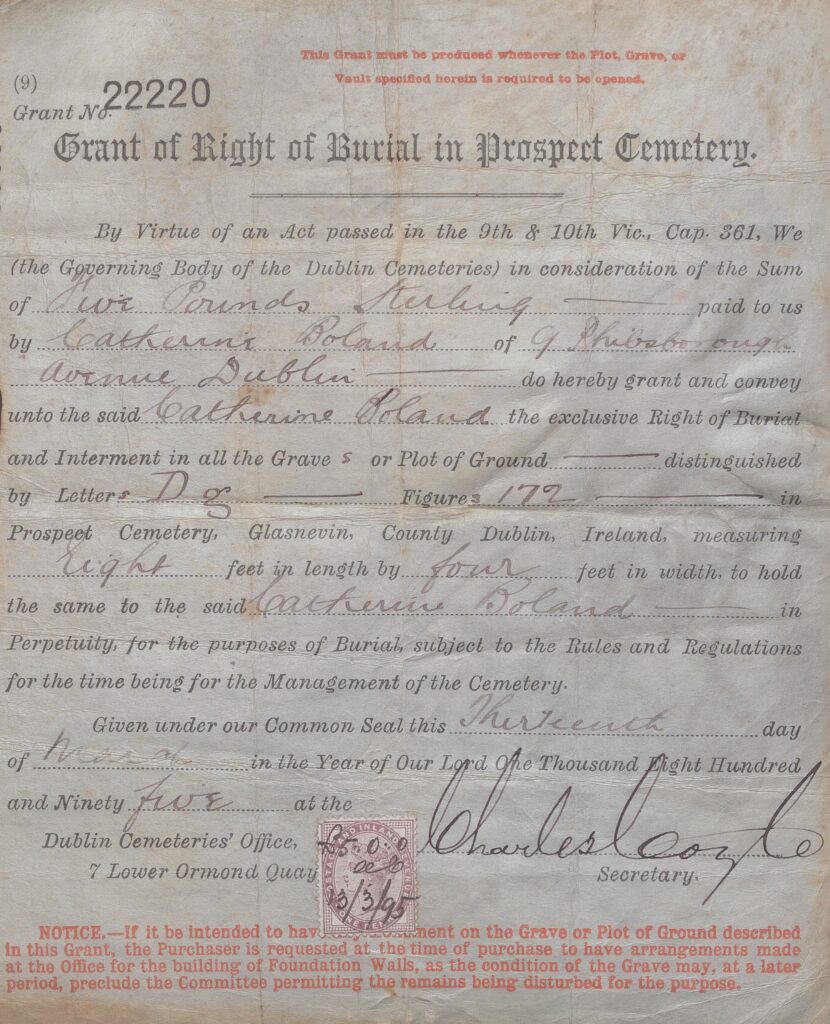 In 1895, James Boland died due to a head injury sustained during a fight at a public meeting in Dublin. The above document was issued to Catherine, his wife, following her purchase of a plot in Prospect Cemetary, now Glasnevin Cemetary, in March 1895. I feel that this item is a great example of demonstrating how records can be interpreted in various ways by different people. For instance, this document was created as proof of a transaction, and so for the proprietors of Prospect Cemetery it functioned as an administrative record. But for the Boland family, the record may have provoked a more emotional response as it signifies the premature death of their father and husband. The collection includes a series of photographs and material related to Catherine and James Boland.
2. Letter from Éamon de Valera to Catherine Boland, following the death of her son Harry, 04 August 1922. Ref: BL/PC/KB/1/7/4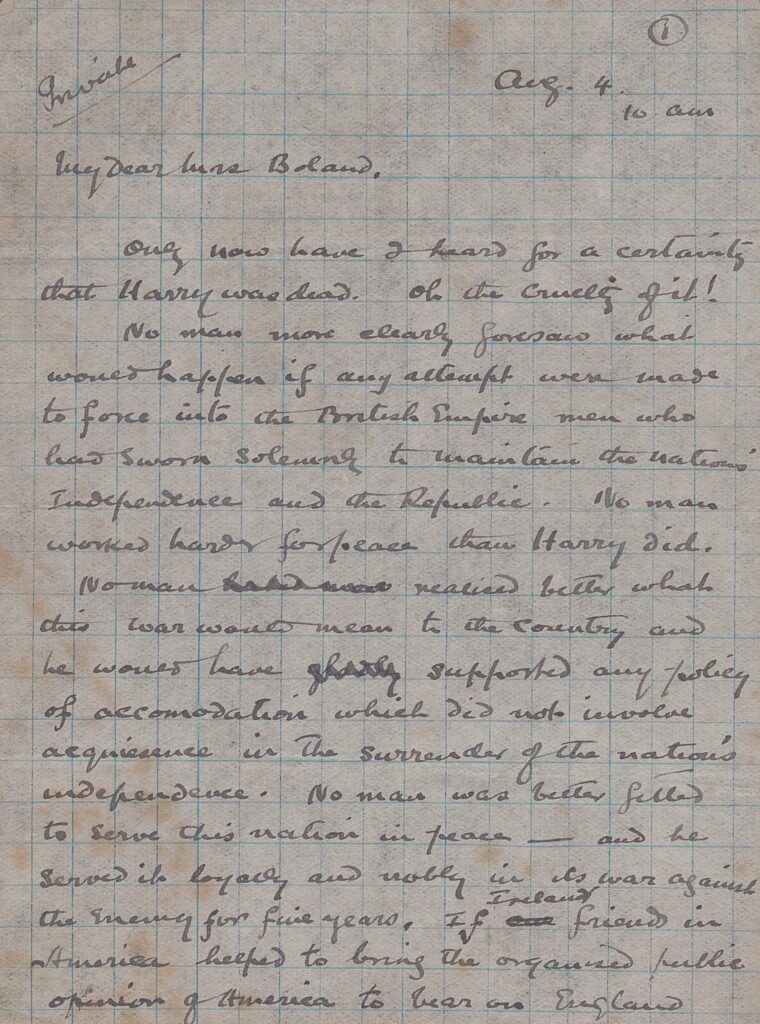 In 1919, Harry Boland accompanied Éamon de Valera on his tour of the United States of America. During this time, they developed a close rapport and this letter to Catherine, Harry's mother, demonstrates the grief that de Valera experienced on hearing about Harry's death in August 1922. He poignantly closes the letter by writing 'When my time comes Harry, more than all others I want to meet you.' De Valera would remain close to the Boland and O'Donovan families; he later became godfather to Kathleen and her husband Seán's son Henry and the collection features copies of letters, cards and other communications from de Valera to the couple.
3. Two photographs from Kathleen Boland's fundraising tour to the United States, 1922 – 1923. Ref: BL/PC/KB/2/1/5 and BL/PC/KB/2/1/14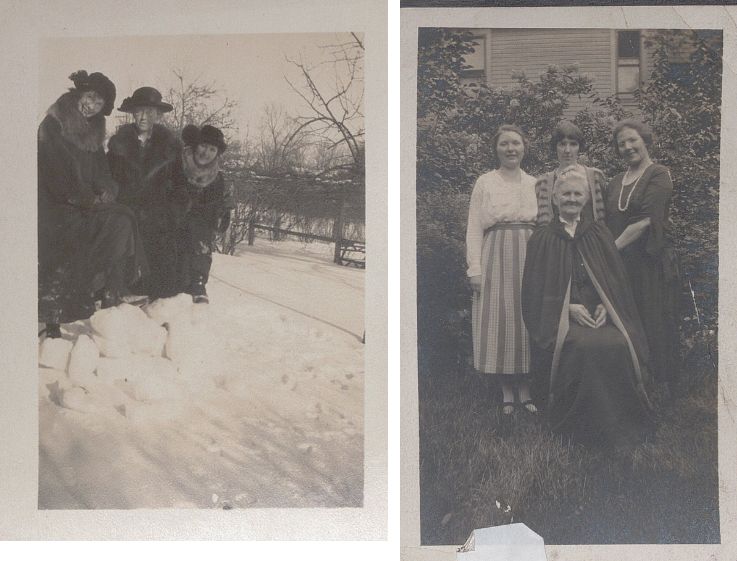 In late 1922, Kathleen Boland undertook a fundraising tour in the United States with Hanna Sheehy Skeffington and Linda Kearns on behalf of the I.R.A., just months after the tragic death of her brother Harry. The photographs taken during this period provide an insight into the demands and extent of the trip, which was to last fourteen months. On the left is a snapshot of the three women in the snowy conditions in Westfield, Massachusetts. On the right is a photograph of Mrs Wheelwright (mother of Éamon de Valera, seated); (from left), a Mrs Breck, a Mrs Doherty and Kathleen Boland in Rochester, New York in September 1923, indicating the repute and respect Boland acquired during her time in the United States and in the wider Irish Republican movement.
4. Illustration from an autograph book owned by Seán O'Donovan, 05 June 1921. Ref: BL/PC/KB/2/14/4
This is a humorous illustration from an autograph book kept by Seán O'Donovan, husband to Kathleen Boland, during his incarceration in Ballykinlar Internment Camp, Co. Down. Drawn by a Seán Hurley, it depicts a queue of women who have been eagerly waiting O'Donovan's release.
The autograph book contains many other contributions from O'Donovan's fellow internees, such as poems, signatures and drawings. The book was later sent to Boland by O'Donovan. The collection includes additional materials owned by Seán O'Donovan from both his political and professional careers.
5. Wedding portrait of Kathleen Boland and Seán O'Donovan, December 1923. Ref; PC/KB/1/6/26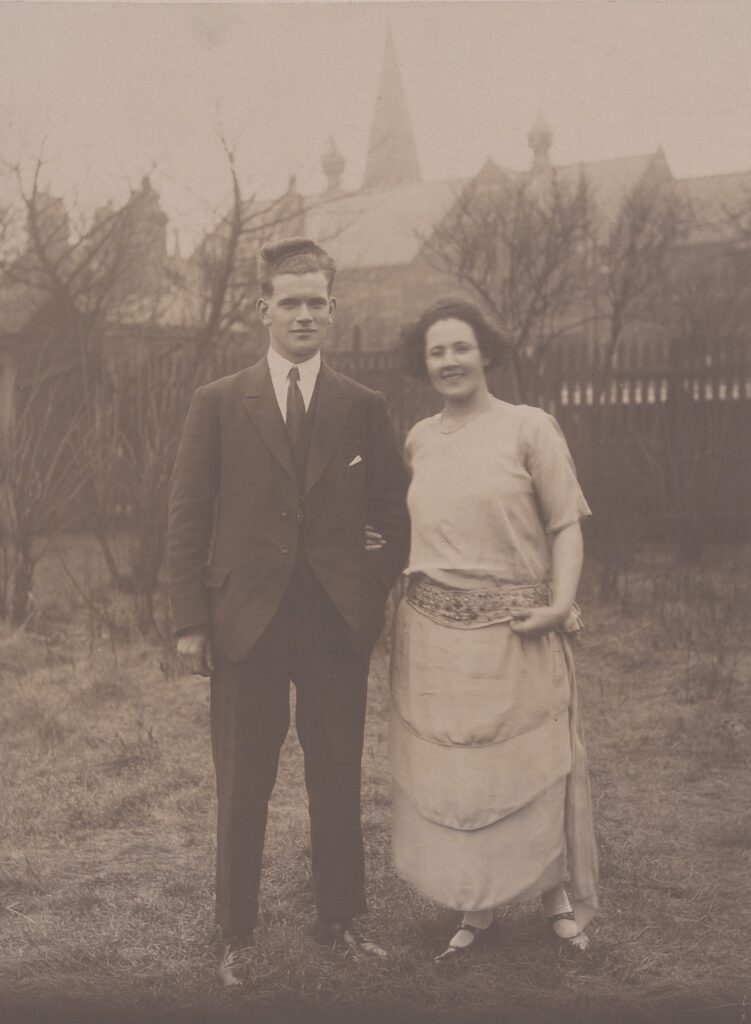 Kathleen returned from her tour to the U.S. and in the same month, married Seán O'Donovan in Manchester. The union was not without its challenges, as it took place as the Civil War was ongoing in Ireland. It was a happy occasion for the pair, having endured the hardship of O'Donovan's Civil War internment, Kathleen's tour and the death of her brother Harry in the previous eighteen months. There are several items relating to the marriage, including a letter from a priest in London; a marriage certificate and a group photograph in the collection.
6. Lincoln Jail Key dispute, 1930s. Ref; BL/PC/KB/2/4/1 and BL/PC/KB/2/4/3
These are two letters from a series of correspondence relating to the custody of the key used to spring Éamon de Valera from Lincoln Jail in 1919. After the escape the key was entrusted to Kathleen by her brother Harry. In the late 1930s, deLoughry's sister publicly challenged Boland on the issue. On the left is a copy of a letter from Caitlín Ní Chonaill (Secretary to President Éamon de Valera) to Peter deLoughry, advising him that until Harry Boland returns from America his sister Kathleen is unlikely to relinquish her possession of the key; on the right is a letter from L. Mangan to Kathleen Boland regarding her brother Peter deLoughry's claim to ownership of the key used in the 1919 Lincoln Jail escape, referring to letters that will be published in The Irish Press and Irish Independent to "end the key incident."
7. Photograph of Teasy Boland (back row, centre) with Eileen, Seán, Fionnuala and Harry O'Donovan. Ref; BL/PC/KB/1/6/20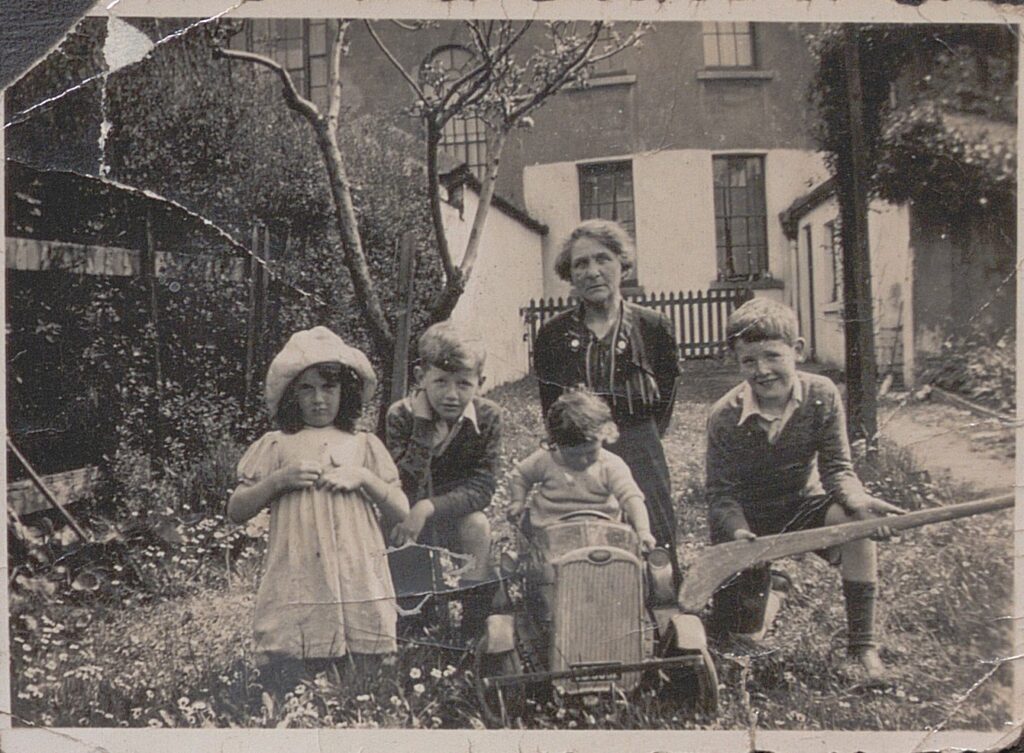 This photograph is of Teasy (sister of James Boland; Kathleen's aunt) and her great-nieces and nephews Eileen, Seán, Fionnuala and Harry. Kathleen's family features prominently in the collection and there are plenty of photographs of her children on trips to the beach or at the Boland family home at Marino Crescent. Tragically, her son Harry, named in honour of his uncle, died at the age of 15 from meningitis.
Final thoughts
As a new professional, it was such a privilege to work on a collection such as Kathleen Boland's. I was fortunate to be able to work with Emer Twomey and Emma Horgan (Archivists, Special Collections and Archives) whose expertise and advice was invaluable. I felt there was a huge significance in three female archivists working together to create an accurate and just representation of Kathleen. It is my hope that drawing attention to archives such as Kathleen's will provide greater recognition to the actions and contributions of women to the revolutionary movement, placing them into the spotlight of today and out of the shadows of the past.