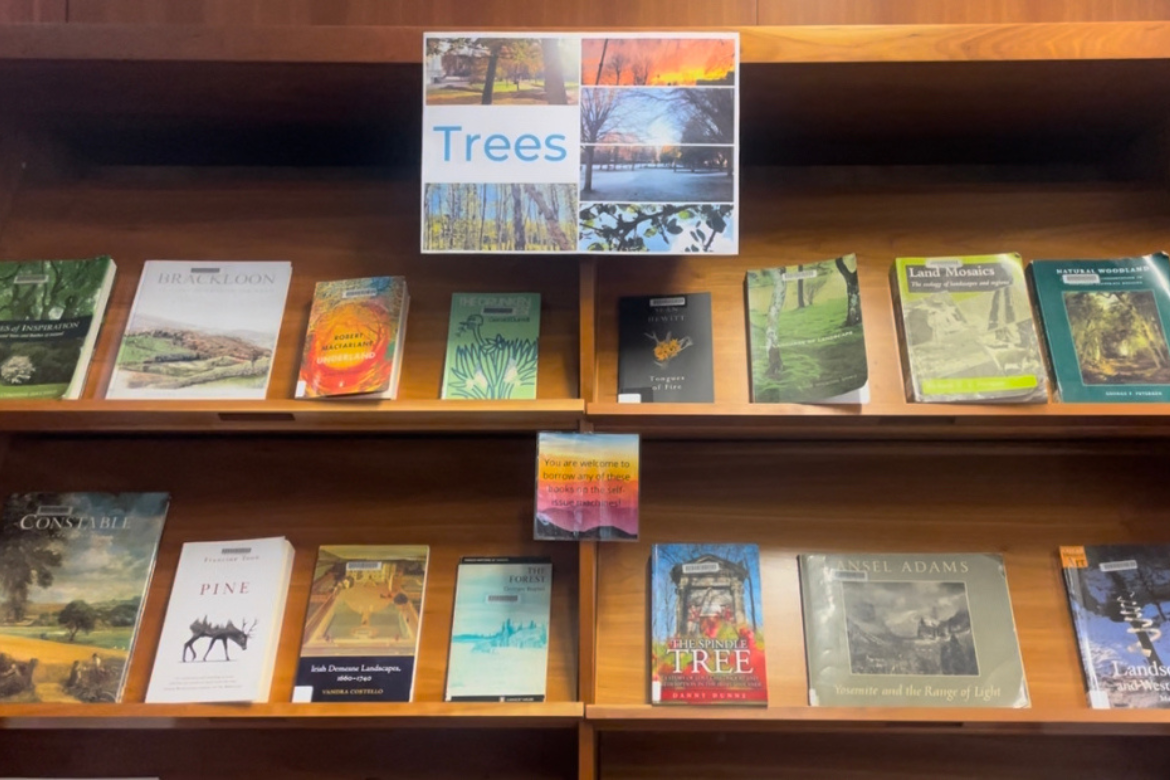 In a reverse of previous ...from the River-side posts which tie into the themed displays on Q floor of UCC Library and focus on items from Special Collections & Archives, this blog post describes instead the latest themed display I curated on 'Trees' which is available until 14 July 2023. As the items are not part of Special Collections, they are all available to borrow and they include books, CDs and DVDs about trees in folklore, science, landed estates, art, music, literature and photography. The display ties into UCC Library's upcoming event: Katie Holten, Creator of The Language of Trees in conversation with Dr Maria Kirrane on Tuesday 11 July, 14:00-15:00 in the Creative Zone. This event is free and open to all. A recording of this event is now available on UCC Library's YouTube channel.
A Tree Sketch
In part my interest in this themed display was linked to the 'In Conversation' event but it also follows from last year's exhibition, Life on Land: Trees and Birds from the 17th to 21st Centuries created with John Rooney. In addition I've a personal interest in trees so much so that my phone's photo library nearly has as many photographs of trees as of books. When I think about how long I've been interested in trees, I immediately remember a sketch of a tree (as below) that I completed in the early 1990s as part of my Junior Certificate Art portfolio.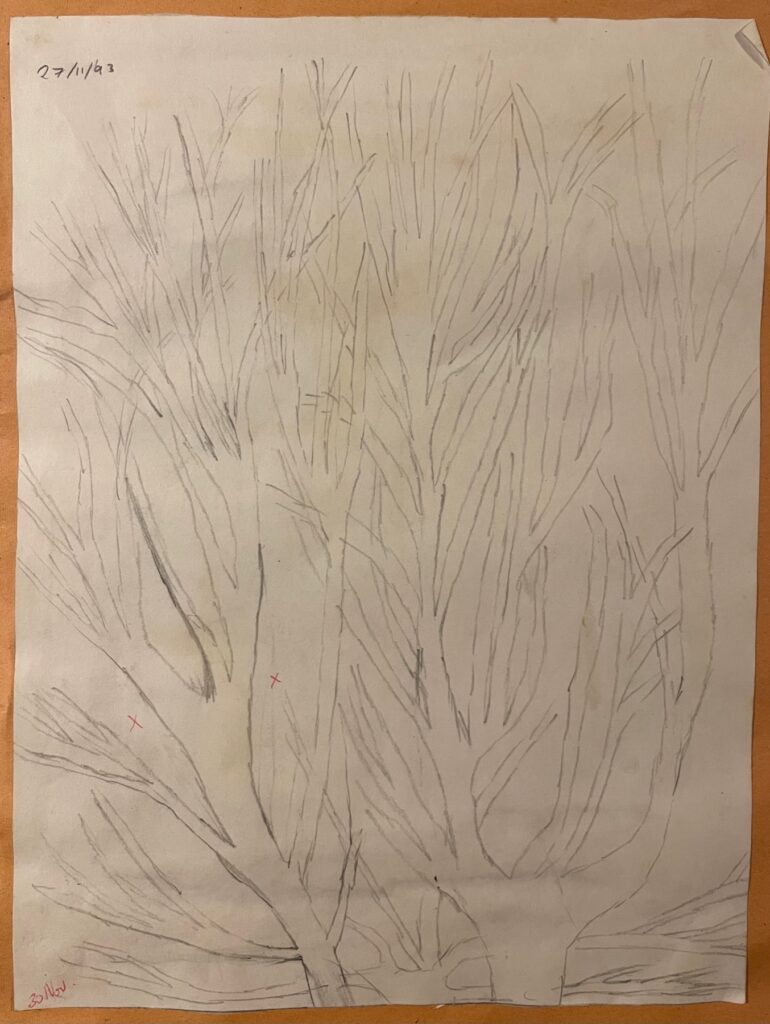 Earlier this summer I went looking for the sketch and when I located the portfolio I was really surprised by all that was present, as I only remembered the sketch. I used this tree sketch in the preparation of a poster while the tree as object shaped 2D work as I created a stencil on paper and fabric, as well as 3D work as I created a tree stump and mushrooms in clay.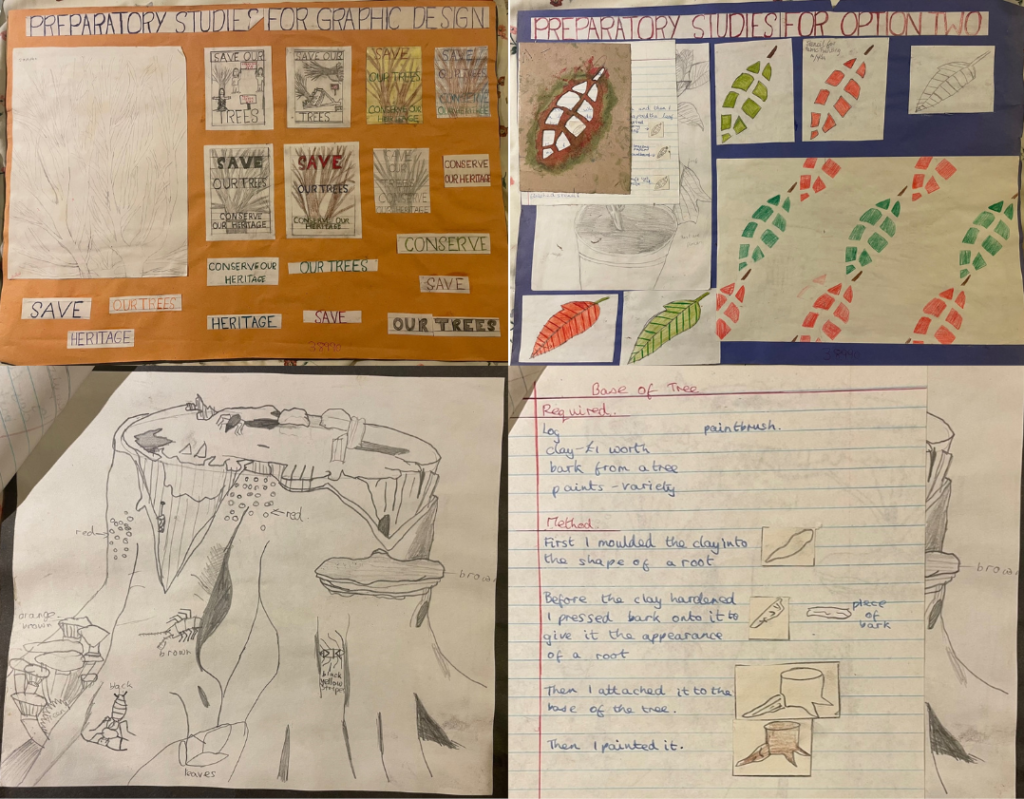 This early work influences my selections in the themed display:
Trees in Art
I was also surprised by what I used as support studies in the portfolio and how I found this information in a pre-internet environment and an environment where I didn't have access to a computer so all textual supporting material was handwritten. I used the school library's reference works to locate information about John Constable and Walter Osborne. Until I saw it recently I had completely forgotten about Francis Coates Jones or that I had tried to copy Constable and Osborne's famous works.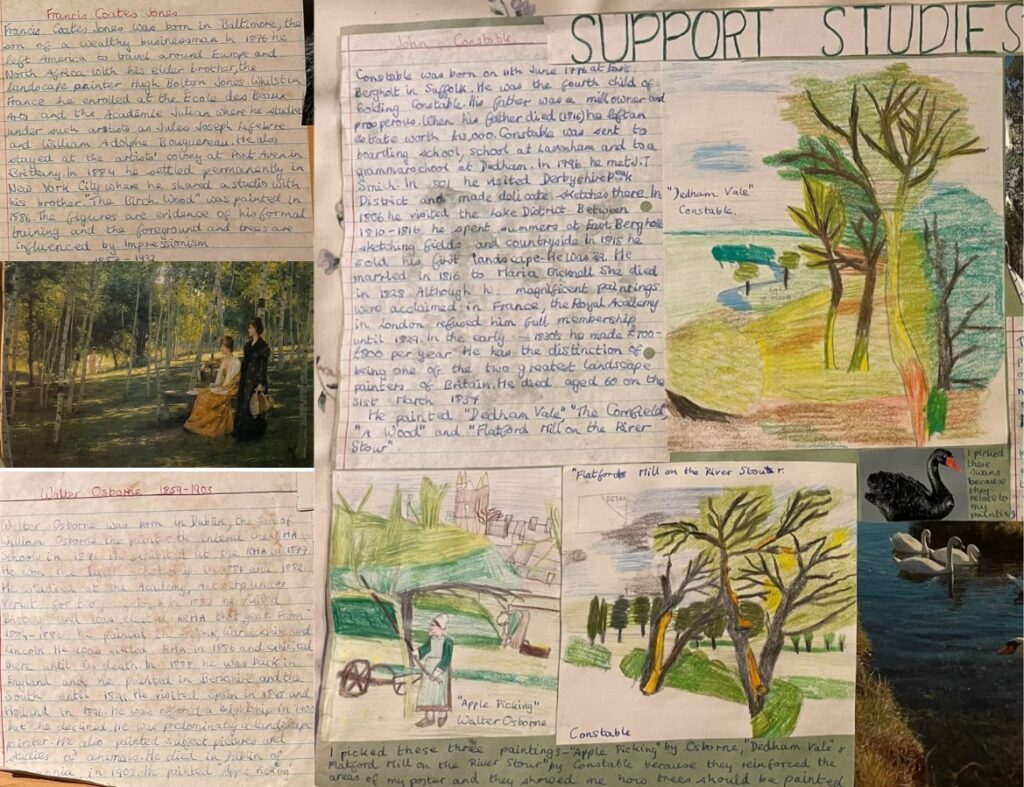 This early interest in trees in art manifest in the themed display with:
Beyond A Personal Archive
As examples of some of my earliest research efforts, I'm amazed they still exist when all my other school projects no longer do. With my Special Collections' hat on, I shake my head at the rusting staples, peeling glue and sellotape, yet I'm fascinated by my handwritten versions of instructables for creating tree stumps out of clay. I was surprised by what I'd created, not from the perspective of the art itself, but what it focused on: 'Save our Trees Preserve Our Heritage' is a sizable component of the graphic design element. For context the Glen of the Downs protests in Wicklow occurred in the late 1990s so I don't know why younger-me in the early 1990s focused on the element of 'Save our Trees Preserve Our Heritage' as it's not documented in the portfolio. However this element is interesting to current-me given how activities in Ireland have developed in the last thirty years. For example, when selecting visual elements for Special Collections & Archives 'Portal to the Past' wall graphic we chose William Beauford's map of Cork which has many trees on it. This is of interest locally as Cork City Council explores trees within our communities, acquiring five city-tech trees and drafting a Green and Blue Infrastructure Study (2022) which includes the role of trees.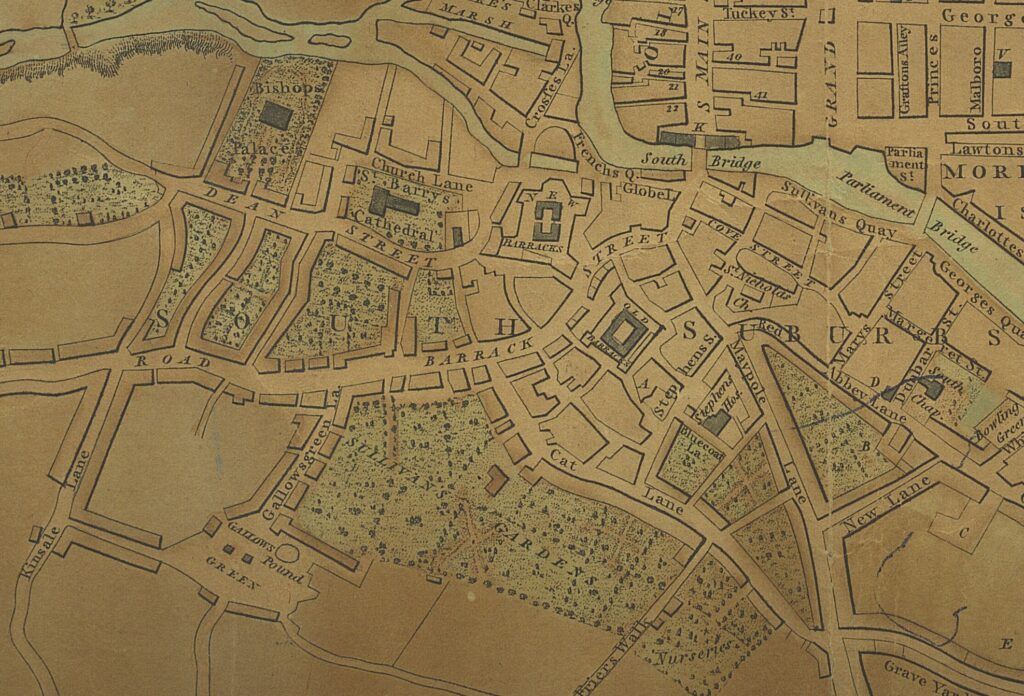 Within UCC the Arboretum was accredited by Arbnet in 2020, new public engagement projects such as Tree Explorers have commenced and the trees contribute significantly to UCCs Green Campus. These interests manifest in the themed display in:
Trees
My personal selections are available in the themed 'Trees' display. Join us on Tuesday 11 July at 14:00 when Katie and Maria discuss The Language of Trees and the selections Katie made to create her beautiful book.