Guthanna na mBan – Voices of the Women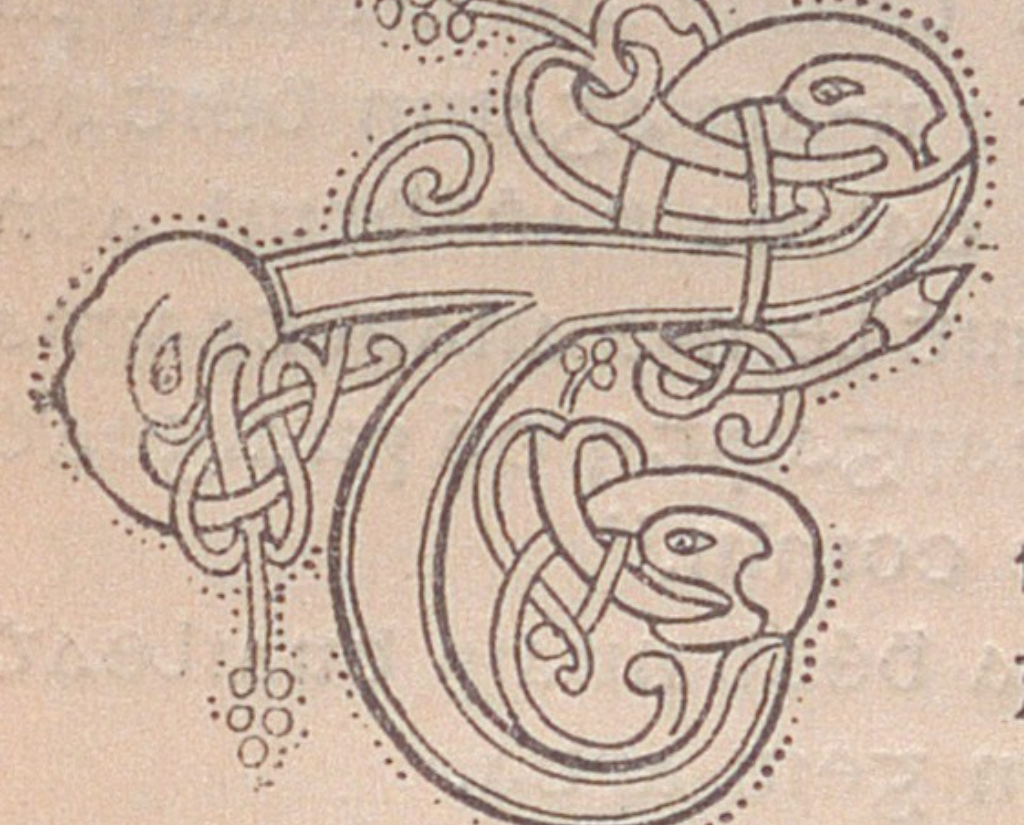 As part of the programming for the recent International Women's Day and Seachtain na Gaeilge event Guthanna na mBan: Comhdháil ar Mhná na hAthbheochana (Voices of the Women: Colloquium on the Women of the Irish Revival) I arranged with Dr Feena Toibin for a viewing of items in UCC Library's Special Collections of selected women associated with the movement and based on speakers' presentations:
However I found it difficult to identify some of the women. Both Norma Borthwick and Úna Ní Fhaircheallaigh are known by the Irish and English versions of their names 'Norma Bhórtuic' and 'Agnes O'Farrelly'. UCC Library's catalogue reflects this as items with Norma Bhórtuic as the author include the field 'Alt Author' for 'Norma Borthwick.' If doing an author search for Agnes O'Farrelly the library catalogue identifies that UCC Library doesn't use this term but instead uses the Irish version of her name. This is in addition to items with 'Agnes O'Farrelly' as author include the field Alt Author' for 'Úna Ní Fhaircheallaigh.'
Other difficulties included finding mentions of who Irish women writers of the Irish Revival writing in Irish were, I was searching for something without knowing what the thing was. When I spoke with the conference speakers, they noted that they'd spoken of the same difficulties at the comhdháil and work-arounds included reading Irish language newspapers to identify authors but also to learn from each other as a network.
Nevertheless in selecting items for the comhdháil what was evident was the many links between all the women. Browne & Nolan and The Irish Book Company were part of much of their professional lives. Eleanor Knott was directed to the work that spanned most of her life because of publication with Irish Book Company. Cáit Ni Dhonnchadha's signature of ownership is present on many books written by Eleanor Knott.
Norma Bhórtuic or Norma Borthwick
Norma Borthwick (1862-1934) was born in Chester in England but became interested in Irish language culture and learned the Irish language while based in London. While in London she was treasurer of the Gaelic League branch there and while in 1900 was chairperson of the Drumcondra Gaelic League branch. Borthwick founded the Irish Book Company with Mairéad Ní Raghallaigh and many of the items shown in the selection were published by the Irish Book Company.
In 1902 she produced a three-volume textbook Ceachta beaga Gaeilge with illustrations by Jack B. Yeats. The textbook was published in different sized editions.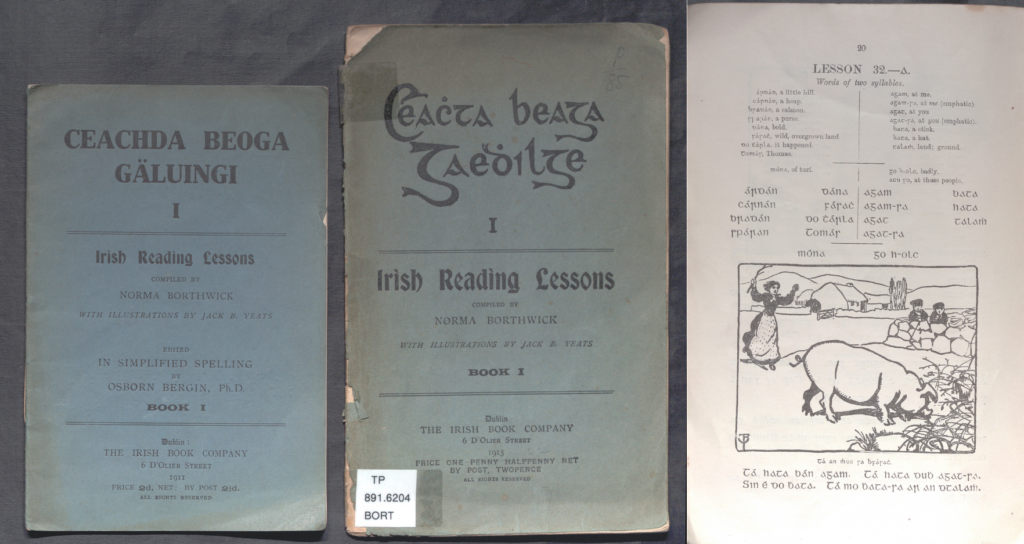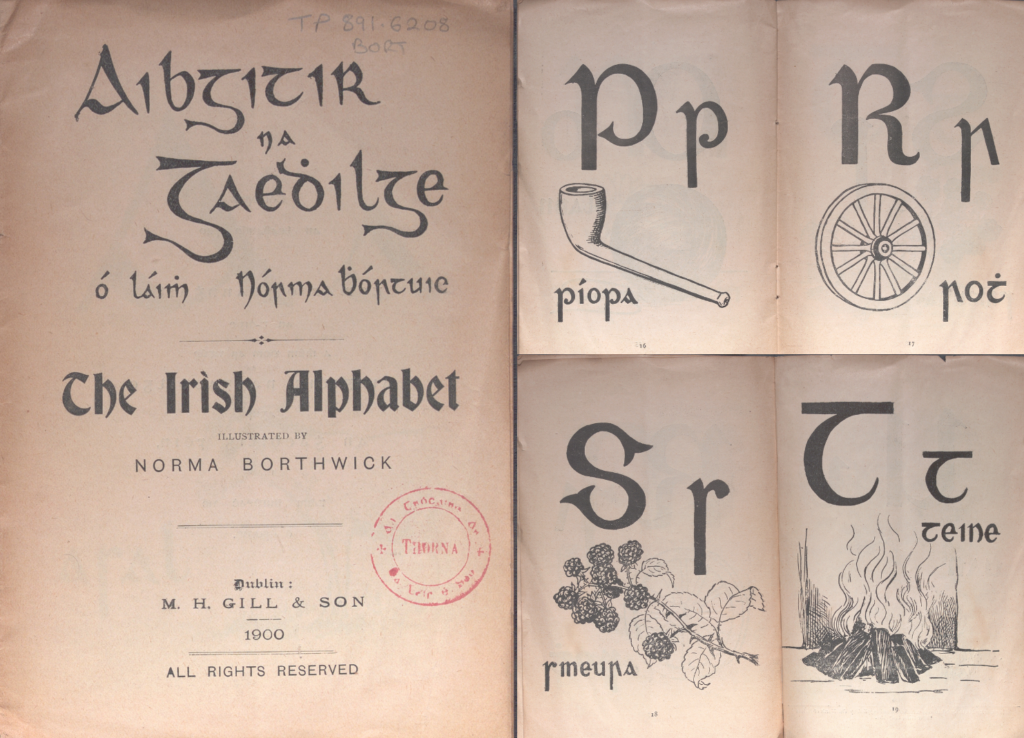 In addition Borthwick wrote adaptions of Hans Christian Anderson tales. Each tale has a vocabulary list of words found in that text.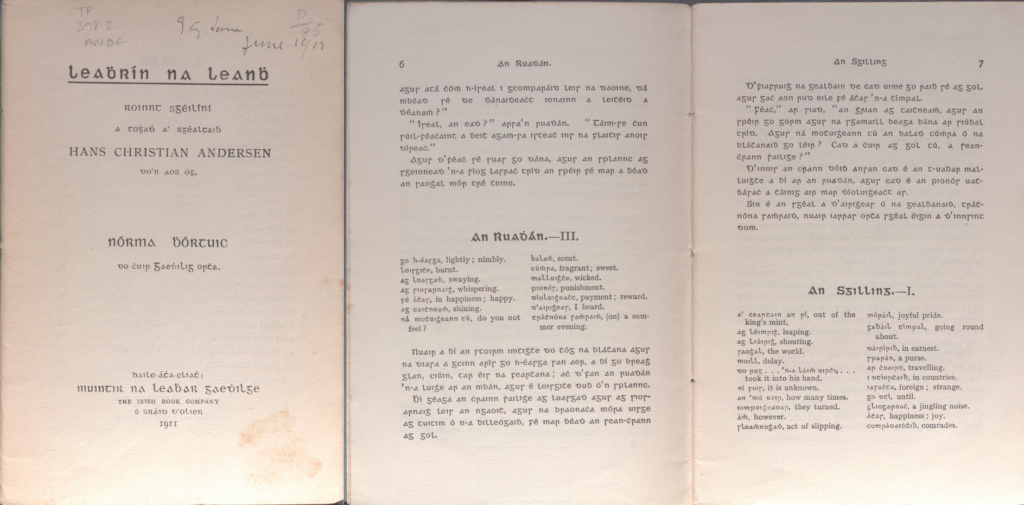 Máire De Buitléir
Máire De Buitléir (1873-1920) learned Irish from Seán Ó hÓgáin and attended Alexandra College in Dublin. In 1904 she wrote A Bundle of Rushes and notes in its preface that her Irish is not good enough to write what she would like to write but the stories are set in Ireland and the paper in the book is Irish paper. In 1900 she wrote Irishwomen and the Home Language for the Gaelic League in which she provides suggestions as to how Irish women may help the Irish language movement.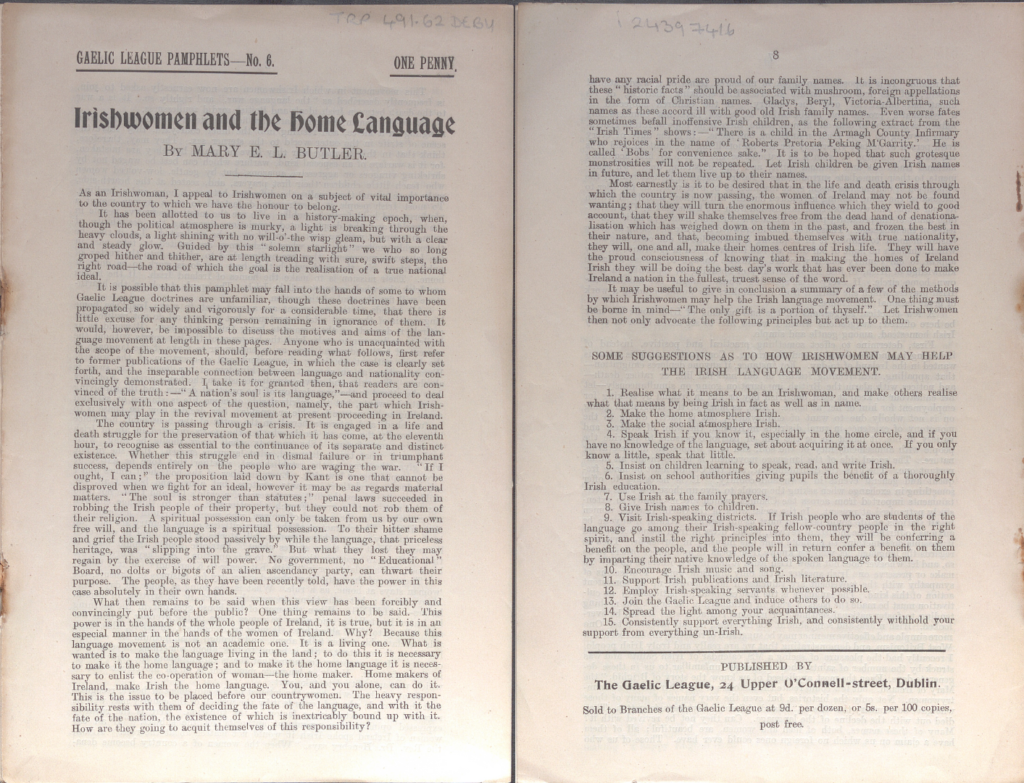 In 1902 her short story Blátha Bealtaine was published in translation by the Gaelic League with Tomás Ó Concheanainn undertaking the translation. The advertisements at the start of the pamphlet identify different Irish language newspapers and journals. However by late 1902 De Buitléir was translating works into Irish.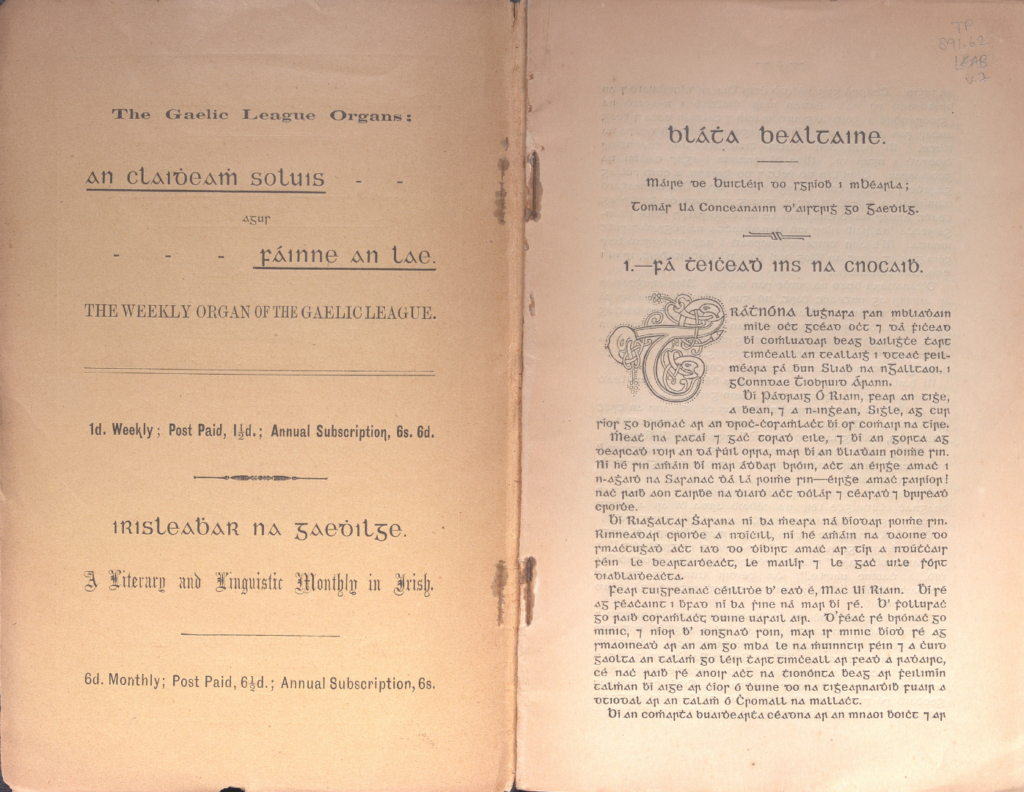 Máire Killeen
Máire Killeen (1874-1956) was from Mayo and was active in Conradh na Gaeilge at the start of the 20th century. In addition, she attended Celtic Literary Society's classes and other events and she was a co-founder of Inghinidhe na hÉireann which preceded Cumann na mBan. Using the pen name 'Máíre' she wrote for the journal Bean na hÉireann. Máire is listed by the National Board of Education as one of the three female teachers in Dublin who were teaching Irish as an additional subject in the year ending 28 February 1902 and she examined with Patrick Pearse the Irish language in Dublin schools. In 1904 Máire married Pádraig Ó Bhrolcháín and they raised their family in the Irish language.
Una Ní Fhaircheallaigh
Úna Ní Fhaircheallaigh (1874-1951) started learning Irish c.1896 and visited the Aran Islands to further improve her Irish; in 1902 Conradh na Gaeilge published her book Smuainte ar Árainn. She completed a BA (1899) and a MA (1900) with the Royal University of Ireland. Following this Ní Fhaircheallaigh was appointed a lecturer in Irish at Alexandra and Loreto Colleges in Dublin. In 1902 she was a founding member of the Irish Association of Women Graduates and Candidate Graduates to promote equal opportunity in university education. In 1909 she was appointed lecturer in modern Irish at UCD. Ní Fhaircheallaigh was also a member of the first UCD governing body and the NUI senate (1914–49). She was an active member of the Gaelic League and later became Professor of Modern Irish in UCD (1932-1947), President of the Irish Federation of University Women (1937–1939) and President of the National University Women Graduates' Association (1943–1947).
With the publication of Grádh & crádh: úirsgéilín Ní Fhaircheallaigh became the first female novelist in the Irish language.
In addition to publishing novels Ní Fhaircheallaigh also published poetry: she edited 12 poems in Filidheacht Sheaghain Ui Neachtain.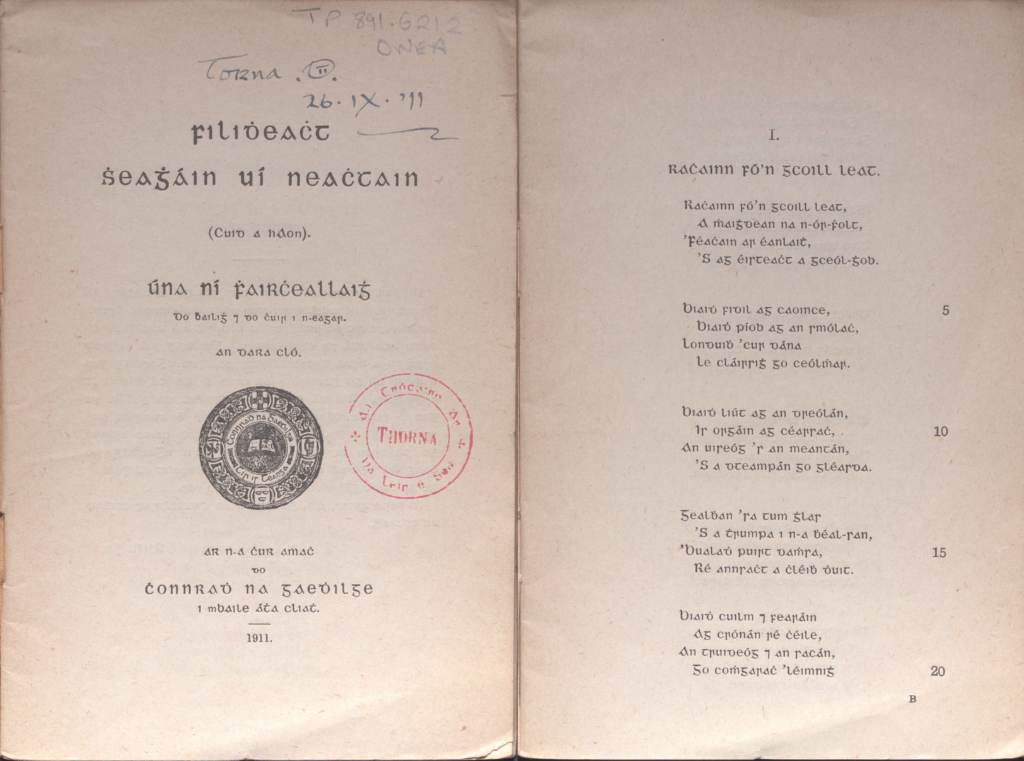 Ní Fhaircheallaigh also published works in English. Like many of the women noted in this blog post short essays and papers were published as 'Gaelic League Pamphlets' (The reign of humbug). As for the pamphlet Secondary school scholarships: Mr. Birrell's anti-Irish proposal Ní Fhaircheallaigh responds to Augustine Birrell's scholarship scheme for academically gifted children to enter secondary school but a scheme where proficiency in Irish was not required. Ní Fhaircheallaigh and other Gaelic League members were concerned that children might never study the Irish language during their education.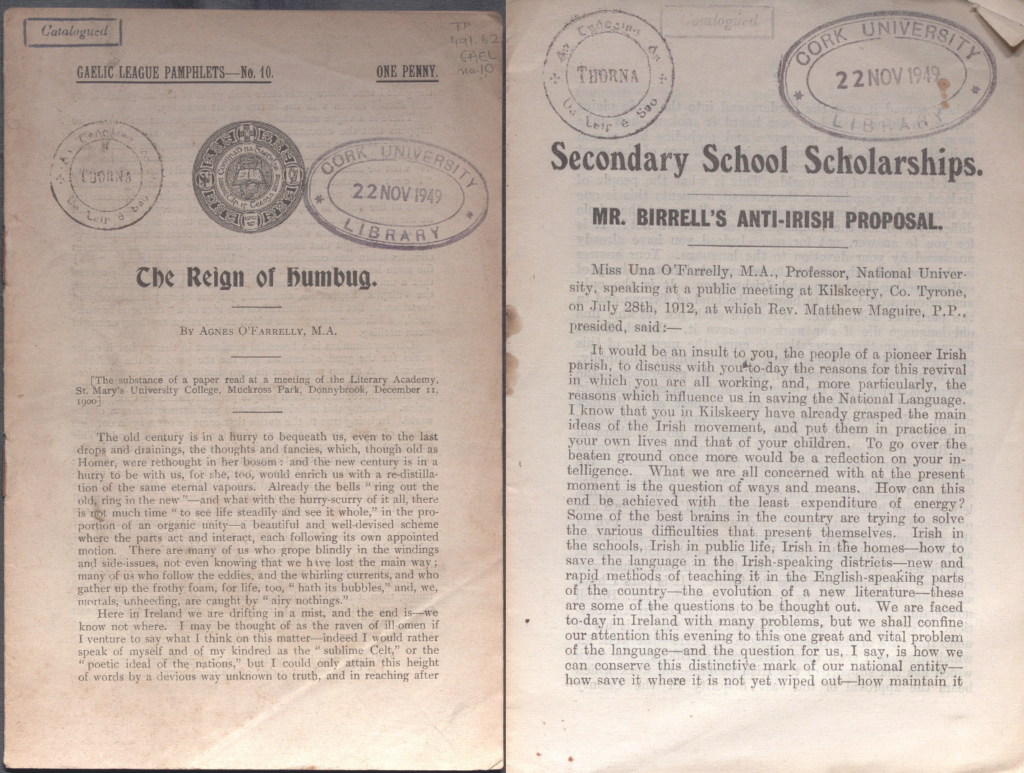 Máire Ní Chinnéide
Máire Ní Chinnéide (1878-1967) was an Irish language activist, first President of the Camogie Association and first woman president of Oireachtas na Gaeilge. In 1900 she graduated with a BA in Modern Literature from the Royal University. From 1900 she worked as a Professor of Irish in Ardscoil Mhuire in Blackrock. Ní Chinnéide won multiple prizes for essays at the Oireachtas and wrote Irish language plays when few were being written. The play Cáit Ní Dhuibhir was published in 1938 as a small booklet 12cm high with red paper covers.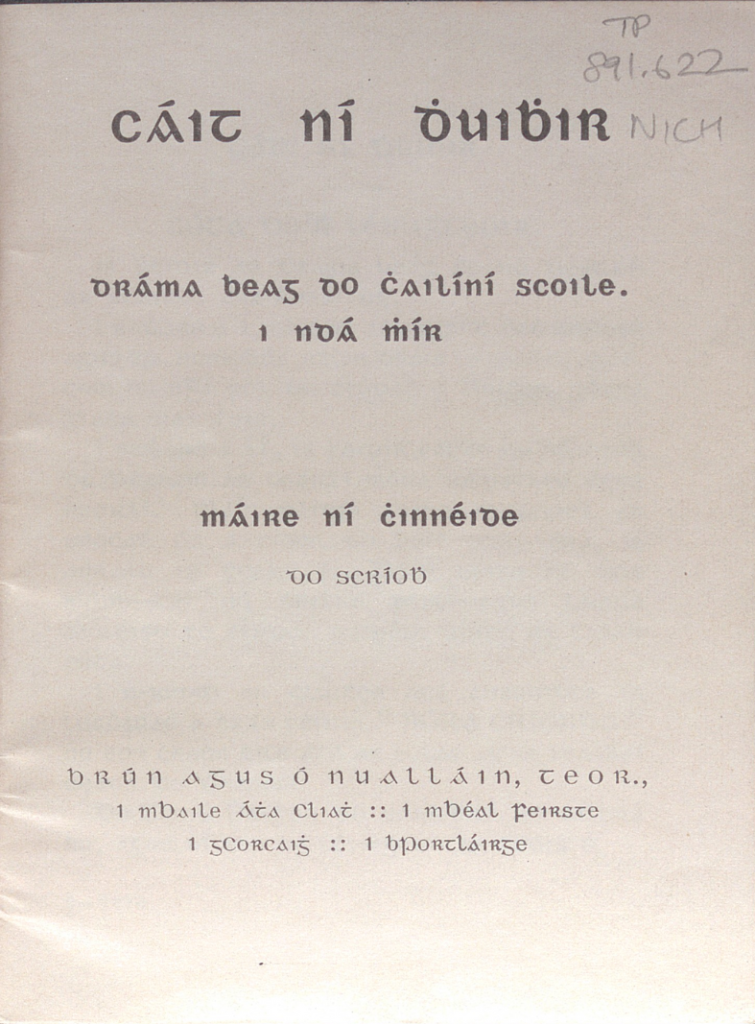 Eleanor Knott
Eleanor Knott (1886-1975) was an Irish language scholar who taught herself to read Irish and R.I. Best encouraged her to learn Old Irish. In 1911 she started working as an assistant on the Royal Irish Academy's Dictionary of the Irish language and she co-edited three fasciculi over the next forty years. In 1928 she was appointed lecturer in Celtic languages in TCD. In 1392 Eleanor graduated with a MA from Dublin University and in 1939 a special chair of early Irish was created for her.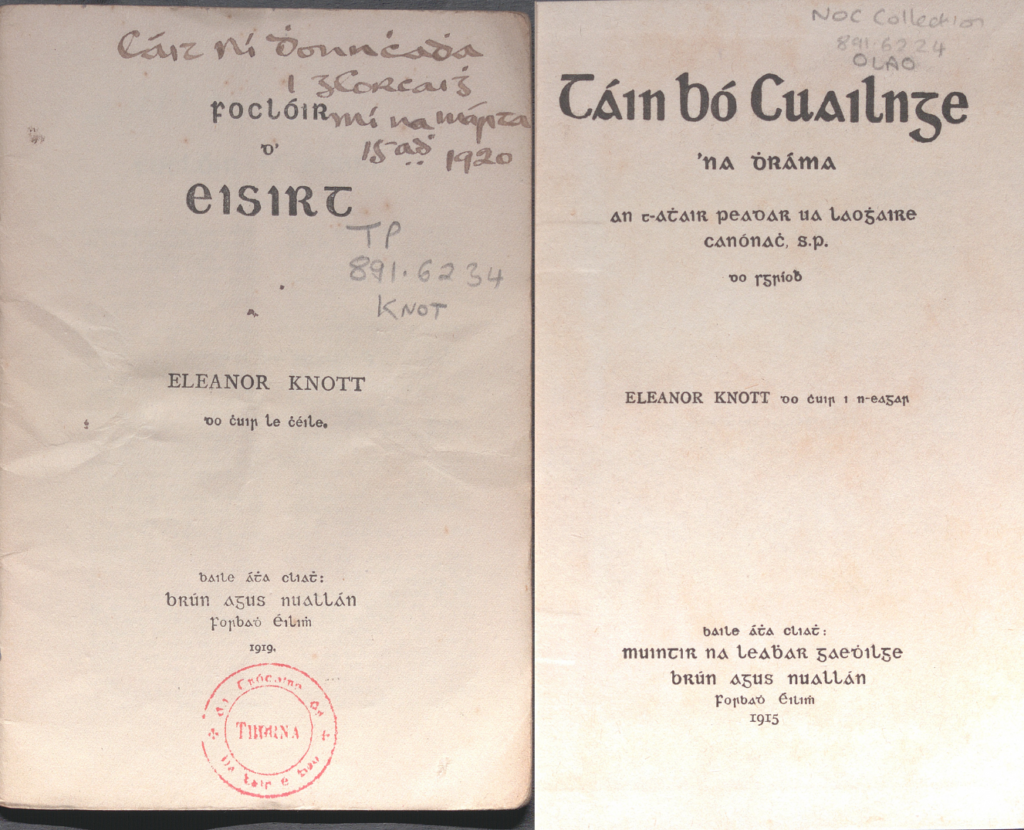 Foclóir d'Eisirt was published in 1910 and it was because of the work that she did for Muintir na Leabhar Gaeilge under the direction of Norma Borthwick on texts by Fr. Peadar Ó Laoghaire that she was hired to help with the Royal Irish Academy's dictionary work. Knott edited three books by Fr. Peadar Ó Laoghaire Lughaidh Mac Con (1914), áin bó Cuailnge, 'na dhráma (1915) and Aodh Ruadh (1929–31).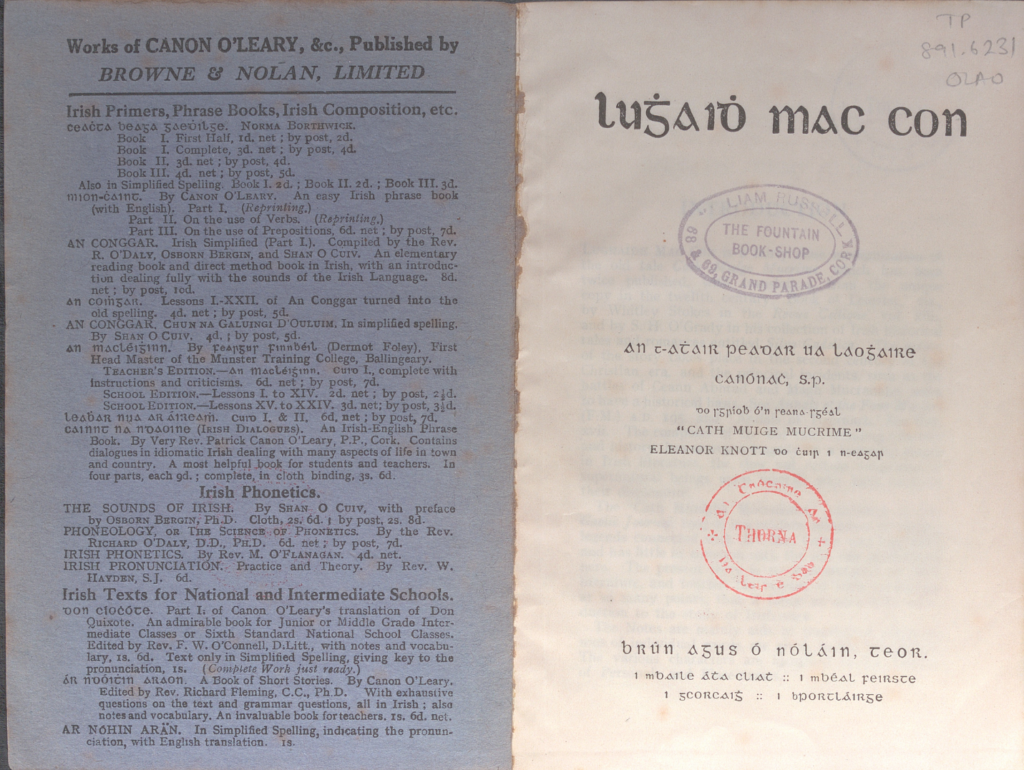 Cáit Ni Dhonnchadha
Cáit Ni Dhonnchadha (1883-1969) learned Irish at home but unlike Máire Ní Chinnéide and Úna Ní Fhaircheallaigh she did not go to university. She lived with Torna for much of their lives until her move to Cork Mental Hospital. Torna died in 1949 but left provisions for her to be taken care until she died. Of the seven women of the Irish Revival the only one who had no published books or pamphlets was Cáit Ni Dhonnchadha though she did contribute articles to An Claidheamh Soluis and The Irish Homestead. Cáit wrote her name on many books which are part of her brother Torna's personal collection held in Special Collections. These books can be identified as 'Ex libris Ni Dhonnchadha, Cáit'. Occasionally other notations are added as with this Clár feise Fine-Ghall.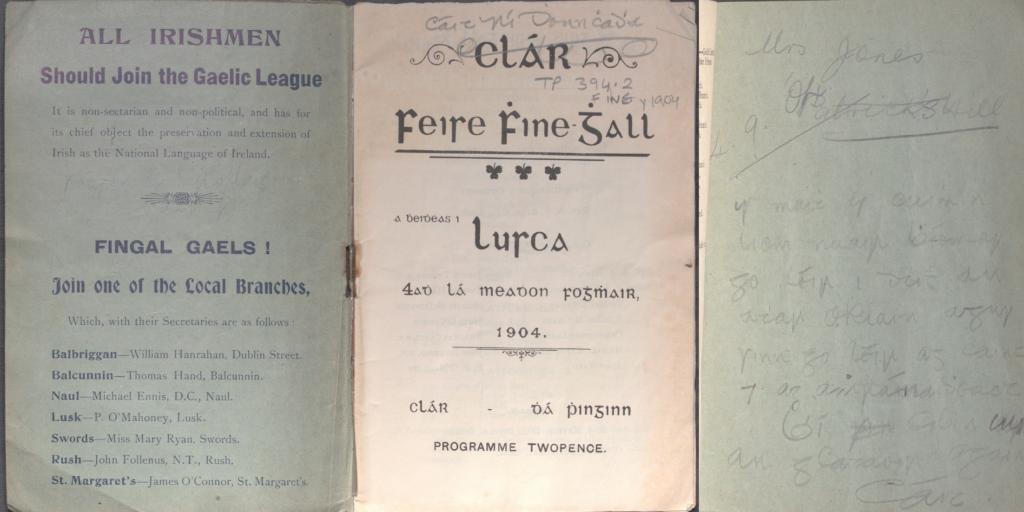 Other times the place or date is added in addition to the name.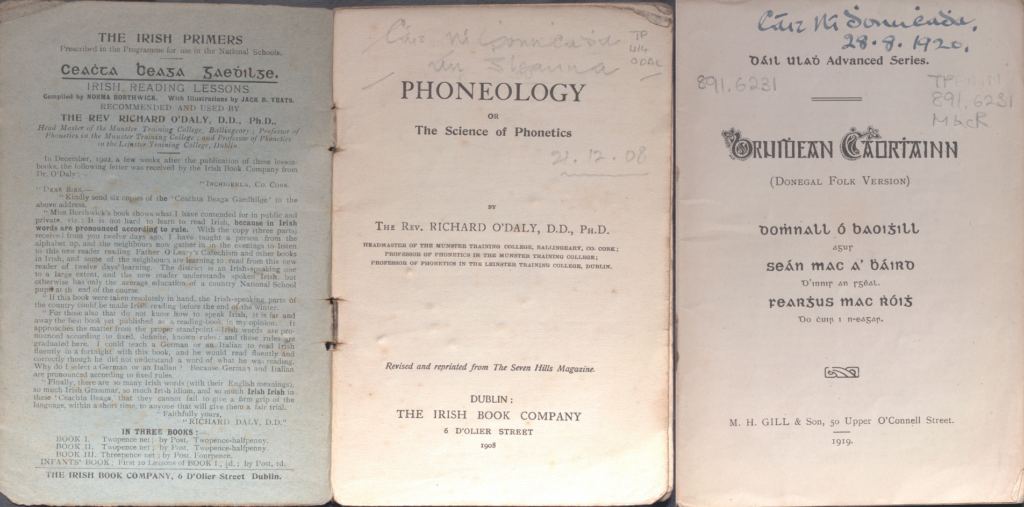 For further information: Ailbhe Ní Ghearbhuigh. (2018) 'Cáit Ní Dhonnchadha: idir shamhail agus ghníomhaí na hAthbheochana.' Comhar Taighde.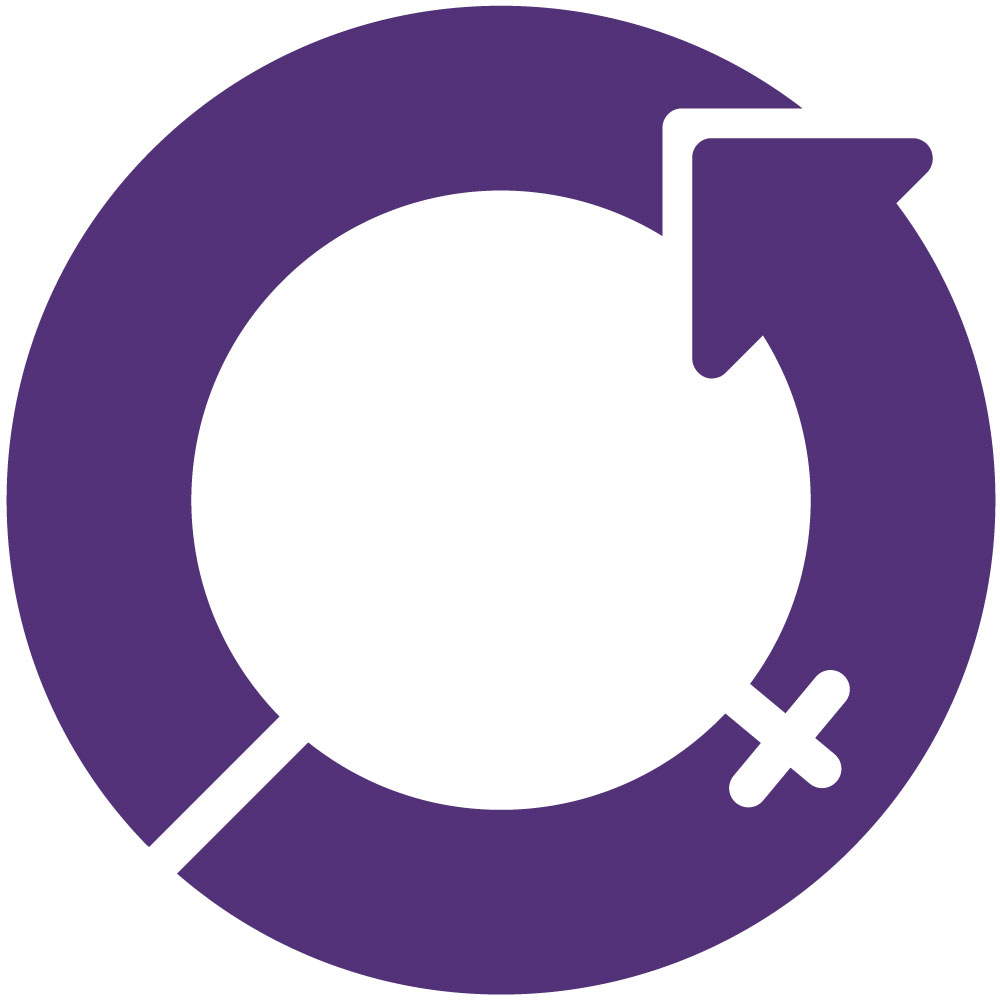 Voices of the Women
To complement 'Guthanna na mBan – Comhdháil ar Mhná na hAthbheochana' and the display of Irish language women writers, there was also a small display of Irish women writers of Irish Revival writing in English. This display included: