Seachtain na Gaeilge: Irish Language Manuscript Collections at UCC Library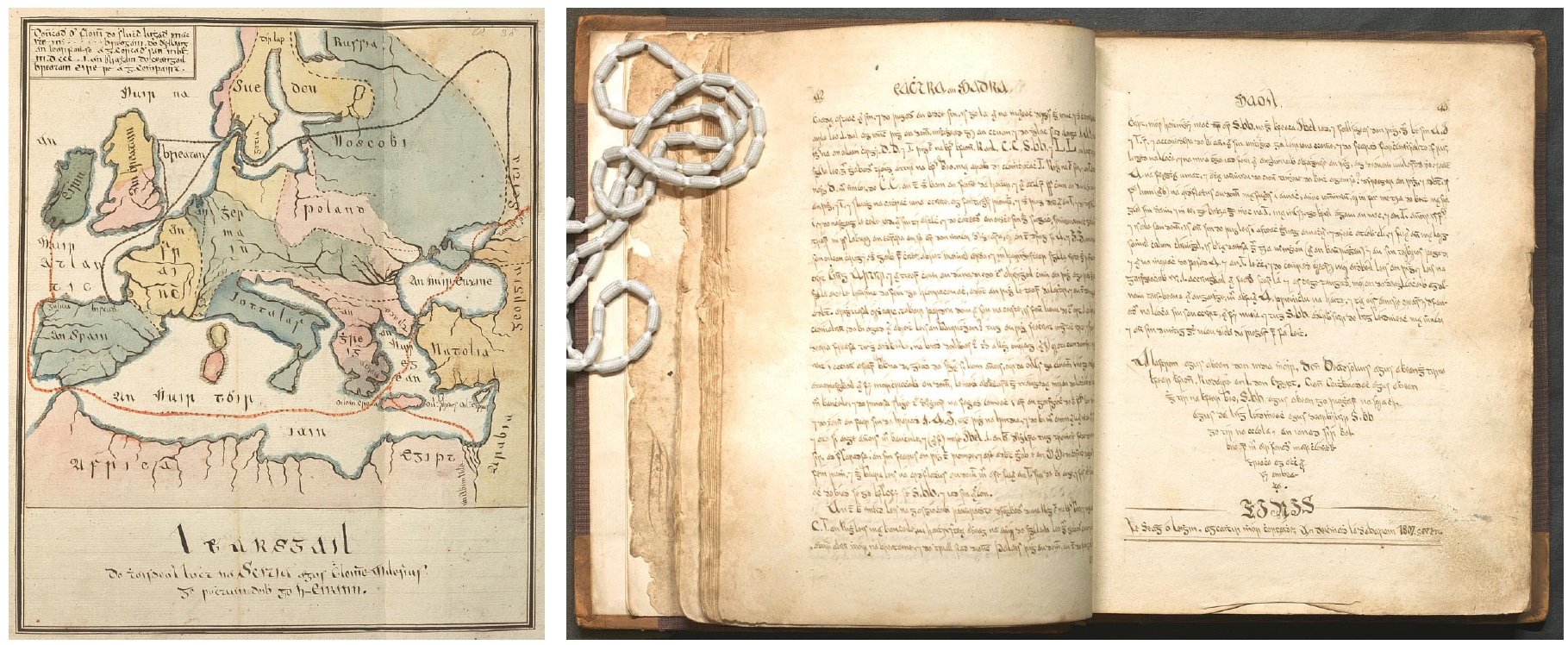 UCC Library's Special Collections & Archives has rich Irish language collections including:
These collections stand along-side fine printing of Irish language and literature books and pamphlets from the Three Candles, Dun Emer and Cuala, and Dolmen Presses.
This blog post gives an overview of how UCC Library's Irish language manuscript collection was created and various entry points into the collection: provenance, scribes, age, size, binding, content, decoration and influences. The blog post is based on a presentation given at the Library Association of Ireland's 2021 Rare Books Annual Seminar: 'Scríbhinní i nGaeilge i mBailiúcháin Speisialta in Éirinn – Writings in the Irish Language in Special Collections in Ireland.'
A Call for Public Aid
In February 1925 Prof. Tadhg Ó Donnchadha published this appeal to form a collection of Irish language manuscripts.
He notes how manuscripts are scattered across the world and he appeals to those who have Munster manuscripts to cooperate in founding an Irish language collection. Torna places this call in the context of national regeneration following the foundation of the Irish Free State. He makes a special appeal to the clergy and to teachers to help with this work. The aim is for students in the college to have access to such manuscripts for literary development and to publish our manuscript materials. Lastly Torna notes that non-UCC researchers would have access to the manuscripts as well. It's telling therefore that the first number of collections acquired by UCC, bar Torna's were from the clergy. The clergy were heavily involved in regional manuscript collecting, including through their work with local Irish language college. Non-UCC researchers continue to access our manuscript collections today.
Cnuasach Uí Mhurchú / Murphy Collection
The first collection, that of Professor James E. H. Murphy Professor of Irish at Trinity College Dublin (1896-1919) was acquired by UCC in 1926.
It comprises the first 77 manuscripts of the main Irish language manuscript collection. Professor Breandán Ó Conchúir produced a printed catalogue of the collection in 1991. Printed catalogues give descriptions of the creation and content of each manuscript.
Power Collection
In November 1941 UCC Library acquired Canon Patrick Power's manuscript collection. He had been Lecturer in and later Professor of Archaeology at UCC from 1915-1932.
The acquisition comprised 28 manuscripts although another has since been acquired. When Canon Power owned the manuscripts he described some of them in the Gaelic Journal (1904-1905). Digital reproductions are available from Villanova University. Canon Power describes the manuscripts in Irish, printed in Cló Gaelach, while commentary is provided in English. This limits readability and understanding to a wider audience.
Cnuasach Thorna / Torna's Manuscript Collection
UCC acquired Professor Tadhg Ó Donnchadha or Torna's manuscript collection following his death in 1949. Professor Pádraig de Brún produced a printed catalogue of the collection in 1967.
De Brún classifies 76 of the 111 manuscripts as 'seanlámhscríbhinní', or 'traditional manuscripts' using Roman numerals from T.i to T.lxxvi to identify them. The remaining 35 are classified as 'Leabhair nótaí' or 'copybooks' and are identified using Arabic numerals T.1 to T.35. T.i and T.1,
De Brún's printed catalogue of the manuscript collection is available in two volumes has an explanation for the two types, a description of the age of the manuscripts, of the manuscript subjects and where known of the places where the manuscripts were written, where it was known in 1967 who had published on the collection including Torna himself, and an index of first lines.
Many of the scribes are of Cork City or County Cork and there's overlap with the main Irish language manuscript sequence e.g. Donncha Ó Floinn, the Ó Longáin family, Pádraig Stúndún, Sean Ó Dreada. However there are other interesting things to note: T.xxxix was written by Chas O'Farrell in 1894 in Boston and T.xxxviii was written by Brian O Ruairc in 1841-1842 in Leitrim.
Smaller Manuscript Collections
In the early 1940s three other smaller collections came to UCC Library:
18 manuscripts were presented by Fr. D Ó Donnchú/Donoghue, CC Minane Bridge. These consist of 12 exercise books in pencil & 4 black notebooks in ink.
6 manuscripts came from Canon Cohalan, St Mary's Cathedral.
11 manuscripts were collected by J. Canon Lyons, a PP of Kinsale, Co. Cork transferred to UCC Library. These had been presented initially to St Mary's Cathedral in Cork by Lyons' nephew and executor of his will the Rev. James O'Leary. Torna describes the Lyons manuscripts in the Journal of the Ivernian Society in different issues across 1914-1915 and Diarmuid Ó Murchadha has an account of Canon Lyons in the 2002 issue of Journal of the Cork Historical & Archaeological Society.
1940s – Present
UCC Library continues to collect Irish language manuscripts whether through acquisition such as:
Ms. 198 written in 1898 by the scribe Edmond Barry from Youghal, Co Cork which contains a copy of Dáibhí de Barra's original manuscript Fermoy Ms PB6 'Filíocht Chráifeach Dháiví de Barra' dating from 1835.
Or by donation as with Ls 202 an English/Irish pocket dictionary with an ogham account and poem by the scribe Padraig Ó Stúndún in 1890. Prof. Mícheál Ó Sé, former lecturer in UCC's Dairy Science faculty in the 1950s, acquired the manuscript and his son donated it to UCC Library in 2014.
Provenance and Scribes
Provenance or ownership can be indicated in different ways including colophons where a scribe signs and dates a manuscript, inscriptions, bookplates or spine-binding.
T.1 inscription 'Mr Flynn Cork 1832' which appears twice. There are various other names mentioned throughout this manuscript.
Ms. 61: bookplate of George Augustus Hill
Ms. 128: spine binding of Canon Lyons' manuscripts all show this gold tooling.
The scribes place their names in different ways throughout the manuscripts, some more readable than others and some in English.
Ms. 80: Edmond Phealan on the end-leaves
Ms. 128: Seaghan (?) O Leighin at the end
Ms. 61: Seaghan O' Murcughad na Raithineach (Seán Ó Murchú na Ráithíneach) on the title page
Age
Since the donation of The Book of Lismore by the Chatsworth Settlement Trust and the Duke of Devonshire to UCC in 2020, the oldest Irish language manuscript in the collection is The Book of Lismore. The only manuscript which is older is the Regensburg Fragment which dates from the last quarter of the 12th century. The Book of Lismore dates from the 15th century & ousts the previous oldest Irish language manuscript from the 1640s, Cín Lae Uí Mhealláin (Ms. 3), by some 200 years. Of the 300 manuscripts in UCC Library: the majority date from the 19th century, some are a mixture of 18th & 19th century, there are approximately 46 dating from the 18th century and approximately 10 from the early 20th century. The dates may be derived from the manuscript where the scribe dates a title as with Ms. 90 or a colophon as with Ms. 61.
Ms. 204 Book of Lismore – c.15th century (dated from the colophon)
Ms. 61 – 18th century 1753
Ms. 90 – 19th century 1856
Size and Binding
The size of the manuscripts really vary as both the Torna manuscript are 10-11 cm whereas Ms. 128 is quarto size and Ms. 1 is folio-sized.
The binding ranges from no binding at all (T.xxxvii) which I'm assured is pretty common to scholar's binding as with T.xliii where the scribe came from Rosscarbery in Co. Cork and bound the manuscript in seal skin or T.lxxv which is bound in leather with gold tooling on the spine and front board.
Content and Decoration
The content of the manuscripts ranges from religious texts such as prayer books to historical tales to additions such as maps.
Decoration varies from simpler line drawings to multi-flourished initial letters to coloured drawings.
The printed book influenced the manuscript tradition where two different coloured frontispieces have been added to the manuscript to enhance it. This is a notable phenomenon especially in the content of Donnchadh Ó Floinn of Cork who had a printing press and Irish type.
Tradition to Contemporary
Since 1925 when Torna published the call, UCC Library has acquired over 300 manuscripts from the 15th to 20th centuries. Of course Irish language works are held in other collections such as Older Printed Books, Munster Printing, Torna's book collections, newspapers and various personal collections such as Séamus Ó Maolchathaigh.
In the 1850s Seosamh Ó Longáin created manuscripts with traditional decorated letters, ruling and and an English translation to appeal to a then non-Irish speaking contemporary cohort. Nearly 100 years after Torna's call for public aid, UCC Library continues developing the Irish language and manuscript collections for 21st century audiences.