Curating 'Journeys of Belief and Belonging: Modern Irish Pilgrimage'
The River-side welcomes this guest post from Dr Richard Scriven, Dept. of Geography on his experience curating the exhibition 'Journeys of Belief and Belonging: Modern Irish Pilgrimage' as part of his Irish Research Council Government of Ireland Postdoctoral Fellowship. To listen to Richard discuss the exhibition on Shush! Sounds from UCC Library click here.
The exhibition 'Journeys of Belief and Belonging: Modern Irish Pilgrimage' was part of my Irish Research Council Government of Ireland Postdoctoral Fellowship run in conjunction with UCC Library. Initial contact was made with the Library in October 2015 as I was preparing my application to the IRC fellowship scheme, and after securing the funding grant planning and preparation began in September 2016 for an April 2017 launch. The curation process was a very worthwhile and beneficial collaborative project, which equipped me with new skills and experiences.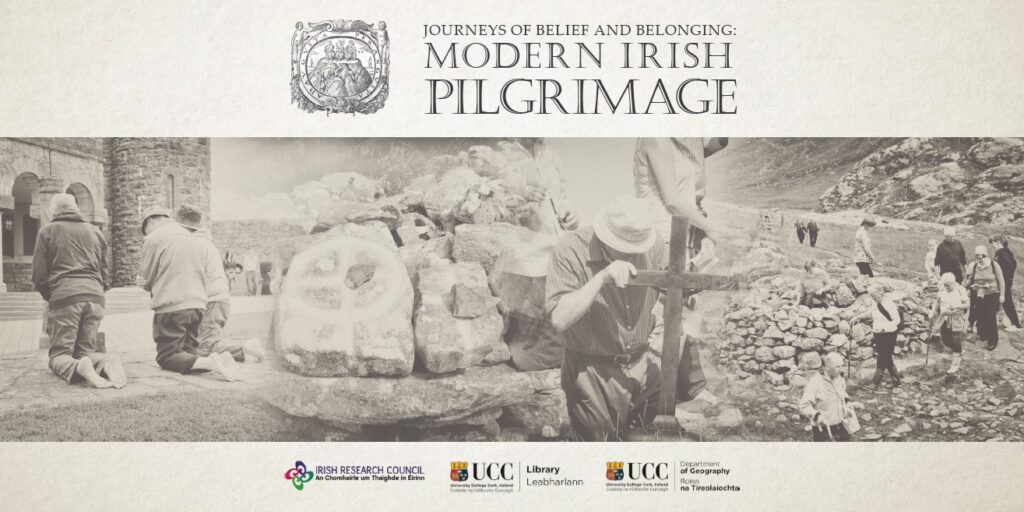 Exhibition Proposal
Inspired by other exhibitions in the UCC Library, including the 'Sir Henrys@UCC Library' and the 'Dante Alighieri Inferno: A Suite of Lithographs' projects, I planned for the inclusion of an exhibition as part of the public engagement programme in my postdoctoral fellowship. Community engagement is about researchers communicating their work not only to others in their field – usually through peer-reviewed journal articles and conference presentations – but also to a broader range of audiences. The exhibition, based on my doctoral research into pilgrimage in Ireland, aimed to inform and educate the public about the role of pilgrimage, while also highlighting the importance of socially and culturally relevant research. Once UCC Library had agreed, in principle, to host the exhibition, it became a major pillar of my proposal and contributed to my successfully achieving the competitive grant.
Planning
Early in my fellowship I met with Crónán Ó Doibhlin (Head of Research Collections and Communications, UCC Library) and Elaine Harrington (Assistant Librarian, Special Collections) to discuss the process, including:
Provisional timeline for project
Collaborative approach
Budget (co-funded by the Irish Research Council and the UCC Library)
Format (a combination of a series of storyboards and material selected from the library's collections to be exhibited in display cases)
Exhibition space and possible layouts of storyboards and display cases.
Both Crónán and Elaine had expertise in supporting the curation process based on their work on successive exhibitions based in the UCC Library in recent years. Also, previous exhibitions, as well as 'Cervantes "Prince of Wits" (1616-2016): Life, Work Legacy' which was running at the time, served as good examples to guide our conversation. In addition, they have a well-established relationship with Optima Signs (Little Island) who have designed, produced, and installed storyboards for previous exhibitions.
Collating the Storyboards
The storyboards were populated by text and images from my research on pilgrimage in modern Ireland. Within the postdoctoral fellowship, the aim of the exhibition was to highlight the significant role pilgrimage still plays in the emotional and spiritual lives of thousands of individuals and in the social life of communities. Evocative photographs were chosen from those taken during my ethnographic fieldwork at some of Ireland's main pilgrimage sites, Lough Derg, Co Dongeal; Croagh Patrick, Co. Mayo; Knock, Co. Mayo; and, holy wells in Munster. Commentary provided a contextual understanding, highlighting the role of pilgrimage and how it is being studied in geography and in the social sciences more generally. Quotations from people interviewed during the research added personal stories revealing how pilgrimage is a rich spiritual and emotional journey for many. Implicit in writing up the text was the need to frame my message for a general audience, ensuring that the ideas being discussed could reach a broad range of people. The use of my own images and text greatly facilitated the process as it can be a challenge to source images from other sources, and the associated copyrights.
Selection of Library Materials
Several texts from UCC Library's collection accompanied the storyboards in display cases, furthering the link between research on pilgrimage and the role of the library as a support mechanism. In coordination with Elaine, I chose a number of titles from Special Collections to illustrate historical accounts of pilgrimage which served as both background to the exhibition and a means of illustrating continuity, and change, over time. These included Patrick L. O'Madden's Cruach Phádraig: St. Patrick's holy mountain (Three Candles, 1929), Hanly and Dáithí P. Hanly's Guide: The Church of Our Lady Queen of Ireland, Knock (Veritas, 1979). These along with other text were displayed adjacent to the storyboards, with short commentary on some items provided by Elaine. Elaine will discuss more about these items next month.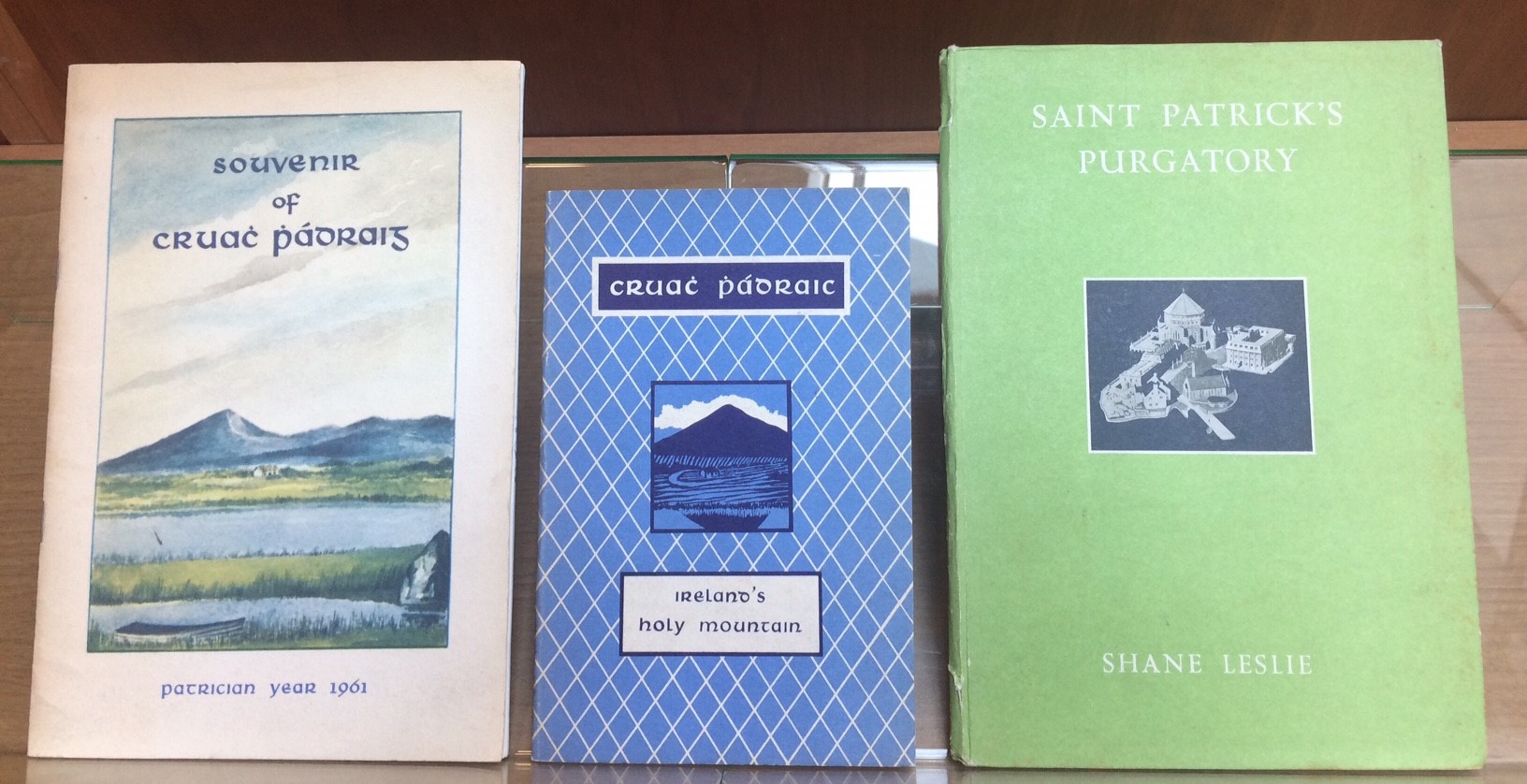 Design
The text and images, in a raw format, were shared with Optima Signs who designed the storyboards. Based off their experiences of working with the UCC Library on previous exhibitions, they had a firm understanding of the format and styles which worked best in the setting. After several suggestions and clarifications on the text and images, Elaine and I visited the Optima Signs offices to view the draft designs and to make a decision. Brian Carty and his teams produced an excellent design which complemented the images and subject matter. An effect of ghosting one of the images onto the base of the storyboard served to enliven them and create an aesthetic continuity. They shared PDF versions with us for final proof-reading and addressing any remaining issues.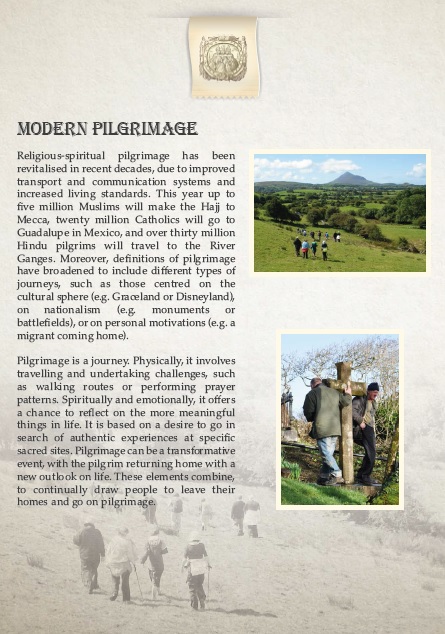 Printing and Mounting
Optima Signs were very efficient in printing and mounting the storyboards in under a week in time for the opening, the date of which had been set a few weeks before. The storyboards were excellently rendered and presented in a manner which availed of the exhibition space. Again, their familiarity with the setting and the guidance of Elaine was invaluable in this regard.
Concluding Comments
Curating this exhibition was an extremely beneficial exercise for me as an early career researcher. It enabled me to collaborate with UCC Library and Optima Signs to communicate my work in a new medium. The expertise and experience of Elaine and Crónán, and the team at Optima Signs, was especially important in completing the project. I also gained valuable skills in producing this exhibition, which will stand to me in future endeavours.
Exhibitions and other forms of public engagement need to be encouraged and supported by universities, funding bodies, and researchers. For me, the exhibition is an integrated part of my postdoctoral fellowship, which is recognised by the Irish Research Council, UCC, and UCC Library. This type of institutional support is essential to nurture an environment that prompts and furthers community engagement practices.