This week the UCC institutional repository, CORA has reached a milestone moment surpassing 1,000 doctoral thesis records. Since Autumn 2013, doctoral candidates have been required to submit their thesis record and abstract to CORA therefore the bulk of our collection holds modern theses' records. These records can be found by anyone using a search engine such as Google and are aggregated on e-thesis portals, such as the DART-Europe E-theses Portal, which makes UCC doctoral research very findable.
While we have a long way to go to catch up with our cataloguing colleagues who have added over 8,000 Masters' thesis records and over 3,000 Doctoral thesis records to our library catalogue, it feels like an achievement to us as we also store the electronic versions of many of these theses in CORA. The records in our library catalogue log the details of the hard-bound theses stored in Special Collections, Q-1, Boole Library where they take up almost 1,500 linear feet of shelving in closed access. An e-thesis, or electronic thesis, describes a thesis in digital form that is accessible via the internet. Access to, and storage of, electronic theses is usually facilitated by open access repositories such as CORA. An open online e-thesis provides convenient access to readers around the world.
E-theses
Of the 1,000 doctoral thesis records in CORA, 58% of them have associated e-thesis files. Not all e-theses are immediately openly accessible online, however, as many graduates choose to delay their availability while they seek publication or commercialisation of their research. As our Special Collections colleagues will agree, theses are heavily consulted by library users and the usage statistics from CORA confirm the same popularity of online theses. As with other online university repositories, theses consistently figure in the top 10 most frequently downloaded items from CORA and they account for a phenomenal 354,160 downloads from CORA since 2010 to date.
The e-theses collection in CORA spans theses submitted to the University from 1939 to those submitted by the most recent graduates of this year's Spring Conferring. An e-thesis is useful for recent graduates to link to in their CVs and to have ready evidence of their expertise. It was for this reason that 2004 UCC PhD Engineering graduate Corinna Möhrlen added her e-thesis on wind energy to CORA in 2011. She says
"in industry, it is often necessary to have a 'proof of concept' by referring to a publication or a result from research that has been investigated. My electronic thesis is accessible for anybody and is proof of the knowledge and skills I gained during my PhD research."
Digitised theses
A small digitisation project undertaken by UCC Library in 2013 has given online access to over 50 older theses. Among these was the thesis of Bridget G. MacCarthy, a graduate from 1939 whose work on women writers is the earliest doctoral thesis held in UCC Library. The thesis was dedicated to the great Cork writer Daniel Corkery who was MacCarthy's supervisor and Professor of English at the time. Interestingly, in later years MacCarthy would take over Daniel Corkery's position and become the first female full Professor of English since the foundation of the University.
Another early thesis from 1945, submitted by Eileen G. Walsh features a beautiful array of hand-drawn colour plates of Irish plants and insects, one of which is shown here. The research focussed on the tumours (galls) caused by infection carried by insects in Irish native trees – a rather unpleasant topic made attractive by the detailed drawings within.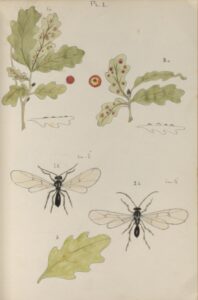 Impact of e-theses
The real success of the thesis digitisation project is clear from the example of John M. (Seán) Ryan's thesis which is one of the most frequently downloaded theses from CORA since archiving in 2013. Seán recently discovered that his e-thesis had received a lot of attention:
"I am astonished to learn that my thesis has to the end of February 2017 received an all-time usage of 6,932 which includes being downloaded 5,699 times with an additional 1,233 record views. It has been downloaded in six countries and cited four times in academic publications. I considered that my research for a PhD thesis should be available to the general public since my research work was supported in part by state funding to UCC. I had thought that the subject matter of my PhD thesis Deer Forests, Game Shooting and Landed Estates in the South West of Ireland, 1840-1970 would have little if any appeal to commercial publishers. Without its availability in CORA my thesis would have remained a hard copy shelf document in the archives of Special Collections in the Boole Library in UCC and remained largely unknown."
While our e-thesis collection on CORA does not yet match the extent of the physical collection of hard-bound theses in the Boole Library, the enabling technology of the internet makes e-theses infinitely more accessible and the results of UCC research more readily available. This accessibility is in contrast to the challenges faced by previous generations of researchers like the aforementioned Eileen Walsh, who recalls the difficulties of getting access to research literature during her PhD research in the abstract of her 1945 thesis:
"…due to war-time conditions much trouble was experienced in obtaining suitable literature and many invaluable books on this subject were unprocurable."