Mountaineering: Being On Top of the World
In 1856 a British team calculated the height of Mt Everest as 29,002 feet (8,848 metres) above sea level. 2016 marks the 160th anniversary of this calculation and until mid-April there is a display on mountaineering on Q floor, Boole Library.
In 1865 Mt Everest was named for George Everest, a Welsh surveyor and Surveyor General of India from 1830 – 1843. One of Everest's younger brothers was Rev. Thomas Roupell Everest, father of Mary Everest. In 1855 Mary married George Boole.
There are 14 mountains that are 8000 metres above sea level: Mt Everest, K2, Kangchenjunga, Lhotse, Makalu, Cho Oyu, Dhaulagiri I, Manaslu, Nanga Parbat, Annapurna I, Gasherbrum I, Broad Peak, Gasherbrum II and Shishapangma. They are known as eight-thousanders and are all located in the Himalayan and Karakoram mountain ranges in Asia. The first recorded attempt on an eight-thousander was in 1895 when Albert F. Mummery and J. Norman Collie tried to ascend Nanga Parbat. However the attempt failed when Mummery and two Gurkhas, Ragobir and Goman Singh, were killed by an avalanche.
Climbing the First Peaks Over 8000 Metres
In 1950 Maurice Herzog (1919 – 2012) with Louis Lachenal climbed the first peak over 8000 metres. This was Annapurna. They climbed it in 1950 without supplemental oxygen. In 1952 Herzog published his account of the expedition, Annapurna. Since then the book has sold over 40,000 copies. UCC Library has two copies:
One has an introduction by Eric Shipton who was a leading 20th century British mountaineer in the Himalayas.
The second was donated by UCC's Mountaineering Club and has an introduction by Joe Simpson. Joe Simpson is best known as the author of Touching the Void which describes the descent of Siula Grande (21,000 feet high) in the Peruvian Andes by mountain climbers Joe Simpson and Simon Yates in 1985. The documentary of Touching the Void is available on Q+3.
Hermann Buhl (1924 – 1957) was an Austrian mountaineer and in 1953 was the first person to ascend Nanga Parbat. Nanga Parbat is the most westerly peak in the Himalyas and it has a summit elevation of 8126 metres. Buhl made the ascent solo and without bottled oxygen. Nanga Parbat Pilgrimage: The Lonely Challenge was first published in English translation in 1955.
1953 Team to Climb Mt Everest
In 1953 a British-led team reached the top of Mt Everest. Many members of the expedition wrote accounts of the ascent afterwards. The members of the expedition were:
John Hunt (Expedition leader and mountaineer)
Charles Evans (Deputy expedition leader and mountaineer)
Michael Ward (Expedition doctor and mountaineer)
Griffith Pugh (Doctor and mountaineer)
Charles Wylie (Organising secretary and mountaineer)
Tom Stobard (Cameraman and mountaineer)
Tenzing Norgay (Mountaineer & guide)
Sherpa Annullu (Mountaineer & guide)
George Band (Mountaineer)
Tom Bourdillon (Mountaineer)
Alfred Gregory (Mountaineer)
Edmund Hillary (Mountaineer)
George Lowe (Mountaineer)
Wilfrid Noyce (Mountaineer)
Michael Westmacott (Mountaineer)
On 21 May Wilfrid Noyce (1917 – 1962) and Sherpa Annullu were the first members from the 1953 expedition to reach Everest's South Col. South Col is Noyce's account of the 1953 expedition.
Our Everest Adventure is a pictorial history of the 1953 expedition. It is the companion book to The Ascent of Everest.
The Ascent of Everest has multiple contributors. Sir John Hunt is the author of the book however Sir Edmund Hillary has written 'The Summit' (chapter 16), and members of the expedition have written the appendices. Acclimatization routes of Hunt, Evans and Hillary are on display. The Ascent of Everest is part of the Cooke Collection. William Cooke has inserted clippings from newspapers about the ascent as well as cut-outs of photographs of the mountaineers.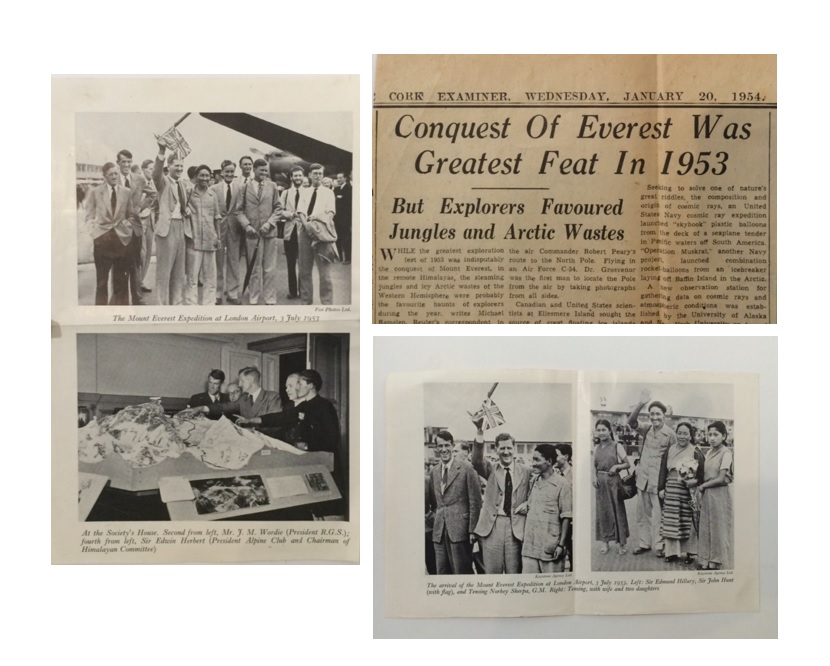 See here for an interview with Sir Edmund Hillary on mountain climbing.
19th Century Irish Mountaineers
Frank Nugent, author of In Search of Peaks, Passes and Glaciers was deputy leader of the successful Irish expedition to Everest in 1993. Nugent's book takes its title from Peaks, Passes and Glaciers: Being Excursions by Members of the Alpine Club, second series by Edward Shirley Kennedy. Kennedy (1817–1898) was a founding member of the Alpine Club. In Search of Peaks, Passes and Glaciers describes the achievements of Irish mountaineers from the 1850s to the early 20th century. Significant climbers of the time include:
John Ball
John Tyndall
Anthony Adams-Reilly
Robert Fowler
Elizabeth Hawkins-Whitshed
Valentine Ryan
Although John Tyndall (1820 – 1893) is better known as a physicist and chemist, during the 1850s and 1860s he was an avid climber in the Alps. Tyndall visited the Alps in order to better understand glaciers and glacier motion. Tyndall describes his mountaineering activities in The Glaciers of the Alps.
Elizabeth Hawkins-Whitshead (1860 – 1934) was a celebrated alpinist, photographer and author. She was born in Greystones, Co Wicklow. In 1881 she moved to Switzerland and climbed regularly until 1904. In 1907 she became the first president of the Ladies Alpine Club. Over the course of her lifetime she married three times and was known as Mrs. Fred Burnaby, Mrs. Main, and Mrs. Aubrey Le Blond.
20th Century Irish Mountaineers
On 27 May 1993 Dawson Stelfox became the first Irish person to reach the summit of Mt. Everest, following the route first attempted by Mallory and Irvine in 1924. Everest Calling has been revised from the 1994 edition to include accounts of Clare O'Leary and Pat Falvey's ascents by different routes. In 2012 Noel Hanna completed his fifth ascent of Mt. Everest.
Pat Falvey is the only person to have completed the Seven Summits Challenge twice, including Mt Everest from both its traditional routes on the north and south sides.
Bibliography
Buhl, Hermann. Nanga Parbat Pilgrimage: The Lonely Challenge. Trans. Hugh Merrick. Seattle, WA.: The Mountaineers, 1998.
Falvey, Pat. A Journey to Adventure: Stories I Never Thought I'd Tell. Cork, Ireland: Collins, 2007
Herzog, Maurice. Annapurna, The First Conquest of an 8000-Meter Peak. Trans. Nea Morin and Janet Adam Smith. New introd. Joe Simpson. London [England]: Pimlico, 1997.
Herzog, Maurice. Annapurna: Conquest of the First 8000-Metre Peak (26,493 feet). Trans. Nea Morin and Janet Adam Smith. Introd. Eric Shipton. London: J. Cape, 1952.
Hunt, John. The Ascent of Everest. [London]: Hodder & Stoughton, [1953].
Hunt, John. Our Everest Adventure: The Pictorial History from Kathmandu to the Summit. Leicester [Leicestershire]: Brockhampton Press, 1954.
Le Blond, Elizabeth Frances Alice Hawkins-Whitshed. High Alps in Winter, or Mountaineering in Search of Health. London: Sampson Low, 1883.
Noyce, Wilfred. South Col: One Man's Adventure on the Ascent of Everest 1953. Foreword Sir John Hunt. London: William Heinemann, [1954].
Nugent, Frank. In Search of Peaks, Passes & Glaciers: Irish Alpine Pioneers. Cork: Collins Press, 2013.
Siggins, Loran. Everest Calling: The Irish Journey. Wilton, Cork: Collins Press, 2013.
Tyndall, John. The Glaciers of the Alps: Being a Narrative of Excursions … and an Exposition of the Physical Principles. Herts.: Oahspe, 1860.