Cleachtaí agus Fotharaga na Nollag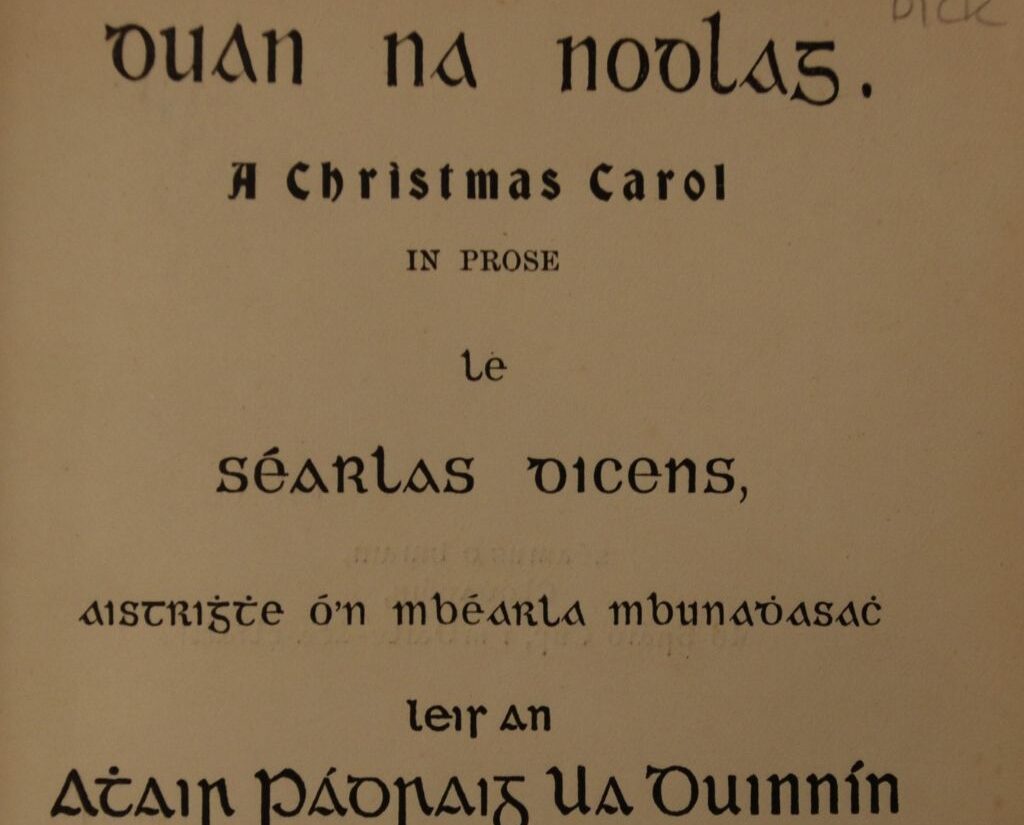 Cleachtaí agus Fotharaga na Nollag sa lá atá inniu ann, eascraíonn siad cuid mhaith ó Victeoiriachas agus ó Mheiriceánachas: An Crann Nollag, agus an turcaí, cuirim i gcás, is nithe iad nach mbíodh áit go hiondúil acu i gceiliúradh na Nollag, ach bhí ar ndóigh a gcuid nósanna féin ag Gaeil na hÉireann agus iad ag ceiliúradh na féile. Dhéantaí dóigh a chur ar na tithe taobh amuigh agus istigh, ballaí a ní le haol, agus gaineamh úr a chur ar an urlár, coinneál a chur ar lasadh na fuinneoga, nó bhí ré nua ann agus imeacht ó lár an dorachadas chuig ré úr solais.
Agus anseo i nDeisceart na tíre, chomh maith, bhí tráidisiún Lucht an Dreoilín ann – tá cur síos ag Tomás Ó Criomhthain sa chuntas a scríobh sé in Allagar na hInise (1928, 1977).  Bhuail seisear slatáirí an doras isteach chuige, "Stanlainn mhaide i láimh gach duine acu, dallacán ar a n-aghaidh, malairt éadaigh orthu, a gcaint ceilte acu agus iad ag ramsáil síos suas an t-urlár.  Bhí cló éin bhig i mbarr cleithe acu agus shín duine a mhéar chuige."  Ba é Lá an Dreoilín acu é, an lá tar éis Lá Nollag  (lch 143).
Tá cnuasach luachmhar de na tráidisiún seo ar fáil i gCartlann Roinn Bhéaloideas Éireann agus tá sin ar caomhnú ar mhicreascannáin sa Leabharlann anseo i CÓC. 
Ach ar ndóigh tá an saol athraithe ó shin. Gné láidir den chultúr ar ndóigh an síorathrú, seoraí áirithe de chultúr a ligean le fán agus seoraí nua a thabhairt isteach, agus ní minic is soiléir cad is bun leis an athrach seo. Ach i gcás Nollaig an lae inniu dealraíonn sé gurb é atá taobh thiar den athrach is mó ná ábharachas nua-aimseartha. Thugadh na Gaeil fadó an "Oíche Bheannaithe" ar oíche Nollag ach is cinnte go bhfuil nóisean sin na beannaíochta imithe, nó ar a laghad, ag imeacht i ndearmad agus gur cruinne 'oíche na proifide' nó 'oíche na mangaireachta' a thabhairt air.
Tá léiriú breá ar ídeal Victeoiriach sin na Nollag san úrsceál ag Dickens The Christmas Carol agus is inspéise an rud é go bhfuil sé ar  cheann de na haistriucháin nua-aimseartha a cuireadh ar fáil sa Ghaeilge i mblianta tosaigh Athbheochan na Gaeilge. D'fhoilsigh an tAthair Pádraig Ó Duinnín Duan na Nodlag i 1903, leabhar beag atá don ré úr Ghaeilge sa tír.  Is é rud a dúirt an Duinníneach féin faoi: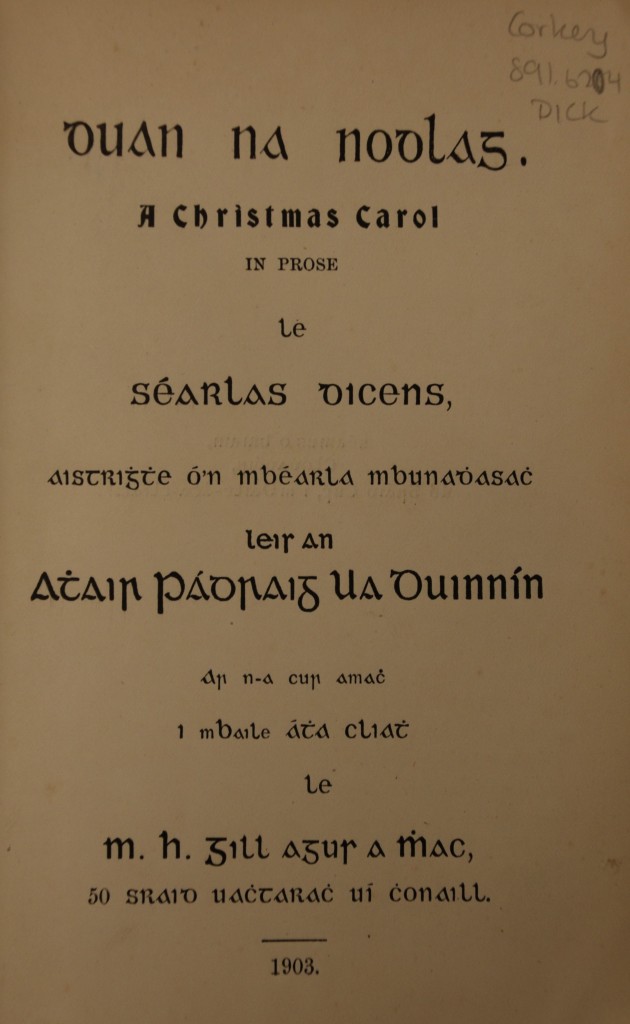 "A Christmas Carol, by Charles Dickens, is here presented to the reader in an Irish dress. For the selection of this work my friend, Mr H.J. Gill, is responsible, and there are many considerations to commend his choice. Keen satire and melting pathos, well known characteristics of Dickens, are fairly represented in this piece, and these qualities are calculated to commend him to Irish readers. Besides, the sympathy with the poor and outcast, with which this story abounds, will ensure it a welcome in many an Irish home. If modern Irish is to strike deep literary roots it must be cultivated in the domain of translation from other modern languages, and a better selection could hardly be made to begin with than Dickens." (Ó Duinnín, 1903).
Tá cóip de Duan na Nollag ar caomhnú sa Leabharlann i gColáiste na hOllcoile anseo i gCorcaí.
Tagairtí
Dicens, Séarlas. Duan na Nodlag aistrighthe ó'n mBéarla mbunadhsach leis an Athair Pádraig Ua Duinnín. Baile Átha Cliath M.H. Gill 1903.
Ó Criomhthan, Tomás. Allagar na hInise. An Seabhac do chuir i n-eagar.  Baile Átha Cliath: Ó Fallamhain i gcomhar le hOifig an tSoláthair, 1928.