Building Ireland's Architectural Heritage: The Works of Rudolf Maximilian Butler and James Gandon
UCC Library is pleased to open to the public the R.M. Bulter Architect Collection, a small archival collection relating to prominent architects Rudolf Maximilian Butler and James Gandon.
Rudolf Maximilian Butler (1872-1943)
Rudolf Maximilian Butler was an Irish architect, architectural historian, academic, and journalist. Born in Dublin in 1872, he was educated in both Dublin and Germany. Following his studies, he apprenticed in Dublin under architects James Joseph Farrall, from 1889-1891, and Walter Glynn Doolin, from 1891-1896. After completing his training, he remained with Doolin, first as his assistant and then as his junior partner. With Doolin's death in 1902, Butler formed an architectural partnership with James Louis Donnelly named Doolin Bulter & Donnelly. The partnership ended approximately five years later with Donnelly's departure. Butler then operated as Doolin & Butler for several years before finally practicing privately under his own name.
Butler's most well known architectural designs are Catholic ecclesiastical works. Notable examples include:
He was a member of The Royal Institute of the Architects of Ireland; a founding member of Architectural Association of Ireland (formed in 1896); editor of the Irish Builder and Technical Journal, from 1899-1935; and professor of architecture at University College Dublin, from 1924-1942.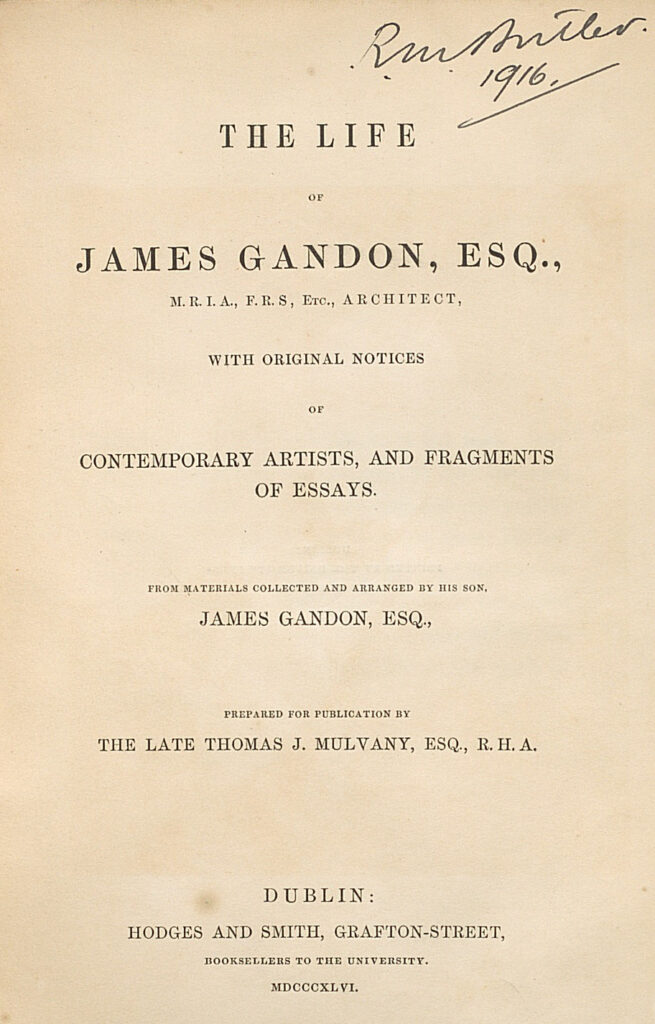 The R.M. Butler Architect Collection primarily relates to Butler's work as an architectural historian, containing correspondence, press cuttings, and other material, concerning his research into the renowned English-born architect James Gandon, best known for his design of Irish public buildings including the Custom House, the Four Courts, and King's Inns in Dublin.
James Gandon (1743–1823)
James Gandon was born in London in February 1743. He was educated at Shipley's Drawing Academy before apprenticing under the Scottish architect William Chambers, designer of the Casino at Marino and Charlemont House in Dublin, from 1758-1765. Following his apprenticeship, he set up an independent practice in 1765.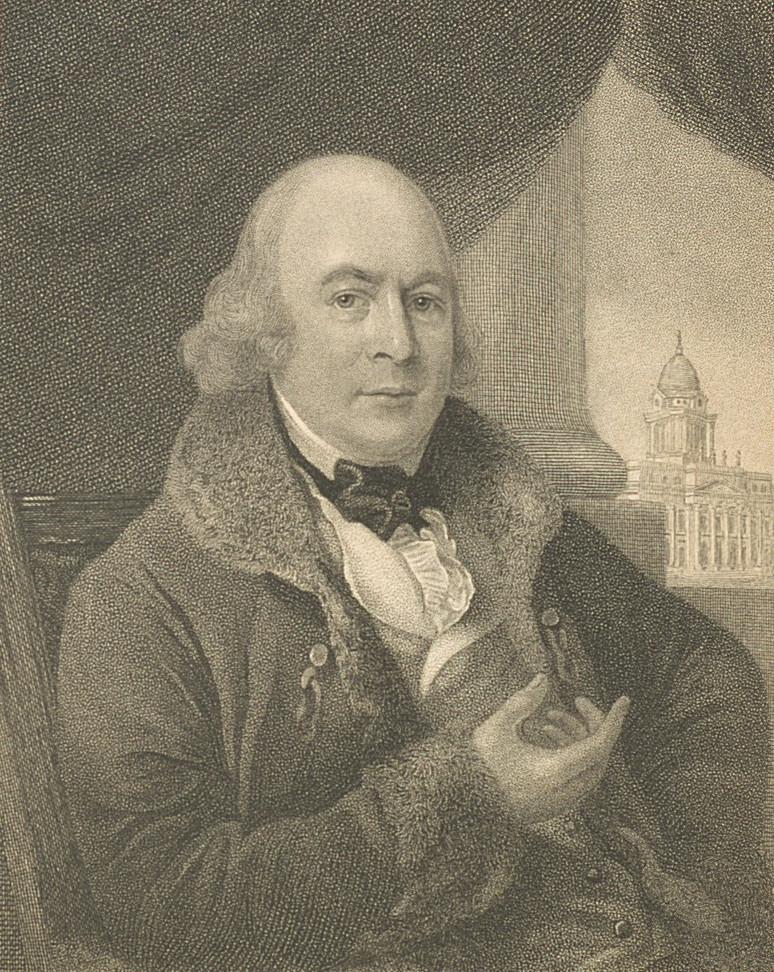 The collection includes correspondence from individuals such as Walter G. Strickland, author of A Dictionary of Irish Artists, and W. J. Jessop of Jessop & Son in Nottingham, touching on different periods of Gandon's career. Early projects referenced include his engravings for Colen Campbell's Vitruvius Britannicus, a book of plans and drawings of Palladian revival buildings, and his design for the Shire Hall in Nottingham (built 1769-1772).
Gandon's first major Irish commission came in 1780 when he was hired to design and superintend the construction of the Custom House in Dublin. It was a controversial project, receiving considerable opposition from the Corporation of Dublin, city merchants, and the public, largely due to its high cost and location. Despite the hostility, the project led to Gandon settling in Ireland where he was to remained the rest of his life.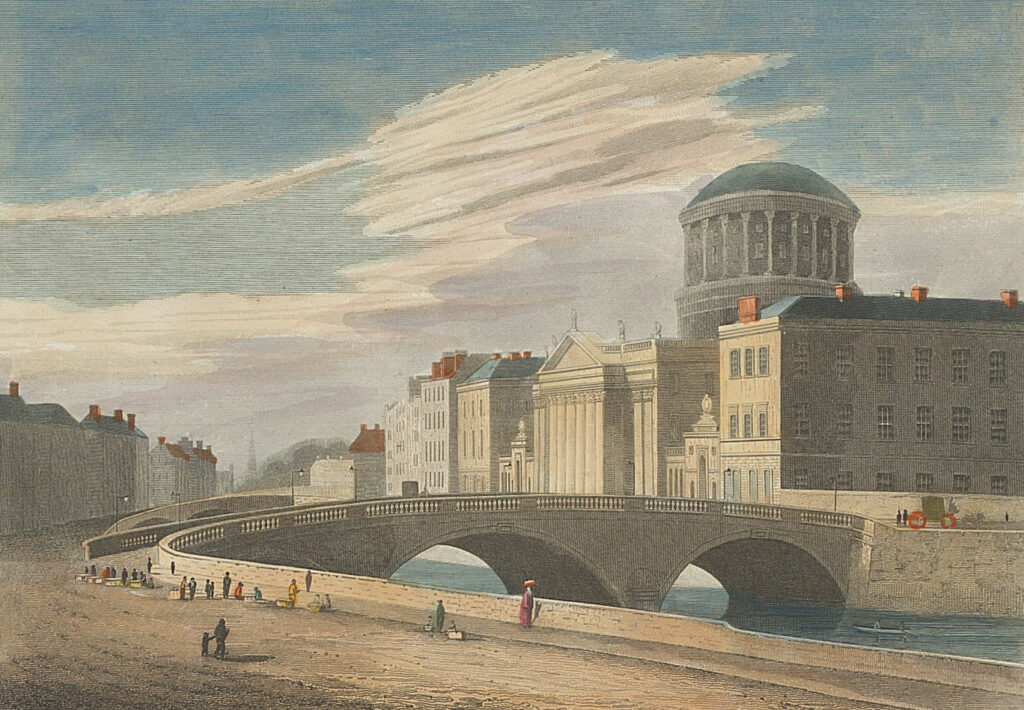 Of Gandon's other Irish projects, the collection includes two letters from R.M. Butler to the editor of the Freeman's Journal, one in draft form and the other as a press cutting, concerning his work on the Four Courts and Parliament House in Dublin. In the draft letter, Butler outlines the design of the Four Courts by Gandon and Thomas Cooley (1740–1784). Cooley was the original designer but died after the western and southern portions of the quadrangle were finished. Gandon was then hired to complete the project and was responsible for the central part containing the Four Courts proper leaving "the impress of his genius on the whole beautiful edifice." However, as with his other projects, things did not always run smoothly, with Butler noting that Gandon was forced to change his design for the portico by the Earl of Portarlington, which Gandon much regretted.
Writing in 1922, Butler ends the letter by laments the recent destruction of some Dublin's most notable buildings, including the Four Courts, "which contributed so much to give it architectural dignity and charm as a metropolis." He concludes: "It would be well if the Government would, when we once again enjoy the blessings of peace, appoint a commission to ascertain and report to what extent these beautiful buildings may, by careful restoration be recreated in whole or in part." These restoration efforts are touched on in other items in the collection, including a notice from the Institution of Civil Engineers of Ireland containing a paper titled 'Some Reconstruction Work at the Four Courts, Dublin.' by T. J. Byrne from 1929.
The collection also includes a short article by Butler, from the Irish Builder, discussing Canonbrook House in Lucan, County Dublin, Gandon's residence following his retirement in 1805. Canonbrook is described as a rural Georgian house "designed and embellish by Gandon himself." While retiring from the stresses of large scale schemes, Gandon remained active, designing upward of forty residences in Lucan and putting forward a range of projects in connection with public improvements and national memorials. He died at Canonbrook on 24 December 1823.
The R.M. Butler Architect Collection is now fully listed, with further details and the complete listing available at https://libguides.ucc.ie/RMBulterArchitect
Bibliography
Butler, Rudolph Maximilian, Irish gothic architecture (Dublin : Sackville Press [c1916])
Duffy, Hugo, James Gandon and His Times (Kinsale : Gandon Editions, 1999)
Gandon, James, The life of James Gandon, Esq. : with original notices of contemporary artists, and fragments of essays (Dublin : Hodges and Smith, 1846)
Williams, Jeremy, A companion guide to architecture in Ireland 1837-1921 (Dublin : Irish Academic Press, 1994)