HI6091: Work Placement in Special Collections (2019)
The River-side welcomes this guest post from Patrick O'Dwyer, a student on the 2018/2019 MA in Medieval History in UCC, that includes the HI6091: Skills for Medieval Historians module. HI6091 is taught by Dr Malgorzata Krasnodębska-D'Aughton and Elaine Harrington. Dr Krasnodębska-D'Aughton was selected for a President's Award for Excellence in Teaching in 2016/2017 award and this module featured as part of the application illustrating a teaching approach that combines traditional skills of a historian with a creative use of technology. Part of the HI6091 module, Dr D'Aughton designed, includes specifically tailored work placements that focus on public outputs. Patrick O'Dwyer spent six weeks in Special Collections sorting a donated collection and creating indices to manuscript recipe books. Patrick has previously written posts for The River-side as part of The Luttrell Psalter student exhibition hosted on The River-side.
Introduction
Behind the scenes the Special Collections team works to make collections and information related to the collections available. Over the next few months information relating to catalogued collections, similar to what is present for library archival collections, will be published on the library website. Stay tuned to the Special Collections Guide for these as they're released over the next few months! I asked Patrick to write about his favourite book in a recently acquired collection: the Duncan Lunan Collection, and his favourite recipes from the manuscript recipe books.
Duncan Lunan
In 2017 a Scottish author, Duncan Lunan (b. 1945) donated his entire collection of books, magazines, journals, manuscripts, notes and records to UCC Special Collections. Lunan attended Marr College and Glasgow University, and completed his MA with Honours in English, Philosophy with Physics, Astronomy and French, as well as obtaining a Diploma in Education. He is an author, researcher, critic, editor, lecturer and broadcaster, and maintains his research interests in astronomy, space travel and science fiction.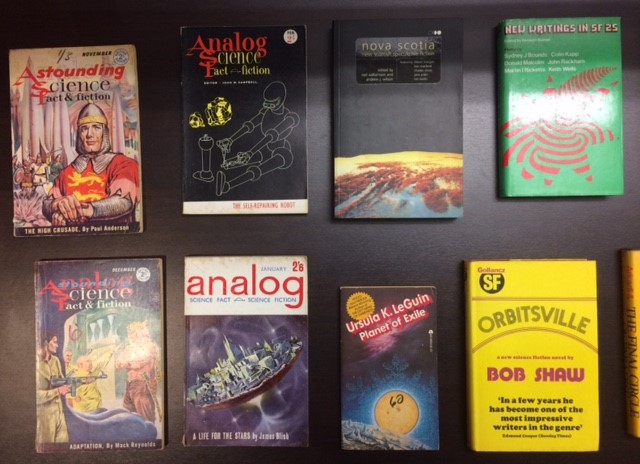 Duncan Lunan wrote five books and contributed to thirty-three books; his other publications include over 1250 articles and thirty-eight short stories. Lunan's collection donated to UCC contains works that date from the early 1950s to 2005, including The Poetical Works of Alexander Pope, 1688-1744 published in the nineteenth century. The collection covers a wide variety of subjects and exciting topics, and includes some of the most fascinating scientific works that I have ever had the pleasure of seeing. Most books in the collection deal with science fiction, astronomy and space flight. What is shown on the photo above, is a small fraction of the entire Lunan collection in UCC. This collection is now sorted by subject area in preparation for cataloguing and listing.
While working on the Lunan collection, I stumbled upon two books that caught my attention: a book of The Poetical Works of Alexander Pope, 1688-1744, and a volume by Konrad Lorenz dealing with scientific matters and titled King Solomon's Ring. I became curious about these books and wished to study them a bit more.
The Poetical Works of Alexander Pope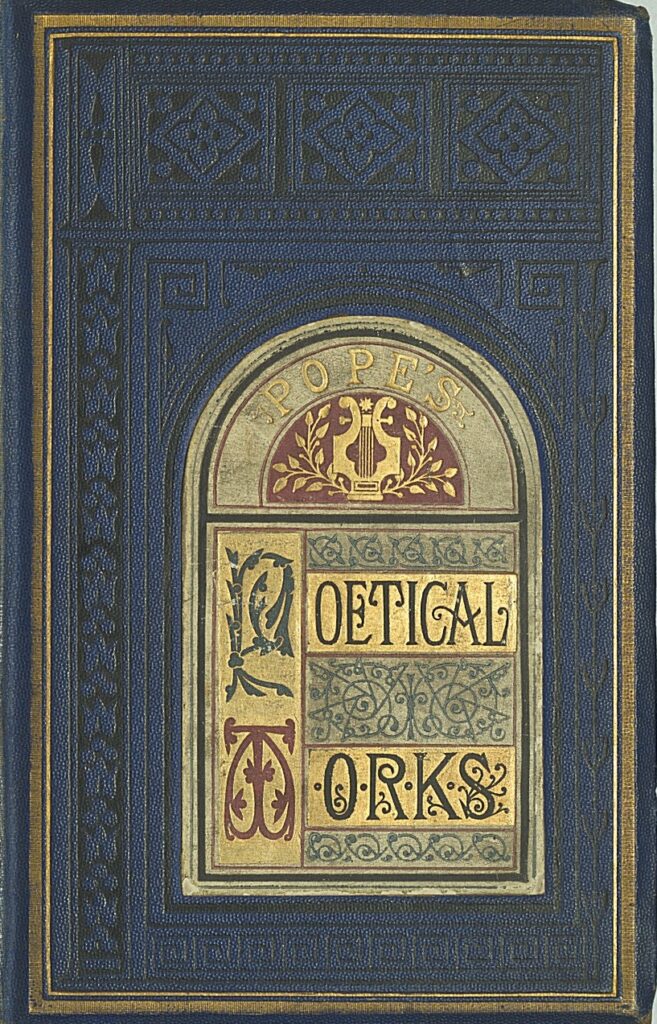 Book cover to The Poetical Works of Alexander Pope, Lunan Collection, Special Collections, UCC Library. Photo: Patrick James O'Dwyer.
A volume of The Poetical Works of Alexander Pope was published in 1872 by William P. Nimmo Publishing House, based in Edinburgh and London. The book provides a description of the life of Alexander Pope and his notable works, while also critiquing his poetry and essays. The volume includes Pope's poems, translations of Ovid and Homer, An Essay on Criticism, The Rape of the Lock, An Essay on Man and his Moral Essays.
What attracted me to the book was its appearance, with all pages including golden print around their edges, and with pages being fragile and light to touch. The entire layout of the book enhances its appearance of richness, yet this book was inexpensive to print, and the cost of the volume is displayed inside the copy.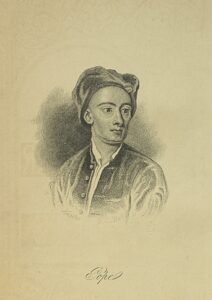 Portrait of Alexander Pope in The Poetical Works of Alexander Pope, Lunan Collection, Special Collections, UCC Library. Photo: Patrick James O'Dwyer.
The book opens with a portrait of Alexander Pope as a young man. From his young age, Pope had health issues and suffered from what is known as Pott's disease, a type of tuberculosis that affects the spine. His body became deformed and his growth stunted with the effects of TB manifesting themselves throughout his life. Despite his poor health, Pope started to write and his passion for the craft of writing grew stronger when he learned Latin and Greek by himself. In 1704 at the age of sixteen, he wrote his first Pastorals that brought him an instant literary recognition. Pastorals were followed by publications of satirical verse such as An Essay on Criticism, The Rape of the Lock and his translation of Homer's Iliad.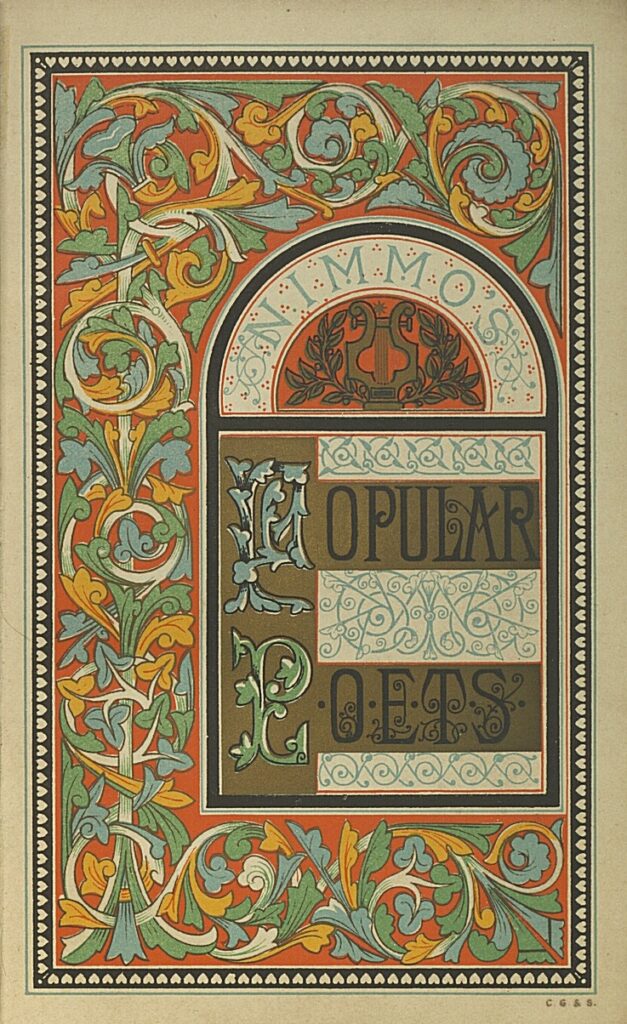 Decorated title page to The Poetical Works of Alexander Pope, Lunan Collection, Special Collections, UCC Library. Photo: Patrick James O'Dwyer.
This volume contains a fully decorated page that displays the artistry of calligraphy and vegetal marginalia which enrich the overall appearance of the book. The page shown above also presents the name of the institution that published the book. Throughout the book, there are ten full-page images. A fine example of imagery features in An Essay on Man that discusses a person's liberation from the teachings of God. A black-and-white image displays a native Indian family and possibly the image helped the reader to appreciate the text.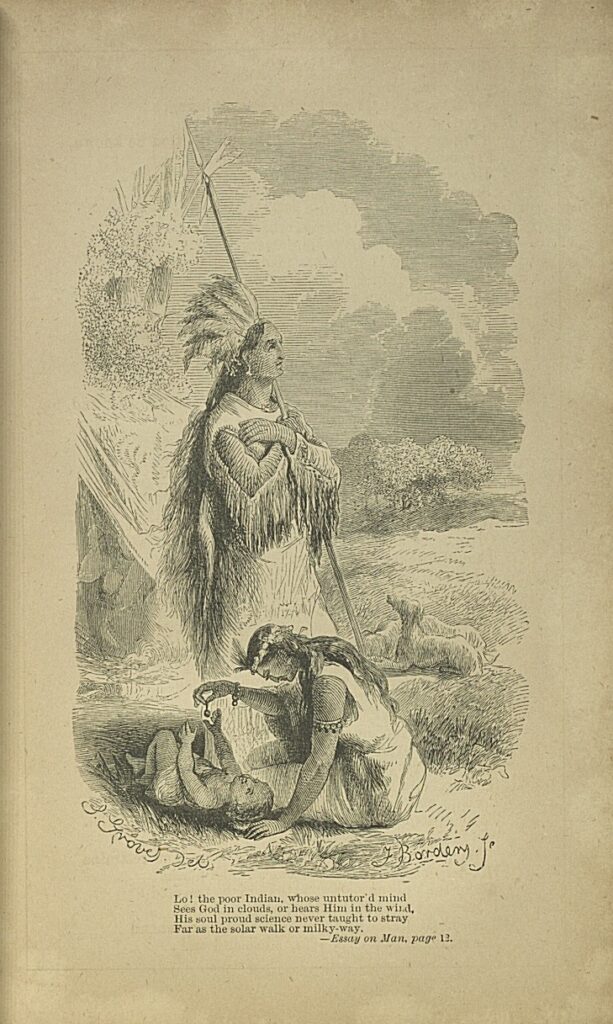 Image accompanying excerpt from 'An Essay on Man' in The Poetical Works of Alexander Pope, Lunan Collection, Special Collections, UCC Library. Photo: Patrick James O'Dwyer
The entire book is in a perfect condition and shows the care given by Duncan Lunan towards his collection.
King Solomon's Ring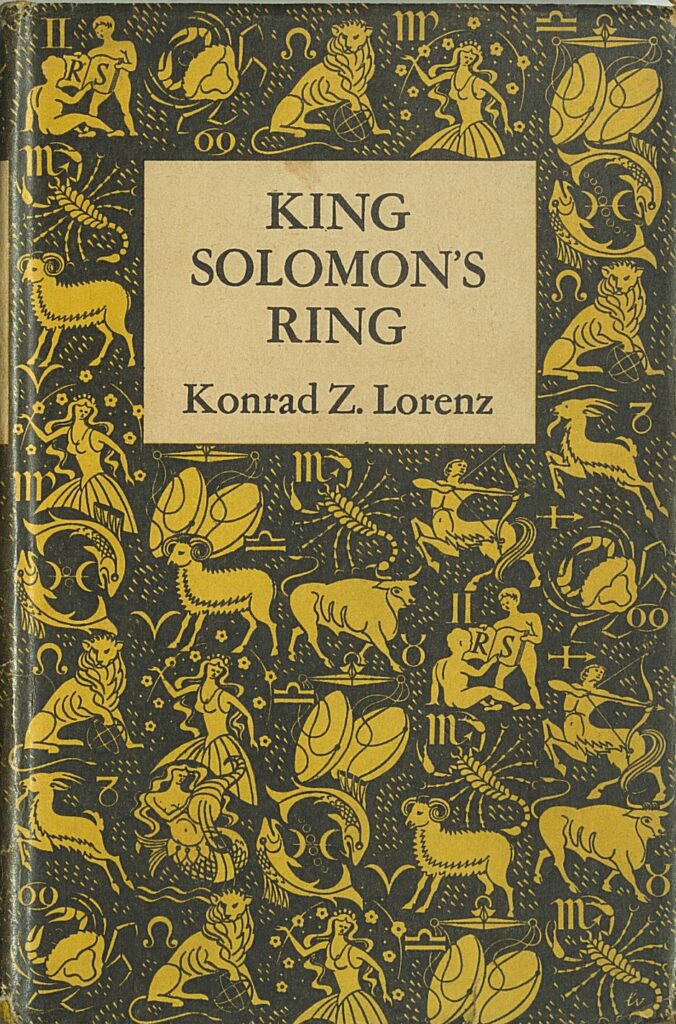 Dust-jacket to King Solomon's Ring, Lunan Collection, Special Collections, UCC Library. Photo: Patrick James O'Dwyer.
King Solomon's Ring is another book I found while working on the Lunan Collection. Written by an Austrian zoologist, Konrad Z. Lorenz (1903-1989), this volume is a scientific study on attachments within the animal kingdom. Lorenz is viewed as a founder of the study of modern animal behaviour (ethology); he established ideas and principles behind the animal behaviour and noted the transmission of behavioural patterns between animals. Lorenz's research won him a Nobel Prize in Physiology or Medicine in 1973, which he shared with a biologist and ornithologist, Nikolaas Tinbergen and an ethologist, Karl von Frisch. The Prize recognised the importance of his discovery of the principle attachment that newborns of some species display towards a caregiver. Lorenz's studies furthered the development and advanced the modern scientific understanding of the basics of animal instincts.
King Solomon's Ring discusses the animals that Lorenz kept and studied, as he observed their behaviour on his own property. While this is a scientific book, it is more humorous than one would expect.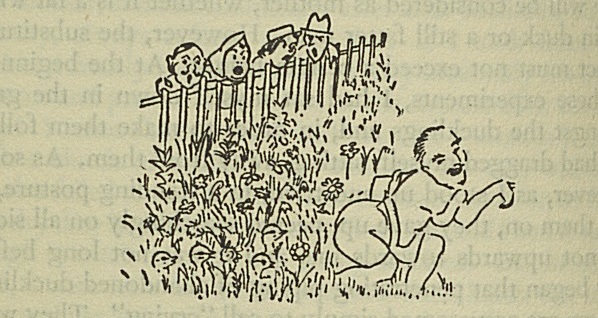 King Solomon's Ring, p. 65, Lunan Collection, Special Collections, UCC Library. Photo: Patrick James O'Dwyer.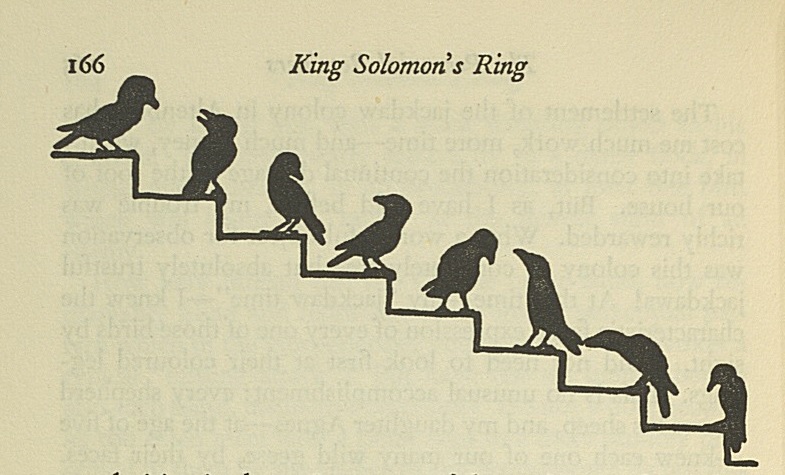 King Solomon's Ring, p. 166, Lunan Collection, Special Collections, UCC Library. Photo: Patrick James O'Dwyer.
Throughout the book, Lorenz showed himself to be an amazing artist: he depicted animals on almost every single page and also portrayed himself, often in an amusing manner. Here are three examples of his illustrations from the book.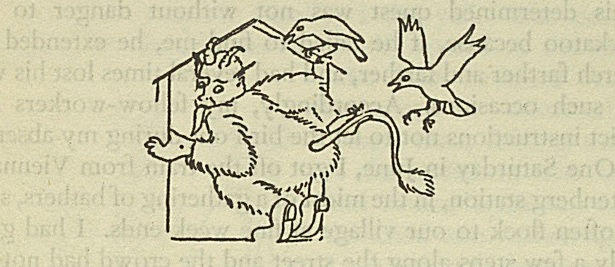 King Solomon's Ring, p. 66, Lunan Collection, Special Collections, UCC Library. Photo: Patrick James O'Dwyer.
Cooking Recipes, 1783
As part of my work experience in UCC Special Collections, I also had an opportunity of working with two volumes of the eighteenth-century recipe manuscripts. Both books are slightly worn on the outside, and their writing although beautiful, was difficult to read. Some of the recipe names were illegible, to the point where I could not decipher the words. A note in the first book, suggests that this volume was passed down from a grandmother, to a mother and to a daughter, and the handwriting differs accordingly. It is difficult to identify who owned these books. In the first volume, the words 'Mary Connell Sept 15 1829' feature inside the front cover. In addition to this note, there are multiple names throughout the recipe book. The book was presented to the UCC Library by Mr Denis O'Leary, BA and a Cork University Library stamp can be seen inside the front cover, identifying that it was held in UCC Library c. 1930s. The second volume was auctioned in 2011 and was bought by the UCC Library. The auction catalogue describes the book as 'a late 18th /early 19th-century manuscript recipe book'. In addition to handwritten recipes, printed recipes are glued onto a few pages, and small handwritten pieces of paper are also added. The two volumes contain interesting recipes that I have tried out, as I was a chef before my BA Degree and MA in Medieval History.
Below are two recipes transcribed from the manuscript. The first recipe that I have chosen is for the Snow Cheesecake and is included in the first volume on page 82, and the second recipe is for making the noyau, a French liqueur with an Irish twist, and features in the second volume on page 49.
Note: These recipes are exact word-by-word descriptions from the original volumes.
Snow Cheese or Snow Cheesecake
A recipe for the Snow Cheese is in fact a recipe for the Chinese Snow Cheesecake.
The recipe itself: one pint of good cream, juice of two lemons, rind of one lemon, ¼ lb of loose sugar. Whip all together till it is very thick, then put a piece of fine muslin in a hair sieve and let it stand 24 hours to drain. The lemon peel is best rubbed on the sugar and the sugar should be grilled afterwards.
Recipe for Making Noyau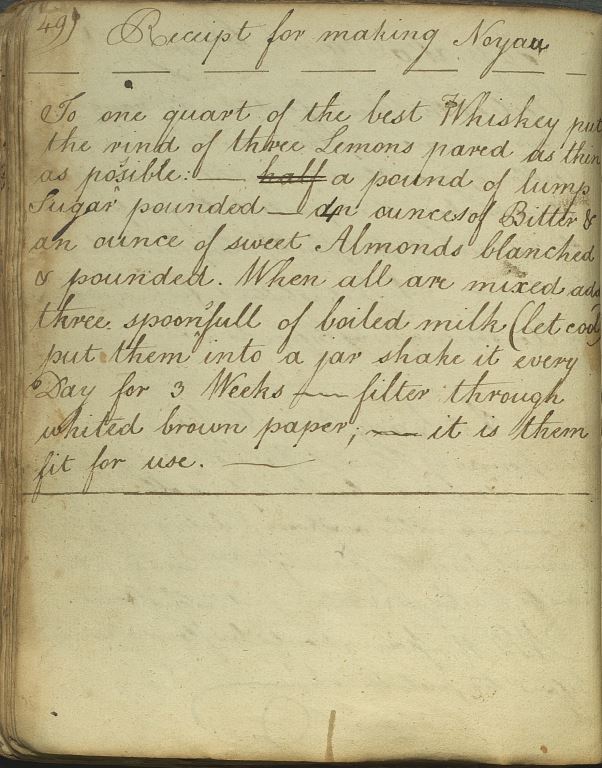 The recipe itself: one quart of the best whiskey, put the rind of three lemons pared as thin as possible. A pound of lump sugar pounded. Four ounces of bitter and an ounce of sweet. Almonds blanched and pounded. When all are mixed add three spoonfuls of boiled milk (let cool), put them into a jar, shake it every day for three weeks. Filter through whited brown paper. It is then fit for use.
Bibliography
Deichmann, Ute, Biologists under Hitler, Harvard University Press, 1996.
Lorenz, Konrad, King Solomon's Ring, Routledge, 2002.
Moody, T. W., F. X. Martin and F.J. Byrne, ed., A New History of Ireland: Volume III: Early Modern Ireland 1534-1691, Oxford University Press, 1987.
O'Malley, Eoin, Contemporary Ireland, Palgrave Macmillan, 2011.
Pope, Alexander, The Poetical Works of Alexander Pope, William P. Nimmo Publishing House, Edinburgh and London, 1872.